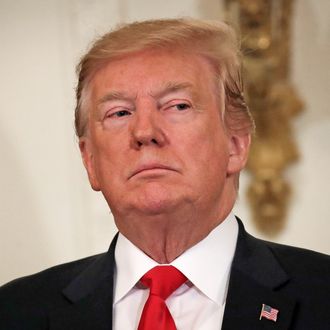 Not today.
Photo: Drew Angerer/Getty Images
In response to the publication of a redacted version of the Mueller report, Donald Trump has resorted to one of his favorite rhetorical tactics on Twitter: posting Game of Thrones–inspired memes. This morning, Trump tweeted a photo using Thrones-inspired fonts, writing, "No collusion. No obstruction. For the haters and the radical left Democrats — Game Over." It's currently pinned to the top of his page. In response, per The Hollywood Reporter, HBO released a statement saying, "Though we can understand the enthusiasm for Game of Thrones now that the final season has arrived, we still prefer our intellectual property not be used for political purposes."
Trump has previously tweeted imagery inspired by the fantasy series, including one were he wrote "The Wall Is Coming" and another with "Sanctions Are Coming," in reference to the show's commonly used phrase, "Winter is coming," the motto of House Stark. It's pretty hard to make any coherent political sense by invoking Game of Thrones, as Vulture's Kathryn VanArendonk wrote, "The whole thing is a ridiculous misreading, fueled and short-circuited by how pithy the phrase '[Noun] Is Coming' can be." The cast of the series has also responded to Trump's memes in the past with their own jokes and criticisms, while HBO has previously said that it was not aware of Trump's messaging and would prefer it not to continue, even tweeting, "How do you say trademark misuse in Dothraki?" At this point, it's safe to assume More Memes Are Coming.