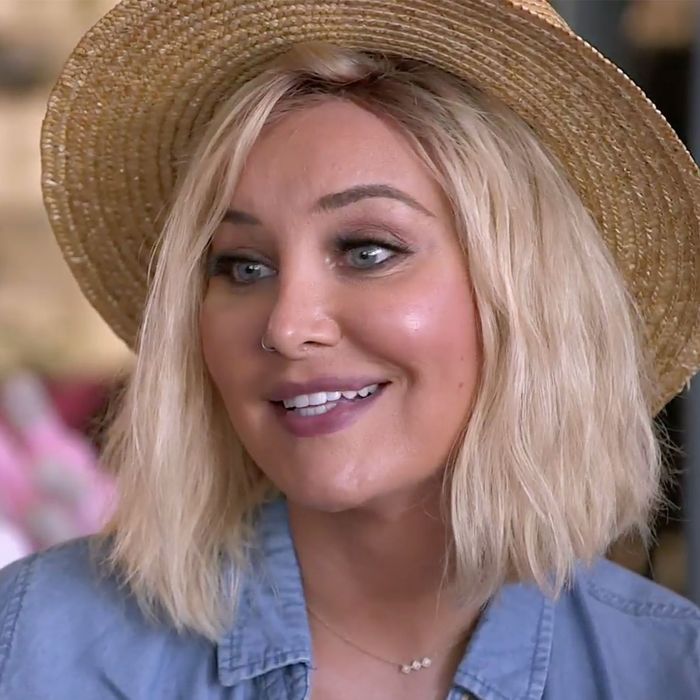 I appreciate any episode of this show that includes multiple mentions of Tom Schwartz's penis. Sadly, most of those mentions are not especially flattering this week. His wife Katie once again draws attention to just how limp it is. However, she also wants him to put it on display (for the cameras maybe?) and he blushes away from it, probably because it's first thing in the morning and he's mostly sober. Give him a bunch of Goldschlager and he'll be helicoptering that dong faster than you can say Guys Gone Wild.
Schwartz tells Ariana and Sandoval that he has a "classic penis," as if Sandoval needs to be told anything about an organ that he most likely knows as intimately as his own. What is a classic penis though? Does that mean it's really old? Does that mean it's similar to one found on a Greek statue, looking like a raisin lying in a bed of dried seaweed, or snapped off by a prudish Christian censor some time in the middle ages? Does that mean that it is like all the other penises? I bet Schwartz's penis is just like a classic hamburger: all-American, absolutely delicious, and probably best with a side of fries.
Hopefully he got a chance to use it after going all out to impress Katie, which involves putting rose petals around the bed and then covering the floor and bedspread with bags of Doritos, Cheetos, Skittles, Snickers, and other junk food. When Katie opens the door of their suite, he's lying on the bed next to a gas station's worth of packaged food, holding a glass of champagne, wearing a pair of printed pants (which I like to call busy bottoms), and smiling a shit eating grin. "What is this?" Katie asks.
"Romance," Tom answers simply, and it's the most accurate and amazing thing he's ever said. That is what romance often looks like, doing something silly for your lover that only he or she will appreciate. For me, romance would be 12 Popeye's biscuits presented by a male stripper who then turned on a marathon of Summer House. All we need is someone to orchestrate these gestures, and Tom did a great job. Then he tells Katie the words she wants to hear: "I love you. I miss you. I have been neglecting you."
That is the real gift to Katie here: Tom validating all of her feelings. That's like a whole truck stop's worth of meth hitting her blood stream all at once. That is all she really wants. Tom says at one point that Katie isn't "needy," she just "likes to be loved," which is sort of like saying that Nicolas Cage isn't bankrupt, he just really likes to shop. Seriously, that is the most ridiculous thing that's said this episode, and that includes Kristen repeatedly referring to herself as Mariposa because she managed to go an entire long weekend without all of her friends thinking she should be committed to a mental institution.
That role this trip was played by Mx. Lala Kent, who at dinner is so wracked with anxiety she tells Stassi that she has to "get it together and judge me already." It's an odd performance. I have suffered from my fair share of anxiety bouts, but I never made it the centerpiece of an entire dinner. Everyone deals with their own anxiety in their own way, but I'd rather just sit and suffer in silence and hope no one notices rather than make it a topic of conversation. In a confessional later, Stassi says that her "performance" seemed "over the top and dramatic." This is a woman who has a Three Mile Island-scale meltdown if her birthday party decorations aren't to her exact specifications. If she thinks that Lala is being too much, than she is so much more than that.
This is just the odds and ends from the gang's trip to Mexico, which wraps up and will never be heard from again outside the rumbling loose stools that wracked the entire cast for days afterward. Ah, Mexico. The great times you have there always stay with you. The rest of the episode focuses on a "puppy shower" being thrown by James and Raquel, the puppy shower of humans. At first I thought this party was because their dog Graham was about to have puppies. Then I realized Graham is a boy and it's a party to "welcome him to our family."
Of all the stupid, California things I have ever seen or heard in my life — from goat yoga and the ordering conventions at Café Gratitude to Amanda Chantal Bacon's food diary and shirtless selfies in Runyon Canyon — this is absolutely the dip-shittiest of them all. What makes it even worse is how seriously Raquel, a trampled Superbloom poppy, is taking it with her fliers and personal invitations to the party.
What's even sadder is how her ambitions to be a cast member on the show are clearly being thwarted by her association with DJ James Kennedy. She thought he was her way in, but he has gone so far to alienate everyone in the cast that none of them will come to this stupid "puppy party." Jax flat out tells her no, because life has been calm without James around. Brittany, who is so nice that if someone slit her throat she would apologize for getting blood on his carpet, tells her no because James talked shit about her man in front of her face. Stassi not only declines the invitation because she hates James, she also looks down on the very idea of this party, and this is literally a person who turned #OOTDDay into a national holiday. Stassi also compares Raquel to the woman who wants to marry Charles Manson, even though she has no idea who that is.
The worst, however, is when Raquel, one of the rolls of Bubble Tape Tom and Katie didn't open in Mexico, says that James's relationships with these people are hurting her ability to be friends with them. Of course they should. She shouldn't try to be friends with her boyfriend's enemies. Her being with her boyfriend should be her goal. She shouldn't be trying to impress people that hate him. There are plenty of other stupid girls who drink Moon Juice in LA for her to hang out with, she doesn't need people that are 10 years older than her and constantly make fun of her relationship to come and welcome her new puppy into the world or whatever the fuck. Her trying to get on the show is so craven it makes me want to pull out my molars with a lasso made out of Red Vines.
After she's failed at inviting everyone to the party in person, she gets in James's car, where he is listening to his own dance music, and he's devastated that she couldn't get people to come to the party either. "Did you explain that there's going to be fun and games and stuff too?" he pleads with her. Yes, she did. And, no, there is no way that either of them can repair these relationships until James is willing to take accountability for everything he's done. A little bit of frosted kibble is not going to be able to smooth over the sinkhole-sized fissure he's caused between himself and the rest of the group. Most devastating of all is the brilliant addition by the editors as James pulls away, of Raquel saying in her leaking balloon voice, "Babe, who's Charles Manson?"
It's sad that Raquel, a 50-percent-off scrunchie, has backed the wrong horse, but the same thing goes for Billie Lee. She asks Lisa if James can DJ her brunch again and Lisa says no. Billie then starts to yell at her boss and stalks away from her. What is wrong with Billie? When did she turn into a Koopa Troopa just lumbering back and forth screaming at people? And when did she not realize that screaming at all of the people on the show at various and sundry events would not get her invited to more of these events. Even James, who is officially on the cast, is getting disinvited, so what makes Billie think that she's going to get asked to Brittany and Jax's engagement party when every time we've seen her this season she has shouted down one of their good friends? Maybe she should volunteer to give out free samples of beer cheese at the shindig. At least then she can expand her camera time.
I love the way Lisa handles Billie, though, and tells her firmly and decisively that she is the boss and if Billie doesn't like it she can pack up her criticism of everyone on the staff and go home. Lisa is so much more wonderful and likable on this show, where she can just openly be mean and in charge of all these kids, than she is on Real Housewives of Beverly Hills, where she has to do it all behind the scenes. I think seeing Lisa once a week would be enough for me, and if I had to choose I would say do it here, where she can be the boss bitch she was born to play.
She even fired Tom Sandoval from SUR and marched him over to Tom Tom and told him to get to work and make sure that Schwartz's next check to her won't bounce. At the end of the night both Toms were in the back office, when Sandoval brought up the bounced check again. He was sitting in the office chair as Schwartz leaned in the door frame only a few feet away from him. "You still have the money to pay Lisa, right?" Sandoval asked, swiveling toward Schwartz with his legs spread wide.
"Well, I spent a little bit of it to go to Mexico, so maybe you could float me like a couple of Gs for a little while."
"Mr. Schwartz. That's going to cost you."
"Oh yeah? What."
"You know what I want. Give it to daddy."
Schwartz let out an exhausted but facetious sigh as he pulled down his pants and underwear and laid face down across Sandoval's legs. As soon as he was settled Sandoval hit him with the cupped palm of his hand. The spanking didn't really hurt, but the loud echo of the contact rippled through the office just as it rippled Schwartz's flesh. Schwartz raised his torso up, as if the hit put him in intense pain, but he was mostly performing for daddy. And as his cheeks got redder, both of their pants got tighter, their crotches dying to be released from their fabric prisons.