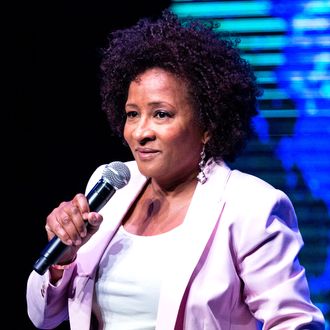 Wanda Sykes.
Photo: Rich Polk/Getty Images
Last year, Netflix announced that it would be adding a new stand-up comedy special from Wanda Sykes, and today the title and premiere date were revealed. Titled Wanda Sykes: Not Normal, the one-hour special debuts on Tuesday, May 21, and features Sykes's "perspective on the current political and cultural climate, which she can only describe as, well … not normal!" It marks her first special for Netflix and fifth overall, following Tongue Untied (2003), Sick and Tired (2006), I'ma Be Me (2009), and What Happened … Ms. Sykes? (2016). Alongside Tiffany Haddish, Sykes also serves as a producer behind an upcoming six-part stand-up series at Netflix called Tiffany Haddish Presents: They Ready. Here's a promo for the new special that Sykes posted today:
Sykes's journey to a Netflix stand-up special has been an interesting ride. Early last year, Mo'Nique called for a boycott of the streaming network over gender and racial bias, and Sykes supported Mo'Nique on Twitter, saying she turned down a low offer from Netflix and decided to instead take her previous special, What Happened … Ms. Sykes?, to Epix.