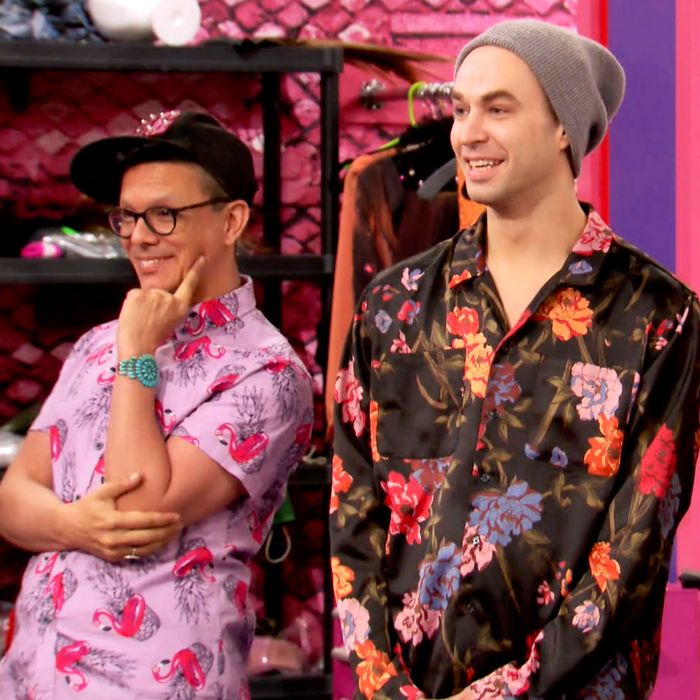 Our number of season 11 queens has officially been reduced by half, and in celebration, What the Tuck has temporarily reduced its co-host count by half this week. That's right, Mano Agapion (of the Horny 4 Horror podcast) is flying solo while his usual co-host Matt Rogers (Vulture's very own Drag Race recapper and one half of Las Culturistas) is out — but luckily Mano has brought along a very special guest judge to help us wade through yet another Drag Race improv challenge: Eliot Glazer, co-host of You're Making It Worse, who sits in this week to assess the queens' trip to the Library and the comedic grab bag that was the Cops-inspired "L.A.D.P." maxi-challenge.
Together, Mano and Eliot workshop the reads they might bring along with them to the Reading Is Fundamental mini-challenge; talk through the variety of comedy dynamics, both good and bad, on display in the maxi-challenge; puzzle over some less-than-iconic interpretations of the "facekini" runway directive; and wonder whether this season's top-four queens have already revealed themselves. So listen below or download it for later on Apple Podcasts, Spotify, or wherever you listen — we don't care, honey, as long as you listen.
What the Tuck is produced by Vulture and HeadGum. Make sure you subscribe on Apple Podcasts, Spotify, or wherever you listen for new episodes dropping every week following each new episode of RuPaul's Drag Race season 11. Follow What the Tuck on Instagram (@whatthetuck_podcast) and follow co-hosts Matt (@MattRogersTho) and Mano (@ManoAgapion) on Twitter and Instagram — and remember: No tagging!