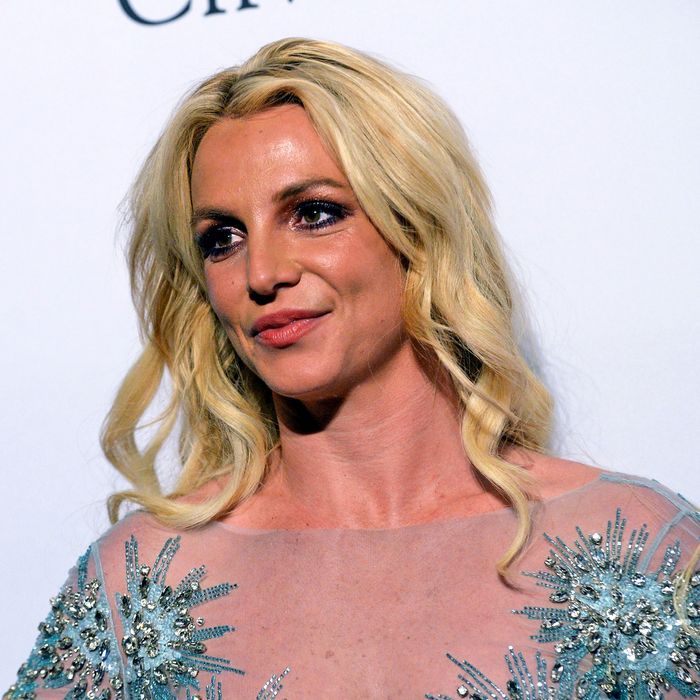 Britney Spears.
Photo: Scott Dudelson/Getty Images
Much of the public has long made a cruel joke out of Britney Spears's mental health since her well-documented breakdown in 2007. But in recent years a shift toward genuine care about the singer and her well-being seemed to combat that narrative. Concern over Spears's welfare and those charged with overseeing it, however, has suddenly spiraled out of control in the past week in the Britney Spears fandom as conspiracy theories surrounding her recent admittance into a mental-health facility have gone viral.
At the eye of the storm stands Britney's Gram, an otherwise innocuous podcast previously known for riffing on her famously whimsical Instagram. Following accusations first reported by the podcast that Spears was being held against her will, what is now known as the #FreeBritney crusade intensified, resulting in a public protest that prompted Spears herself to break her silence and deny any foul play. How do we even begin to untangle this web of conflicting information? Here's a rundown of everything we know so far about this still very much fluid situation.
Where did this all start?
On April 3, TMZ and Variety reported that the pop star had checked herself into a mental-health facility at an undisclosed location, citing "emotional distress" over her father's health issues. Following the cancellation of her latest Las Vegas residency in January, the singer was meant to be there for a 30-day stint. Fans of the pop star were overwhelmingly supportive, which was mollifying to see, given the vitriol spewed about Spears's struggle with mental illness in the late aughts.
So then what's all this about a whistle-blower?
On April 16, things went horribly awry among Spears stans. A "special emergency" episode of the fan podcast Britney's Gram aired, which included an anonymous voice-mail allegedly from a former member of Spears's legal team who insisted that Spears was being held against her will at the mental-health facility — with no release date planned. The podcast co-hosts, comedians Tess Barker and Barbara Gray, called the anonymous man a "very, very credible source," claiming that he was connected to the law office that handled Spears's conservatorship (the singer has been under co-conservatorship with her father and lawyer, Andrew Wallet, since 2008 following her first publicized mental breakdown).
It should be noted that Andrew Wallet abruptly resigned in March — from his post with Spears, not as a lawyer — making Spears's father her sole conservator. The statement Wallet gave in court was nothing short of bizarre. "The conservatorship is engaged in numerous ongoing business activities requiring immediate attention and it therefore is in the best interest of the conservatee that the acceptance of Wallet's resignation and the issuance of amended letters of conservatorship of the estate occur immediately and without delay," he said. "Substantial detriment, irreparable harm and immediate danger will result to the conservatee and her estate if the relief requested herein is not granted on an ex parte basis."
Why would she be held against her will?
According to Britney's Gram's source — whose identity or credibility has yet to be confirmed by a third party — Spears's father noticed that she wasn't taking her medication as prescribed, so he threatened to pull his support for her Vegas residency. Later, she allegedly still wasn't taking her medication, and was seen driving with her boyfriend of over a year, Sam Asghari, which the source claimed she isn't allowed to do under the conservatorship. So, Spears's father allegedly checked her into the facility and offered to blame it on his own health issues. But possibly the most chilling part of the voice-mail was when the man touched on the conservatorship itself.
What's the deal with the conservatorship?
"The conservatorship was supposed to end after the Circus Tour in 2009," he said. "The idea was: go on tour, show us you're stable and well and that this conservatorship will help you regain custodial rights." For background, conservatorships are serious business: They're usually reserved for elderly people who can't take care of themselves or their finances; those who have been critically injured or impaired in an accident; or adults with developmental disabilities. Since 2009, Spears has recorded, released, promoted, and toured numerous albums. So, she doesn't match any of those qualifications (that we're publicly aware of), and for at least the last year, she has reportedly been in talks with her father and medical professionals to have the conservatorship brought to an end. For those reasons, the anonymous source's allegations struck a nasty chord with longtime fans who have had a problem with the conservatorship. What happened next was truly unhinged in a way that feels very specific to Spears's fandom.
What is #FreeBritney?
After airing their emergency podcast episode, Barker and Gray created a #FreeBritney graphic, which rippled through stan Twitter hashtags and avatars. Then, an Instagram post from Spears's mother, Lynne, threw gasoline on the fire the same day the podcast episode aired. The graphic she posted read, "When God's warriors go down on their knees, the battle is not over; it has just begun." A fan commented, "I really hope you are supporting Britney in trying to end this conservatorship. I really hope your ailing ex husband isn't keeping your daughter somewhere against her will," and Lynne liked the comment. That same day, Spears's younger sister, Jamie Lynn, posted on Instagram Stories and wrote, "They don't deserve you, stay busy." It was all very cryptic.
Is Britney's Gram facing any backlash?
Oh, yeah. Some fans on the opposing side of #FreeBritney — as in, those who doubted the bombshell claims made on Britney's Gram — actually filed complaints against the podcast with the FBI, U.S. Department of Health and Human Services, and State Bar of California. One concerned woman outlined her decision to report the women to the Office for Civil Rights within the U.S. Department of Health and Human Services, noting in a Medium post that mental illness is a delicate subject that should be handled aptly. "If there's one positive thing that the 'Britney's Gram' podcast has done," Brianne Amira wrote, "it's that they've ignited a very important conversation on the topic of mental illness, and why it should be treated as a delicate matter — something they're not doing when it comes to Britney Spears mental health." (The podcast hosts have since responded in a tweet scolding Perez Hilton for aggregating the Medium post as news. "This is patently untrue," they wrote.)
What's this about a protest?
On Monday, in some sort of nightmarish, apocalyptic stan protest, #FreeBritney truthers gathered outside West Hollywood City Hall to demand that the pop star be released from the mental-health facility. The protesters livestreamed the event on YouTube, holding signs that read, "Britney's MGMT is toxic," and "Truth will set her free."
Is there any evidence disputing the allegations?
The conspiracy theory was seemingly first debunked on Easter Sunday when Spears was seen leaving the Montage hotel in Beverly Hills with her boyfriend, Asghari, which TMZ reported as a "day pass" from the facility. The singer was also seen publicly on April 11, a few days before the podcast episode aired, at a hair salon in Los Angeles. Those appearances seem to dispute the assertion that Spears is being held against her will, or at the very least dispute that she is not free to leave the facility.
On Tuesday, TMZ also reported more insider knowledge on the real reasons Spears checked into the mental-health facility, and slammed the rumors that the conservatorship has forced medication on her. According to TMZ, the check-in was the result of a nasty combination of circumstances: First, Spears grappling with her father's illness, and also a tough switch-up of medication. Apparently, the medication Spears was on "lost their efficacy," so doctors wanted to wean her off it and try new ones, a process that needs to be done over time and with care. The trial and error reportedly further destabilized Spears and made her "ultimately unwilling to cooperate with doctors." So, she reportedly checked into the facility to find the right cocktail under the right care.
On the note of the podcast rumors and Spears's father, Jamie, TMZ added, "He did not want his daughter to go to the facility because he thought it would leak out to the media and he felt there were better ways of solving her problems. We're told Britney is the one who said she wanted to go."
The Blast also reported last week that, at the time of the check-in, advisers on Spears's team were so concerned for her health, they thought that she "would be dead" if she didn't seek treatment immediately. Their source told them that Spears's life was "out of control," and that she was not capable of performing due to her mental-health issues — even comparing her mental state to her downfall in 2008, when she was committed to a psychiatric ward and first placed under the conservatorship. Their report did, however, conflict with the recent one from TMZ, as the Blast stated that Jamie Spears saw how bad his daughter's mental health was and made the decision to check her into the facility, and members of her team agreed it was the right move. So, her team reportedly pushed the narrative about her father's illness as a smoke screen. The Blast claimed that while Spears is not being held against her will, she was "not fully on board with checking herself in when it was initially discussed."
Has Spears said anything?
Yes. Finally, on Tuesday night, Britney Spears herself took to social media to debunk the vicious rumors. "I am trying to take a moment for myself, but everything that's happening is just making it harder for me. Don't believe everything you read and hear," she wrote in a caption alongside a video message. She added, "Your love and dedication is amazing, but what I need right now is a little bit of privacy to deal with all the hard things that life is throwing my way. If you could do that, I would be forever grateful. Love you."
In the same post, she also commented on a series of emails believed to be written by her in 2007 that trashed Jamie Spears, which had recently resurfaced in the wake of the #FreeBritney campaign. (Britney's Gram at one point had issued a warning to protesters not to "cross boundaries" or "go after individuals without direct culpability.") Spears insisted that the emails were very old and penned by Sam Lutfi, who was the singer's manager until the conservatorship began. Lutfi and the Spears family have been at odds ever since, and the conflict has even spilled over into court. Lutfi has denied the accusation that he penned those letters, insisting that he never had access to Spears's emails.
What has her family said?
On Tuesday, Jamie Lynn Spears posted again on social media, this time to further extinguish the rumors, writing, "10 years ago, who was there?? I have been here long before anyone else, and I'll be here long after. I love my sister with everything I have. So, anyone or anything that speaks to the contrary can GTFOH with all the comments about what you don't understand. Do not come for me or the ones I love anymore. You can move the 'blank' outta here with all that, just like this other lady who was running her mouth."
TMZ caught Spears's boyfriend, Asghari, out and about in Los Angeles on Tuesday, and he said his girlfriend is doing "amazing." He added, "Nobody needs to worry, she's doing amazing. She'll be back soon." And on Wednesday morning, Spears posted another video of her working out and dancing, writing, "Who knew stress would be a great 5 pound weight loss. Yay for me."
Meanwhile, Jamie Spears has not publicly commented, and representatives for Spears have not responded to requests for comment.