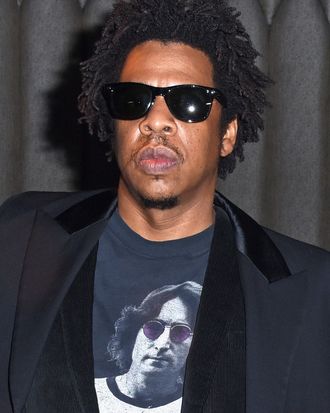 Jay-Z was among the headliners for the now-canceled festival.
Photo: Vivien Killilea/Getty Images for PUMA
Woodstock 50, an ambitious new festival from original organizer Michael Lang set to celebrate the golden anniversary of the iconic 1969 music festival in August, had announced electric acts, including Jay-Z and Miley Cyrus, for its three-day bash in Watkins Glen, New York. But those bankrolling the festival have now pulled the plug four months out from the festival, while Woodstock 50 is denying that it's dead on arrival.
The festival has been canceled, according to Dentsu Aegis Network's Amplifi Live, an entity of the Japanese PR and advertising giant Dentsu that's serving as the financial-investor arm of the festival.
"It's a dream for agencies to work with iconic brands and to be associated with meaningful movements," Amplifi Live said in a statement. "We have a strong history of producing experiences that bring people together around common interests and causes which is why we chose to be a part of the Woodstock 50th Anniversary Festival.  But despite our tremendous investment of time, effort and commitment, we don't believe the production of the festival can be executed as an event worthy of the Woodstock Brand name while also ensuring the health and safety of the artists, partners and attendees."
Amplifi Live told Vulture that the Woodstock 50 organizers repeatedly missed production milestones, including securing talent, proper permitting, and audience capacity estimates.
Though Woodstock 50 said Watkins Glen, a popular location for Phish concerts in recent years, would accommodate more than 100,000 people, the Woodstock 50 camping festival will allow for far fewer attendees, Amplifi Live told Vulture. Amplifi Live made its financial commitments based on ticket-sale estimates from the original numbers and grew frustrated when it said those number no longer appeared feasible.
In addition, the infrastructure required to make this event become a reality is far behind schedule, Amplifi Live told Vulture. That includes water sources, sanitation facilities, and safe entrances and exits from the site.
"As a result and after careful consideration, Dentsu Aegis Network's Amplifi Live, a partner of Woodstock 50, has decided to cancel the festival," Amplifi Live added in a statement. "As difficult as it is, we believe this is the most prudent decision for all parties involved."
After Woodstock 50 missed its planned April 22 release for ticket sales, rumors swirled that something was amiss and the festival would be canceled. But the Woodstock 50 partnership assured fans everything was hunky-dory.
"Woodstock 50 has delayed its on sale while we refine logistical plans for what we anticipate will be an amazing Festival in August at Watkins Glen, New York," the Woodstock 50 partnership said in a statement. "We want to thank the media and the public for their patience and support. We are continuing to build out incredible experiences across the festival weekend." Woodstock 50 assured fans that ticket sale information will be available through Woodstock.com in the coming days.
"Woodstock 50 is currently on a call with Dentsu and Woodstock 50 vehemently denies the cancellation of the festival and will be seeking legal remedy to the comments," a rep from Woodstock 50 said this afternoon.
Update: In a statement sent Monday evening, festival organizers reiterate their plan to go forward with Woodstock 50 and "intend to bring on new partners" to help finance the event. You can read their full statement below.
"We are committed to ensuring that the 50th Anniversary of Woodstock is marked with a festival deserving of its iconic name and place in American history and culture. Although our financial partner is withdrawing, we will of course be continuing with the planning of the festival and intend to bring on new partners. We would like to acknowledge the State of New York and Schuyler County for all of their hard work and support. The bottom line is, there is going to be a Woodstock 50th Anniversary Festival, as there must be, and it's going to be a blast."