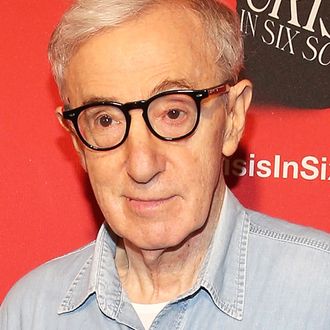 Woody Allen.
Photo: Rob Kim/2016 Getty Images
Amazon has filed a response to Woody Allen's $68 million lawsuit against the company for ending the production deal it signed with him in 2017. As #MeToo brought Dylan Farrow's allegations that Allen sexually abused her as a child back into the news cycle, Amazon shelved Allen's newest movie, starring Timothée Chalamet and Selena Gomez. Per the Los Angeles Times, Amazon filed a response in the Southern District of New York on Wednesday: Based on Allen's own public comments about the #MeToo movement, the company says, it could not release and promote A Rainy Day in New York, and their deal could not be completed.
Allen's suit, filed in federal court, claimed that Amazon knew of the Dylan Farrow allegations before its deal with the director was made, and that the allegations are baseless. Amazon countered that the refusal of top talent to work with or be associated with the director made their deal "impracticable." "Understood in the broader context, Allen's actions and their cascading consequences ensured that Amazon could never possibly receive the benefit of its four-picture agreement (despite already having paid Allen a $10-million advance upon signing)," Amazon said in Wednesday's court documents. The company wants four of the eight claims in Allen's lawsuit to be dismissed.
Amazon's filing specified comments it says "sabotaged" its efforts to promote Allen's latest movie for the company, Wonder Wheel. As the New York Times and The New Yorker published bombshell allegations that Harvey Weinstein sexually assaulted or harassed dozens of actresses, Woody Allen said he hoped it wouldn't lead to a "witch hunt atmosphere." Last June, the director said he should be the #MeToo movement's "poster boy." Allen is currently working on a new film, to be funded by the Barcelona-based studio Mediapro.