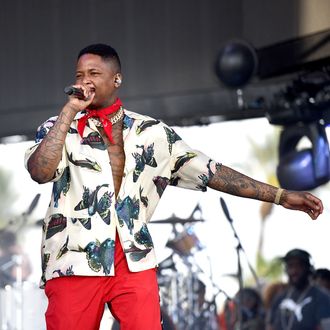 YG.
Photo: Scott Dudelson/Getty Images for Coachella
A certain head of state made an unlikely appearance at Coachella over the weekend: Donald Trump. During YG's Sunday evening set, the rapper paid homage to his friend and collaborator Nipsey Hussle, and performed his hits "Get Low," "You Broke," and "Toot It and Boot It." For "FDT (Fuck Donald Trump)," YG shared the stage with an impersonator of the president, according to the Los Angeles Times. "Look at the crowd! And look at the women! I'm going to grope so many pussies tonight, it's going to be unbelievable," the Trump impersonator said. "We're building a beautiful wall. And don't worry if you're gay, we're going to pull a glory hole right in the middle of it."
Cue YG's anthem — "Fuck Donald Trump! Yeah, fuck Donald Trump!" — and a forthcoming presidential tweetstorm.