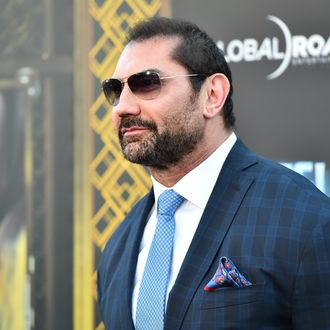 Dave Bautista.
Photo: Alberto E. Rodriguez/Getty Images
When you read the words "mercenaries take the opportunity during a zombie apocalypse to pull off the worst's greatest heist in Las Vegas," you first thought is likely, "Sounds like the second or third least insane Nicolas Cage movie." But maybe it's time to pass Cage's extremely bananas mantle on to Dave Bautista, the newly announced star of Zack Snyder's forthcoming action flick Army of the Dead.
According to Deadline, the Avengers: Endgame actor will head up Snyder's upcoming zombie heist movie for Netflix, presumably after he wraps up his work on Dune. The news broke as Bautista gets ready to take on Triple H during WrestleMania 35 this weekend, which is shockingly something you can never say about Nic Cage. Is Dave Bautista … out-Caging Cage? After all these years, can it be done?