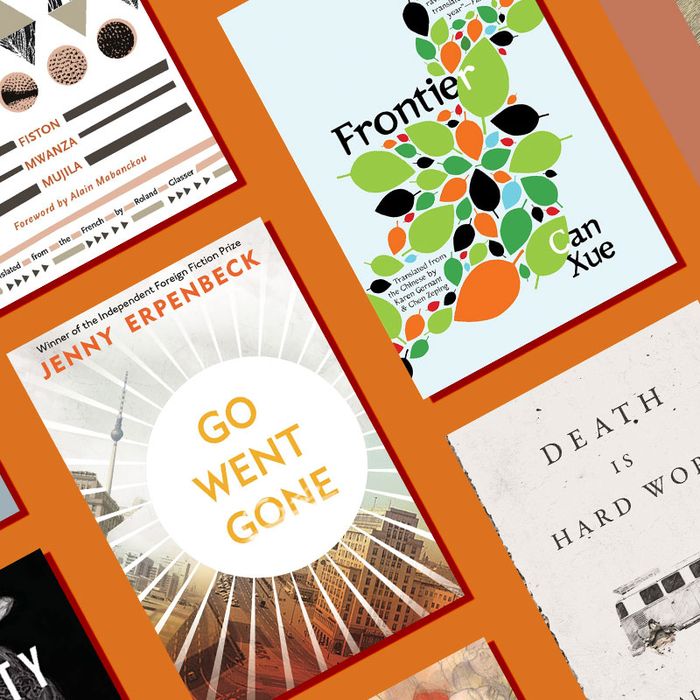 May kicks off with the 15th annual PEN World Voices Festival, when international authors take over New York for a week of panels and events, and ends with the announcement of the 2019 Man Booker International Prize. In celebration of a month replete with world literature, Vulture has a publisher's thoughts on the "3 percent problem" of translated literature; an encounter with one of today's most exciting young novelists; and, below, a roundup of 15 great translated books published in the last five years.
Severina, by Rodrigo Rey Rosa, translated from Spanish by Chris Andrews (Yale University Press, February 2014)
The books of this Guatemalan favorite of Roberto Bolaño's vary substantially in tone and breadth. Rey Rosa is capable of exploring the aftermath of crime and the philosophical ramifications of the modern age, but in this short novel he opts to tell a different kind of tale, abounding with restlessness and compulsion. The narrator becomes obsessed with the title character, a young woman with a penchant for stealing from the bookstore he owns. His discovery of her motives sets in motion a series of interconnected musings on the nature of storytelling, truth, and fiction itself. —Tobias Carroll
Tram 83, by Fiston Mwanza Mujila, translated from French by Roland Glasser (Deep Vellum, September 2015)
It's rare for a novel about static characters to possess so much momentum, as this enthralling Congolese author's work does. The title refers to a nightclub, located in an archetypal setting known as "the City-State," in which much of the book's action takes place — a place where liberation and oppression circle one another warily. Mujila focuses on two old friends, Lucien and Requiem, who find their loyalty tested by their own ambitions and the often nefarious characters around them. Mujila's prose brings together harrowing histories, vivid descriptions, and group dynamics; the result is both kinetic and haunting. —T.C.
One Hundred Shadows, by Hwang Jungeun, translated from Korean by Jung Yewon (Tilted Axis Press, October 2016)
The South Korean's first novel — and her first to be translated into English — is mesmerizing and surreal. Set in a run-down Seoul neighborhood with an uncertain future, it deals with dilemmas of urban-class structure that feel universal, even as the setting feels quite specific. As the central characters puzzle over their hesitant relationship, a series of mysterious events involve shadows that behave bizarrely, accumulating a kind of weight and density. These ethereal properties — both convincingly stable and dreamlike — accentuate the novel's mood and contrast sharply with the otherwise realistic tone. —T.C.
Things We Lost in the Fire, by Mariana Enríquez, translated from Spanish by Megan McDowell (Hogarth, February 2017)
So many of the best (and quite frankly, most terrifying) short stories coming out of Latin America are currently being written by women. Mariana Enríquez's gripping stories, finally translated into English last year, are a case in point. Grotesque body horror — women setting themselves on fire, a girl yanking out her fingernails (sorry!), a drug high gone terribly wrong — is interwoven with the traumas of an Argentine society dealing with poverty, corruption, the drug trade, and the remnants of a dictatorship. Definitely read this one with the lights on. —Luisa Rollenhagen
The Twenty Days of Turin, by Giorgio De Maria, translated from Italian by Ramon Glazov (Liveright, February 2017)
It took decades for this novel, first published in 1977, to be translated into English. Unfortunately, De Maria's book about strange conspiracies, fascist governments, and menacing figures feels just as relevant now. Years after a series of horrific and possibly supernatural events took place in Turin, a writer sets out to investigate by interviewing witnesses and participants, attracting the attention of sinister forces. The ensuing events blend the visceral and the metafictional, leading to an utterly chilling conclusion. It's both a powerful metaphor for Italian history and a paranoid thriller for any time, especially ours. —T.C.
Frontier, by Can Xue, translated from Chinese by Karen Gernant and Chen Zeping (Open Letter Books, March 2017)
Xue has inspired rapturous praise from the likes of Susan Sontag and Robert Coover for her bold, mercurial works, which grapple with identity and place. Frontier is set in a fictional municipality known as Pebble Town, the name of which is the first indication that we're in a world more stylized than our own. The arrival of a young woman named Liujin provides the catalyst for a multifaceted look at the residents, encompassing various philosophical conundrums as well as some glorious weirdness. It's among the most immersive fiction you're ever likely to encounter. —T.C.
Go, Went, Gone, by Jenny Erpenbeck, translated from German by Susan Bernofsky (New Directions, September 2017)
Whenever the political psyche strains to find a signal within the noise, some novels seem perfectly timed to answer the call. Set smack in the middle of Europe's refugee crisis in 2015, Erpenbeck's novel explores what happens when a German pensioner's life intersects with a group of African refugees. What could easily end in trite kumbaya idealism instead evades simple answers, preferring to linger in awkward spaces, amid unpleasant truths: How willing are we to upend our own comforts to help a stranger? Thanks in part to a superb translation, you don't have to be freighted with German history to feel uneasy about these questions. —L.R.
Transparent City, by Ondjaki, translated from Portuguese by Stephen Henighan (Biblioasis, May 2018)
On paper, a rough description of the Angolan writer Ondjaki's novel might sound intimidating: It places a character with a surreal condition into a starkly realist setting, while its loose structure occasionally hews closer to free verse than traditional narrative. But in telling the story of a man named Odonato, who is slowly fading out of existence, and the chaotic city around him, Ondjaki takes risks that actually smooth the flow. In other words, he's experimental without being off-putting; it helps that his tale is both ecstatic and bittersweet. The language immerses the reader in the novel's milieu, but also charts out unexpected dimensions. —T.C.
Flights, by Olga Tokarczuk, translated from Polish by Jennifer Croft (Riverhead, August 2018)
Flights, which won the Man Booker International Prize in 2018, is a distinctively structured book that eludes easy classification. Some of its fragmented chapters link up with sections elsewhere in the book, while others appear briefly, make their point, and vanish. Throughout, Tokarczuk deftly shifts perspectives from the intimate and memoir-esque to the sweeping and historical. This bold work of fiction is singular both among recent literary works and within Tokarczuk's own oeuvre, which explores radically different literary styles in each book. —T.C.
An Untouched House, by Willem Frederik Hermans, translated from Dutch by David Colmer (Archipelago, October 2018)
"As long as I wasn't wounded, nothing had happened. There had never been any other people, not in my lifetime, nowhere in the whole world." The anonymous narrator of An Untouched House is a Dutch soldier in World War II. After his regiment commandeers a resort town, he enters a house and fancies himself the new owner, willing himself to forget the war. Problems arise when the legal occupants show up. This novella is a fascinating portrait of a solipsistic mind, a scrupulous rendering of the erosion of human empathy that resonates in these uncivil times. —Christopher Byrd
The Hole, by José Revueltas, translated from Spanish by Amanda Hopkinson and Sophie Hughes (New Directions, October 2018)
This ferocious account of human tenacity takes depravity seriously. It tells the story of three inmates and the three women they convince to bring drugs into prison. All are described in language by turns exalted and vulgar. A junkie, with his head cocked to the side to stare out of the tiny opening of a cell door, is likened to John the Baptist with his head on a plate. Elsewhere, a body cavity search becomes an occasion for a phenomenological meditation on the malleability of desire. Revueltas's febrile sentences are as concentrated and intense as anything by Thomas Bernhard or Hermann Broch. —C.B.
Death Is Hard Work, by Khaled Khalifa, translated from Arabic by Leri Price (Farrar, Straus & Giroux, February 2019)
Many Syrian writers today are writing from exile — but not Khalifa, one of its most famous literary figures, who still lives in Damascus. Death Is Hard Work takes place in the current day, in the midst of the brutal war most of us experience merely as headlines. Three siblings have to travel a few hours from Damascus to return their deceased father's body to his native village. Normally this would be a simple task, but in wartime nothing is simple. Their dangerous road trip frames a sharp, unflinching portrait of the psyche of a splintered family and a shattered country. —L.R.
Good Will Come From the Sea, by Christos Ikonomou, translated from Greek by Karen Emmerich (Archipelago, March 2019)
What happens when everything turns on the question of money — money you don't have? Think of the compulsions that might overcome you. Ikonomou's short stories describe the lives of Greeks coping with the economic fallout of the debt crisis. The people in his fiction discover that poverty is an instructor — a revealer of depths, a conjurer of fresh identities. In this collection, some characters are hardened by their experiences, some find courage, and some lose themselves in delusions. Each of their stories is gripping from the first to the last. —C.B.
Dark Constellations, by Pola Oloixarac, translated from Spanish by Roy Kesey (Soho Press, April 2019)
When Oloixarac's first novel was translated in 2017 as Savage Theories, it was clear that the Argentine author had no small feat in mind. The philosophy major's debut was a multidisciplinary, anthropological deep dive into a history of violence as framed through Argentina's military dictatorship. Now she's back with Dark Constellations, an ambitiously expansive novel, as erudite as the last, which introduces us to 19th-century explorers, hackers in the 1980s, and researchers in the not-so-distant future working on a massive surveillance project. They're all after the same thing: observing, cataloguing, and controlling the human experience. —L.R.
Käsebier Takes Berlin, by Gabriele Tergit, translated from German by Sophie Duvernoy (New York Review Books Classics, July 2019)
Tergit was a quintessential writer of Berlin's roaring '20s, who captured a divided city wild with hedonism, cabarets, abject poverty, multiculturalism, and the escalating battle between fascists and communists that would come to define the continent's fate for decades. Finally, her seminal 1932 novel — a biting critique of Weimar-era politics that made her no friends; she fled the Nazis a year later — is forthcoming in English, and Tergit might get the global recognition she deserves. —L.R.