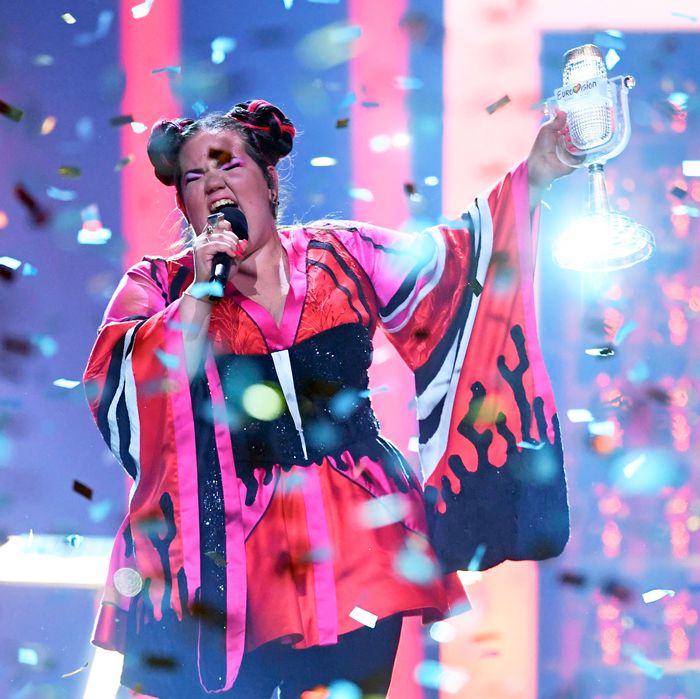 Last year's winner, Israel's Netta Barzilai. Per Eurovision rules, that means Israel, controversially, will host this year's competition this month.
Photo: Francisco Leong /AFP/Getty Images
The Eurovision Song Contest is one of the world's most-watched televised events. The Israeli-Palestinian conflict is one of the world's least-understood geopolitical dilemmas. This month, the two will collide. How that'll play out is anyone's guess, but this is almost certainly going to be one of the most controversial and tense installments of the event in its history.
Here's the short version: Despite being founded in 1956 as a cultural endeavor to promote European unity, Eurovision — a competition in which various countries nominate local musical acts to contend with one another for a prize and fame — has, over the past 63 years, expanded to include entrants from countries outside the Continent. Since 1973, one such country has been Israel. The Jewish state won the competition in 2018 and, per the rules, will host it this year, in Tel Aviv, beginning on May 14. Israel is eternally controversial in the international community, and various people and groups have come together to urge viewers and participants (as well as Madonna, who is slated to perform as a tie-in to the competition) to boycott the event this year.
The basis of the boycotters' complaint is Israel's abuses of the rights of the indigenous Palestinian Arab population. It would hopelessly bog us down to get into all the specifics of the clash, which extends back to Jewish settlers' arrival to the region in the late-19th century and runs through the establishment of the state in 1948; the capturing of the Palestinian-majority territories known as the West Bank, the Gaza Strip, and East Jerusalem during the 1967 war; two major conflagrations beginning in 1987 and 2000, respectively; and up to Prime Minister Benjamin Netanyahu's racist, expansionist, and successful reelection campaign this year.
This won't be the first time that the Jewish state has hosted the competition — it did so in 1979 and 1999 as well. But, back then, there were no major worldwide boycott efforts. So what's changed? The answer is twofold: the rise of the Israel-criticizing Boycott, Divestment, Sanctions (BDS) campaign and Israel's slide to the right.
Let's start with that first item. Launched by Palestinians in 2005, the BDS movement seeks to nonviolently accomplish three goals: an end to the occupation and blockade, fully realized rights for Palestinians in Israel, and the return of Palestinian refugees. In order to achieve those aims, BDS urges individuals, corporations, organizations, and governments to divest from Israel; support international sanctions against the country; and boycott Israeli businesses, academic engagements, and cultural events — like, for example, this year's Eurovision — among other things.
It's hard to say exactly how successful BDS has been. It hasn't changed much in the way of Israeli policy other than to become a motivating force for anti-BDS efforts on the government's part. However, it has become incredibly effective as a point of discussion , causing countless people to think for the first time about Israel's transgressions. On the artistic front, it appears that BDS activity on social media played a role in pressuring performers such as Lorde and Lana Del Rey to not play in Israel, and there's a growing stigma for any artist who opts to do an Israeli gig. As such, it's natural that BDS's latest campaign is targeting this year's Eurovision contest. "There is something big here," Tzahi Gavrieli, head of the Israeli government's anti-BDS task force, told Reuters. "[Eurovision] is a major brand, and there is definitely an attempt under way by the other side to take it down." The task force is now cracking down on Twitter bots associated with a boycott; Twitter confirmed it has "suspended a small group of accounts for violating [its] regular spam rules, in line with [its] commitment to improving healthy conversations on the service."
This year's competition will also arrive in the immediate wake of Netanyahu's electoral victory, and that brings us to the second cause for increasing backlash: Israel's lurch to the right. The country's left wing was massively discredited after the major liberal party, Labor, made a failed peace attempt at the turn of the millennium and a vicious miniature war erupted for nearly five years. Since then, the Israeli electorate has become increasingly expansionist and anti-Palestinian.
Given all that, it's little surprise that left-leaning people in Eurovision-participating countries like Ireland, Iceland, Belgium, and France would sign on to the boycott effort. An array of artists, including past Eurovision winner Charlie McGettigan, signed an open letter, published in the Guardian, endorsing the boycott. Musicians Brian Eno and Roger Waters — both of them longtime critics of Israel — have boosted the signal. So far, it's hard to see a fundamental impact on the competition, insofar as no artists have pulled out and no one is refusing to broadcast it. However, the proof may be in the pudding.
Iceland's entrants in the competition, a band called Hatari, have already said they plan to stage some kind of protest during their performance, though it remains to be seen whether they'll do it. Israel's bracing for any potential demonstration either way; Reuters reports that costs for security at the event on the part of the TV network that will air and host it — Israel's public broadcaster, Kan — are "unsually high." Meanwhile, more than 100 artists from various disciplines — including Stephen Fry, Marina Abramovic, and Scooter Braun — have signed an open letter denouncing the boycott; and Israel's winning artist from last year, Netta Barzilai, has said Eurovision is a "festival of light" and that "for people to boycott light is spreading darkness." And, of course, social media will be a complete shitshow with all the fighting between pro- and anti-Israel fanatics.
Boycott supporters aren't holding out much hope that their efforts will shut down Eurovision, but it's not unreasonable to think it'll raise awareness for their cause. Eurovision was designed to demonstrate that you can contend for national pride without having to fire a bullet. As such, perhaps this nonviolent effort is, in a curious way, within the spirit of the competition it's seeking to disrupt.