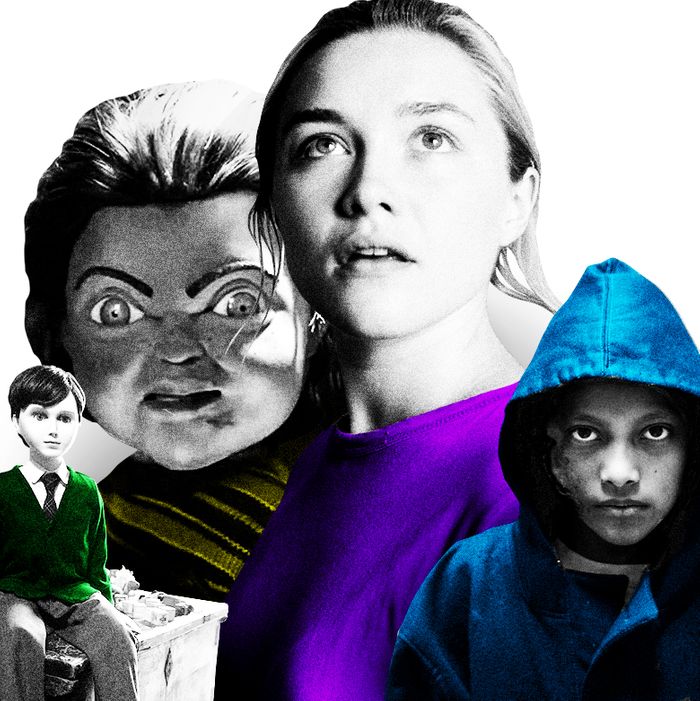 Photo: Maya Robinson/Vulture and Photos by A24, Metro-Goldwyn-Mayer, STXfilms and Shudder
With no Michael Bay movie (or anything involving fighting robots) dropping this Independence Day, one of the year's biggest box-office weekends is in the hands of a glorious maniac. Ari Aster's follow-up to Hereditary, a sick romp called Midsommar, hits theaters ahead of the Fourth of July holiday, only to be joined at the cinema weeks later by bloodthirsty alligators, a massive wild boar, a revamped Chucky doll, and a bunch of other Scary Stories to Tell in the Dark. Intrigued? Great. Here is your horror preview for the coming season:
Boar (June 6, Shudder)
Creature features are great, and so is Australian horror. Combine the two and you get a distinctly Aussie wild-boar thriller. Razorback from 1984 is a classic in certain niche circles, and now writer and director Chris Sun's Boar will finally arrive Stateside on Shudder this June. The actual outback is a hostile enough environment, but what's even more threatening? An outback populated by a wild pig the size of a truck ripping to shreds anything that encroaches on its territory. Bill Moseley co-stars in a special treat for Rob Zombie fanatics.
Hallowed Ground (June 7)
In Hallowed Ground, two married women plan a cabin-in-the-woods getaway but end up in the middle of a blood feud between the Native owners of their rental property and a neighboring clan of hood-wearing, American-flag-waving hillbillies. This could be … problematic!
Head Count (June 14)
Never read the chants and incantations you don't understand! Just never do it! In writer-director Elle Callahan's feature debut, a group of teens head to the desert town of Joshua Tree to chill and do desert things like hiking around big stones. But then one of them decides to read some spooky spell he found on the internet during a campfire ghost-story session and hell is unleashed in the form of a shape-shifting creature. You don't have to believe in blood-hungry demons for them to kill you. Just remember that, teens.
Child's Play (June 21)
Chucky is back, and he's still dangerous. Director Lars Klevberg is helming the first Child's Play in 30 years to exist outside the continuous narrative universe of creator Don Mancini's original franchise, and he's rebooting it from the beginning. Aubrey Plaza stars as Karen Barclay, the mother who gets young Andy a Buddi doll without knowing it's a tiny serial murderer. Mark Hamill provides the voice of Chucky this time around, and Brian Tyree Henry is your new Officer Mike Norris.
Nightmare Cinema (June 21)
In this anthology film, people are drawn to a mysterious movie theater where their fears play out in front of them, and the projectionist in the booth (Mickey Rourke) preys on their souls. But the real fun of Nightmare Cinema is the lineup of directors who made the vignettes, which features Mick Garris, Joe Dante, Alejandro Brugués, Ryûhei Kitamura, and David Slade. Fight the damn devil this June.
Annabelle Comes Home (June 26)
At this point we have seen more of Annabelle in the Conjuring universe than we have Ed and Lorraine Warren, but the titans will converge again in Annabelle Comes Home, the third movie in her series. This epic showdown will find the demon doll back in the nightmare closet at the Warren house, with her presence activating the evil inside the other cursed objects around her. In short: Hell will be unleashed.
Midsommar (July 3)
Happy horror Christmas, weirdos! Ari Aster is back. The Hereditary writer-director is following up his hit with Midsommar, centered on a couple (Florence Pugh and Jack Reynor) attending a picturesque summer festival in Sweden that only comes around once every 90 years. Once they arrive, it seems like the sun never sets and there's a lot more blood involved than anyone was told about in advance. Also: It's Ari Aster. Get ready for a feel-bad Fourth of July spectacular.
Crawl (July 12)
You have to respect the guts of Crawl, from Piranha 3D and High Tension director Alexandre Aja. He could have been content giving you a hurricane thriller or a home-invasion thriller or a savage alligators thriller, but instead he just shoved all three into one movie. Kaya Scodelario plays a young woman trying to rescue her father during a storm surge, only to find they're both trapped by gators that have followed the rising tide into the house. It's time for all-out man-on-reptile violence — in the middle of a Category 5 hurricane. It's like the movie equivalent of primal screaming into the night.
Brahms: The Boy II (July 26)
Brahms is just too disturbed to quit. Katie Holmes takes over starring duties for this haunted-doll sequel in which an unsuspecting family moves into the Heelshire Mansion, the site of the original bad happenings in 2016's The Boy, and presumably comes face-to-face with the secrets of the previous tenants. The family's young son takes a shine to a very lifelike doll he finds in the house, and wouldn't you know: It's Brahms! First rule of moving into a giant, spooky mansion: Throw out all the goddamn dolls!
Scary Stories to Tell in the Dark (August 9)
Scary Stories is one of those anthology films that could be more style than substance, but thanks to director André Øvredal, we can rest assured it's in good hands. (It doesn't hurt that the movie is produced by Guillermo del Toro, either.) Based on the popular illustrated ghost-story books from author Alvin Schwartz and illustrator Stephen Gammell, the movie features a handful of spooky stories from the collection turned into terrifying moving pictures. Gammell's illustrations for the book series are so uniquely haunting they'll be hard to top, but the man behind Trollhunter and The Autopsy of Jane Doe has proven he knows his way around some truly good scares.
47 Meters Down: Uncaged (August 16)
The first 47 Meters Down took place almost entirely in and around a metal cage on the ocean floor, but as you can tell from the title of the sequel, we're about to see a lot more free swimming. This time, a group of teens get caught in the labyrinth of an underwater city as deadly sharks start closing in.
Ready or Not (August 23)
There are two words that make Ready or Not an intriguing summer-thrills option: Samara Weaving. The Australian actress has had standout roles in Mayhem and The Babysitter — both extremely fun blunt-force movies — and now she's starring in this movie about a bride who joins her in-laws for a fun family game on her wedding night, but who ends up fighting for survival alongside everyone else. The family is also rich and "eccentric," so there could be some very debauched shenanigans involved. You know, because rich people are scary and awful.
Tone-Deaf (August 23)
This feature from writer and director Richard Bates Jr. is a home-invasion movie, but with some millennials-versus-boomers violence for good measure. When a young woman named Olive (Amanda Crew) rents a rural house from possibly psychotic Harvey (Robert Patrick), the generation gap and conflict between urban and rural sensibilities sets the pair on course for an inevitable dispute. But instead of an ideological debate, there will be murder.
Tigers Are Not Afraid (TBD, Shudder)
This acclaimed genre film from Mexican director Issa López has been making its way around the world with festival screenings and international premieres, and this summer it finally arrives in the U.S. courtesy of Shudder. The story focuses on a girl named Estrella who comes together with a group of young kids who have all been orphaned by violence. The fantastical, dark fable has drawn comparisons to work by Guillermo del Toro, with the Oscar winner heaping praise on López's film. This will be a jewel of the summer for sure.