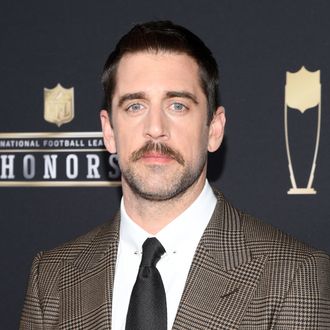 Aaron Rodgers.
Photo: Jason Kempin/Getty Images
It might have been difficult to see with all the fire and destruction last night, but another celebrity cameo slipped into the penultimate episode of Game of Thrones. Green Bay Packers' quarterback Aaron Rodgers briefly showed up as a Lannister archer on the HBO series.
The superfan posted about the surprise cameo on his Instagram, along with some fitting fire emoji. He notes, "It was just for a few seconds, but I'll always be thankful to have been on the penultimate episode of @gameofthrones #crazyepisodetonight." Crazy episode, indeed.
The quarterback has hinted to a possible cameo since last year, when he told The Dan Patrick Show he could "neither confirm nor deny" a possible appearance. He did say that if he was on the show, he'd want to be "killed or in one of the steamy scenes for sure." In April, he told ESPN reporters that he had inside info on who lived and died. He even shot a promo video for Game of Thrones last year, where he sat in an Iron Throne and proclaimed himself the true King in the North.
Rodgers was sneakily highlighted at the end of the episode as an "extra," where he says his character "was helping a woman who was injured … set her down … then the hell with her I'm getting out of there." Rodgers is the latest in a slew of cameos on Game of Thrones, which ends next week. Ed Sheeran, Rob McElhenney, and Chris Stapleton have also been spotted on the series.