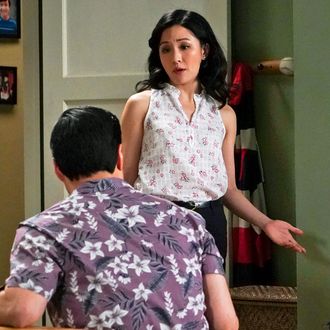 Jessica Huang is staying around, for now.
Photo: Richard Cartwright/ABC
Despite a series of "fuck"-laden tweets on Friday afternoon after Fresh Off the Boat was renewed, Constance Wu has promised that she does love and enjoy making the ABC series, and at this point, ABC's just going along with that. In a conference call Tuesday, as transcribed in IndieWire, ABC president Karey Burke said that "there's been no thought to recasting Constance" on the series, and said that she "did actually know" that Wu had a project she would've pursed if Fresh Off the Boat had not gotten picked up (according to Wu, not getting to do that project is what prompted her series of tweets). "But we never really considered not bringing back Fresh Off the Boat," Burke added. "It was just too strong. I'm going to choose to believe Constance's most recent communication about the show that she's happy to return and the cast and crew is happy to have her back."
After making several furious tweets after Fresh Off the Boat's renewal was announced, and even commenting "dislike" under a celebratory Instagram post from the show, Wu posted a statement Saturday afternoon saying that making the series was "fun and easy and pleasant," but not the challenging work she would prefer to do. Her co-stars, including Randall Park, haven't yet commented on Wu's tweets about the renewal. We love a good "choose to believe" hedge, though at this point we're mostly choosing to believe that the first few days back on the Fresh Off the Boat set will be really, really interesting.