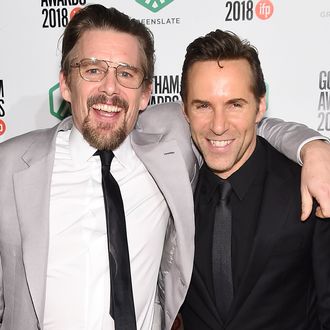 Photo: Jamie McCarthy/Getty Images for IFP
If you thought A Star Is Born was just too glamorous, too Hollywood, then Ethan Hawke has something special for you. Variety reports that Hawke and his real-life dear friend Alessandro Nivola are teaming up for Satan Is Real, a biopic about the country musicians Charlie and Ira Louvin. Hawke told the trade, "It sounds both violent and beautiful and the music should be that. It's aggressive, it's electric, it's strange. It's not Brooklyn folk rock. It's not wannabe cool guy country. It's hillbilly gospel music." In other words, pretty little Jackson Maine can take his good grooming and girlfriend worship elsewhere, because the Louvin Brothers are showing up to take speed, pick up women, and beat the hell out of each other.
Junebug director Phil Morrison will helm the picture, which will be shopped during the Cannes Film Festival, currently under way in France. To really put the hard sell on buyers, Hawke and Nivola even recorded some Louvin Brothers songs together. Naturally, Hawke says he hopes the two can be so sonically in sync that they achieve "blood harmony" in their pitch matching, because this man is never half-committed to any part.