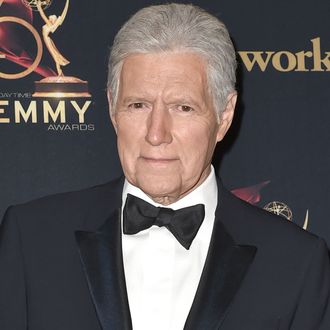 Photo: David Crotty/Patrick McMullan via Getty Image
Alex Trebek has had a remarkable sense of humor when it comes to talking about his battle with stage four pancreatic cancer (he was diagnosed earlier this year), but in a new interview with CBS News, Trebek chose to open up about the troubling realities of working with such a diagnosis. Speaking with Jane Pauley, the Jeopardy! host revealed that near-frequent, excruciating stomach cramps, which came out of nowhere, occurred during a taping day. "This got really bad," he explained. "I was on the floor writhing in pain. It went from a 3 to an 11. And it happened three or four times that day while we were taping. So, that was a little rough on me." Somehow, Trebek refused to delay filming the show.
"I taped the show, and then I made it to the dressing room on one occasion, just barely, before I writhed in pain and cried in pain. I had 15 minutes before the next show," he added. "So, I got myself together, and spasms of that kind usually last about 10 to 15 minutes. 'All right, here we go again.' But I got through it. And the producers were very kind. They said, 'Look, if you don't wanna do the show we'll just cancel taping.' I said, 'No. We're here. We're doing the shows.'" And if you want to bring up the fact that his cancer reached stage four, don't even bother sulking in front of him. "It sounds impressive," he joked. "I've got stage four cancer, okay? Not stage one, for sissies, that's just beginner's cancer. I've got advanced!" God, what a guy.