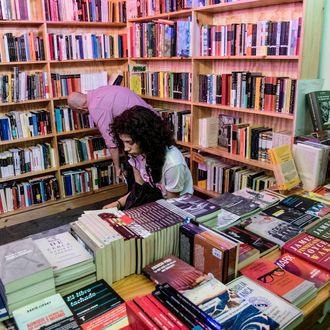 Photo: EZEQUIEL BECERRA/AFP/Getty Images
Publishing house Alfred A. Knopf has fired Gary Fisketjon, who is credited with discovering and promoting such authors as Donna Tartt, Tobias Wolff, Haruki Murakami, and Patricia Highsmith. The New York Times is reporting that Fisketjon was sacked for "what [Knopf] called a breach of company policy." A spokesman for Knopf declined to specify to the Times exactly what the nature of the breach was.
Before coming to Knopf, Fisketjon created Vintage Contemporaries, publishing paperback editions of Jay McInerney's Bright Lights, Big City, Raymond Carver's What We Talk About When We Talk About Love, and Richard Ford's The Sportswriter. At the time of his firing, Fisketjon was an editor-at-large and vice-president of Alfred A. Knopf.