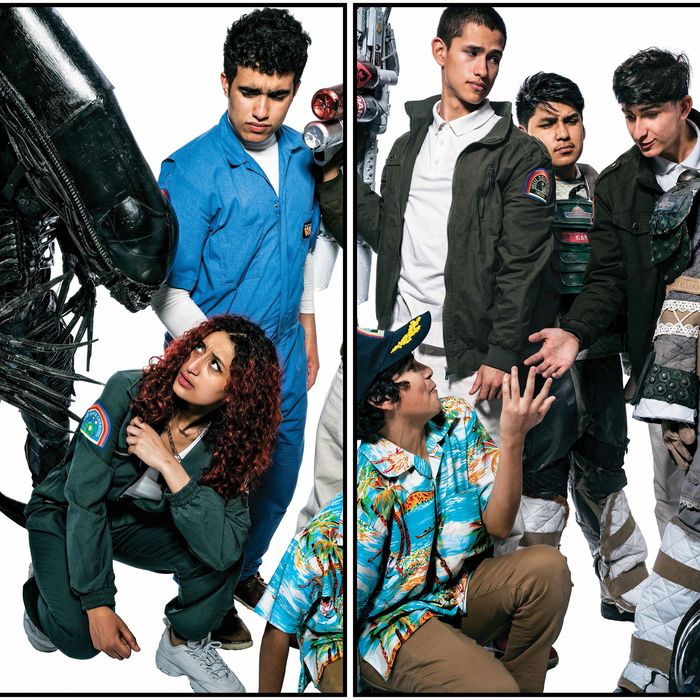 From left: Xavier Perez as the xenomorph; Gabriella Delacruz as Ripley; Dakota Rios as Ash; Ibrahim Jaludi as Brett; Jason Lopez as Captain Dallas; Pedro Sarmiento as Kane; David De Diego as Jackson; Britney Gonzalez as Lambert.
Photo: Dana Scruggs
"I'm just gonna run around like a madman," says Steven Defendini, the art director at North Bergen High School in New Jersey, as he speed-walks across the stage where in just a couple days, the drama club will do an encore performance of their now Internet-famous staging of Alien: The Play. He needs to fix up the tail of the alien — ahem, xenomorph — because it's starting to go limp from the two-a-day rehearsals they've been doing during Spring Break. The tail itself was a puzzle that had him testing out copper tubes and PVC pipes before realizing what would give it the perfect menacing sway: a hula hoop.
"Did you finish bolting this to the floor?" he turns to ask his right-hand man, Danny Lanza, referring to the set for Mother, the computer mainframe. (Danny, a senior who has become handy with a drill, is on it.) "These kids might never do another play or build another spaceship, but they know how to use a drill now; they know how to use screws; and they know how to think outside of the box," he says. "Problem solving is the only curriculum we have."
Inspired by the 1979 science-fiction film and adapted by Perfecto Cuervo, an English teacher and director of the production, the show played in the school auditorium twice in March. Last year, they did Night of the Living Dead, and over the summer, Cuervo and Defendini decided they'd try to do Alien next. Defendini began building costumes with some of his art students at the start of the year, and Cuervo cast his eight stars (including the alien). By mid-November, they began rehearsing. All told, they spent about $3,500, most of it out of pocket, because unlike football, there is no budget for theater. "It's a sports town," says Cuervo.
But the play, it turned out, looked fantastic, and what would have been just another high school theater production went viral on Twitter after audience members posted photos online. They eventually caught the attention of New Jersey Governor Phil Murphy, and maybe most crucially, the film's star, Sigourney Weaver, who recorded a video message to the students ("The alien, I must say, looked very real to me"), as well as the director Ridley Scott, who then donated $5,000 for Friday night's encore performance. (He asked that whatever money was leftover go to next year's production of another one of his films, Gladiator.)
Like the original film, which relied on an ingenious use of practical effects, Defendini and his band of student builders embodied the truism of turning trash into treasure, fashioning the 12-foot-high space jockey, astronaut suits, and alien costume out of recycled materials, sheets of foam donated from the local craft store, and many tubes of hot glue. The xenomorph itself is a Project Runway masterpiece of unconventional materials, including latex gloves along the head, a Mighty Morphin' Power Rangers bodysuit, a $5 butterfly costume painted black, and the hula hoop. "We made it cool," a group of students tells me in unison in the art room.
"Two weeks before the play, everyone was talking about how no one was going to go: we were all sweating nervous selling those tickets," says Gabriella Delacruz, the 18-year-old, flame-haired senior who plays Ripley. "Kids would just give us blank stares, sometimes rude comments." Eventually, the kids did come — they had close to a full house their first night. Now, they have a final, sold-out show in the 830-seat auditorium.
The students range from 15 to 18 years old, first-years to seniors, five feet tall to six-foot-three. The effortlessly cool kid Jason Lopez is Captain Dallas (he would like to play Maximus in Gladiator next year); the youngest, Dakota Rios, who just turned 16, is deeply committed to his role as the android Ash; senior Ibrahim Jaludi, who plays Brett, is the jokester (he introduced himself to the school by pretending to be a "nine-year-old genius"); the extremely likable David De Diego is Parker; Britney Gonzalez, who switches between choir and theater, plays Lambert; Pedro Sarmiento, a.k.a. the "teddy bear," is Kane; the tallest, Xavier Perez, is the xenomorph; and of course, Delacruz stars as Ripley.
Delacruz tells me the past year has been especially surreal: her grandmother had a stroke, and her mother was diagnosed with Crohn's Disease and colon cancer. The regularity and camaraderie of the show has anchored her during the school year. They've been coming in every day of the week during spring break, starting at eight A.M. (the sound kids always arrive first) for the start of two rehearsals, painting new alien eggs, working on their transitions, and for Delacruz, going over her fight scene with Rios. She didn't get into any of the schools she applied to, but she's going to try again, because if there's one thing the sudden success of this show has taught her, it's that anything is possible.
Most of the students are Latinx kids from an increasingly immigrant town, and as with much in their lives, they've learned to make do with what they have. They're resilient and creative. Cuervo and Defendini are hoping to turn the public attention into something tangible and have set up the North Bergen Theater and Arts Foundation as a way to collect donations, which they hope to bundle up in order to offer grants or scholarships to students. One of the students, Jess Angel, got into the School of Visual Arts but can't afford it. "Our goal at the very least is to maybe pay for your school, maybe pay for your books or supplies," says Defendini.
Like the other kids, since doing the play, Jaludi now wants to be an actor — something he'd never really considered before. He's trying not to get too swept up in the attention, but still, it's hard not to fantasize. "If they put this on Broadway though?" he says. "That would be awesome."
It may not be the Great White Way, but on the eve of their final performance Friday night, there are camera crews and a celebrity sighting. For a couple of weeks Cuervo has held onto a secret — that Sigourney Weaver, the original alien slayer herself, would be coming to surprise the kids for their final show. A couple of hours before call time, Weaver walks through the hallways around the auditorium to meet the cast and crew, who greet her with shrieks and tears. She tells them she is here "representing all Alien fans all over the universe." Perez hoists the 5-foot Jaludi up, and he screams, "I love you! You're my childhood hero!" before burrowing through the bodies to give her a hug.
Additional reporting by Joy Crane.