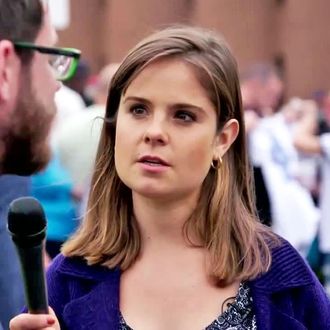 Amy Hoggart on
Full Frontal.
Photo: TBS
Full Frontal with Samantha Bee correspondent Amy Hoggart is getting her very own show at TBS. The network announced today that it's ordered an untitled half-hour series written by and starring Hoggart, which will blend scripted and non-scripted segments to "tackle everyday problems through Hoggart's unique kaledeiscope of humor." Leo Allen (Nathan for You, Review) will serve as showrunner and executive producer alongside Samantha Bee.
Unlike Full Frontal, Hoggart's show is described as "nonpolitical," and in each episode Hoggart will play a "wounded wannabe psychologist" who looks at an issue that is making life for Americans harder: "Completely underqualified, Hoggart will go to ridiculous lengths to tackle issues such as monogamy & polyamory, friendship, and shame — always aiming to make everyone feel just a little bit better."
"I'm so relieved to be finally getting my money's worth after an expensive and so far useless psychology course," Hoggart said on the new series. "I'll be exploring the topics we all have a hard time coping with, learn why we do the insane things we do, and unnecessarily demean myself for laughs. I'm beyond thrilled to continue my creative partnership with Sam and the wonderful team at TBS."
A premiere date for the series hasn't been announced yet. In the meantime, Hoggart will continue appearing as a correspondent on Full Frontal.