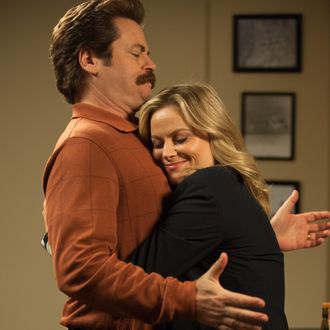 Photo: NBC/NBCU Photo Bank via Getty Images
She is a goddess, a glorious female warrior, and Amy Poehler damn well knows it. So she doesn't give a damn if she comes off looking too eager for wanting a revival of Parks and Recreation so quickly after its wonderful 2015 finale, even if that means mentioning it again and again and again until it actually comes to fruition. Persistence, à la the Fun in the Sun Bill, is key!
"I'm like Leslie Knope in one way, which is that I am not good at playing it cool, so if there was an actual thing happening, you'd probably be able to pry it out of me pretty fast," she told EW about the revival's chances. "Mike Schur, our captain, is working on, like, 50 shows right now but I have my suit ready. I'm Avengers-style ready to put it on at any time. Again, I should probably play harder to get but that's really not me or Leslie's style so you know, I'm avail." We're also avail to watch such a thing, but have that 10th anniversary reunion to tide us over in the meantime. But if it doesn't work out? We'll just have to blame Jerry, or Garry, or Larry, obviously.