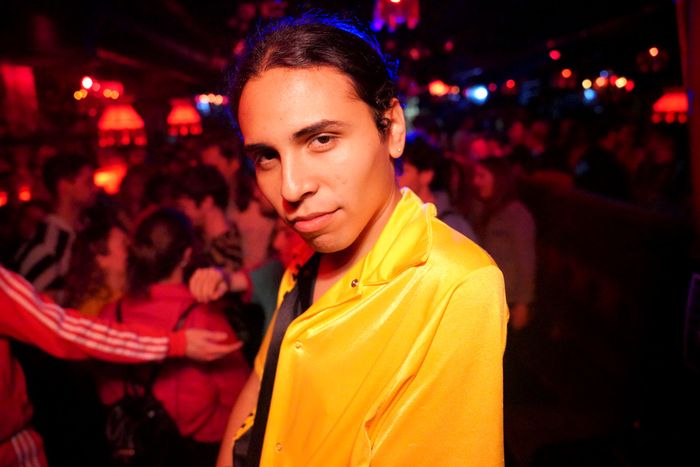 Andrés Govea.
Photo: Carly Hoogendyk
Andrés Govea (@mij0andres) is a stand-up comedian based in NYC but hails from McAllen, Texas. He was featured in the Brooklyn Comedy Festival, and you can find a bunch of selfies featuring his unfortunately perfect cheekbones on his Twitter and Instagram.
This week, Andrés and I chatted about inappropriate tweets, taking the LSAT, and bullying Taylor Swift stan accounts.
I love to do alternative TV/movie pitches on Twitter. They really give me a giggle. Such classic of mine include Grease But at the End, Sandy Is Bald; Marley & Me But They're Mean to the Dog; and SNL's 'More Cowbell' But They're Italian. Tyra Banks should absolutely make a cycle where the girls have to compete against a very attractive horse. I'd love to see a horse in a CoverGirl commercial. Or at the very least I'd like to see Tyra yell in a horse's face for two minutes. Yay? Neigh?
What made you decide to start doing stand-up?
January 19, 2018. Call Me by Your Name had just been released and everyone was goo-goo gaga over (fake gay) Timothée Chalamet. Meanwhile, YouTube star turned pop sensation Troye Sivan (real gay) was finding notoriety on my personal Spotify playlists. I thought to myself, "Who are these white twinks blowing up my spot?" Chin down, a furrowed brow, and pursed lips on a frail body? Well, mama, that's my thing. Since then I vowed to achieve a higher booking fee than the two combined. Sigh.
Has using Twitter as a platform for your jokes benefitted your comedy in any way?
Not … really. I constantly complain to my friends that I don't get the number of likes I deserve on Twitter. Sure, I do post inappropriate content but, without a doubt, it's funny. I live for the DMs that I receive of: "Andrés you can't do that!" Maybe it's a combination of jealousy and fear of my power, but either way, PLEASE LIKE MY TWEETS!
That day we were celebrating our four-month anniversary and we were in, let's say, an intimate moment. For the life of me, I could not remember my boyfriend's name. Bad, I know! All of sudden, something clicked: I'll call him Daddy! Unfortunately, I thought of that idea two days later :/ We broke up a week later.
It's clear from your tweets that you joke about your sexuality a lot. Do you think your other marginalized identities (Latinx, a Barb) influence your humor at all?
First of all, being gay is absolutely the funniest thing you can do/be. Probably the hardest times I've laughed have been hooking up with my boyfriend in the dead of night. As far as my other marginalized identities — being Latinx, brown, femme, etc. — all of it directly influences my humor. It also influences my way of life, how I look at things, and how I go about my day. That's sort of who I am. LOL. I will say, the most difficult identity I carry is being a Barb (a Nicki stan with the taste of blood). There are so many hayters online that need to be checked and unfortunately, I have to do it. And if that comes in the form of me bullying a Taylor Swift account that has 50 followers, so be it.
I was on my way to brunch when I almost called the white cops on these hooligans. Not my fault — they looked so mean. As I found out later, their owner had left them stranded in Williamsburg. They were on their way to Nevada to find her. I tossed them a quarter and said "Good luck, boys." Poor bastards.*
*I was high when I walked by a stoop sale.
Do you have any ultimate career goals with your stand-up? Or is it more of just doing something you enjoy doing?
Stand-up is a HUGE hobby for me! I'm waiting until I get the courage to take the LSAT. Wait, no. I take that back. Have you seen the blockbuster hit movie, Charlie's Angels 2: Full Throttle? Well, I want to remake that movie but … worse. Drew Barrymore please give me the rights!
So back to you being a Nicki Minaj stan: Anything you wanna say to her? I bet she Googles her name.
Hi Nicki, it's me! I don't think Lil Wayne needed to be in the "Good Form" music video. I hope you're doing well. But bitch, I know you are. Ahhh! ;) I'd love to have you feature on my song, "Writing a Comedy Song Isn't That Hard." I'll send the track, whenever. Love you! Please follow me back. Muah! Signed, one of your sons.