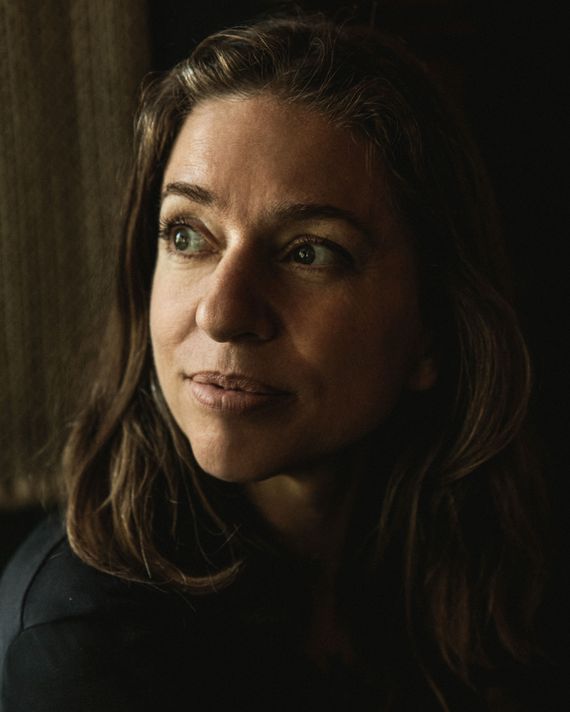 Less than two minutes into our interview, Ani DiFranco says the word fuck for the first time, and it sounds like music. The f is fricative and percussive, much like DiFranco's habit of thwacking the side of her acoustic guitar as she plays it. Then comes the vowel sound, which has a gentle lilt that mirrors the way DiFranco sings: in dulcet tones that sometimes give way to a guttural growl.
We're sitting at a corner table in the Standard Hotel on Cooper Square. Geographically, we're not far from where DiFranco, who is now 48, lived in the East Village for much of her late teens and early 20s, but spiritually the posh, Parisian-inspired café is basically as far away as you can get from her scene in the 1990s — the decade when she was a vital component of the alternative feminist rock wave. In the summer of 1989, when DiFranco first moved to the city, she called herself an "anti-capitalist punk" and paid her rent by washing dishes in a sweaty Brooklyn kitchen and modeling nude for a figure-drawing class uptown. As she writes in her new memoir, No Walls and the Recurring Dream, "The City seemed to be in the hands of immigrants and artists, punks and queers, and I felt drawn to it like iron to the center of the earth."
DiFranco is in town both to promote the memoir and to see the Broadway premiere of Hadestown, a show written by the 38-year-old singer-songwriter Anaïs Mitchell, whom DiFranco mentored early on. In 2006, Mitchell created a theatrical production based on the Greek myth of Orpheus and Eurydice called Hadestown. In 2010, DiFranco helped Mitchell develop the show's songs into a concept folk album originally released on DiFranco's label, Righteous Babe Records. DiFranco and Justin Vernon of Bon Iver both sang on the album, which eventually grew into a full-blown theatrical spectacle that was nominated for 14 Tony Awards on April 30. On the record, DiFranco sang the part of Persephone, the world-weary goddess of fertility married to Hades (the current Persephone, Amber Gray, is in the current crop of Tony nominations for the role). DiFranco is overjoyed to see the project make it to the Broadway stage. She just didn't realize there would be a whole red-carpet situation. "Now I'm in a panic because I fucking … I didn't pack," she says. "I'm going to be underdressed. I was going to do black jeans and a T-shirt."
I told her that it would be very on-brand for her to stick to the original plan. Very lo-fi. She sighed. "I hate dressing up. I do. But I'm thinking, This is the Broadway premiere of a show you helped get up off the ground. If you can't dress up for this, Ani, then when can you? I mean, I wore a wife-beater to get married. So that's where I'm at." (In the end, DiFranco walked the carpet wearing a white tuxedo jacket with tails, a squat brown bowler hat, and a red rose stuck into her lapel.)
DiFranco came out of the era of riot grrrl, Hole, the Lilith Fair — when being a queer, feminist folk star didn't seem like such a dubious distinction. But she never fit neatly into any of those microscenes. She called her songs folk music, but they were often more spiritually akin to Bikini Kill than Indigo Girls (even if she was friends with the latter). She was the less glossy Alanis Morissette, a less yodel-happy Jewel (in a 1998 open letter to Ms. magazine, DiFranco referred to her poppier contemporaries collectively as "Joan Jewelanis Morrisette"). Her style — confessional, syncopated lyrics, often tinged with insouciance and rage — paved the way for intimate, diaristic weird-girl rock. She sang about abortion, rape, poverty, sexual violence, menstruation, killing insects with her bare hands until they "left a puddle of pus on my wall." You can still hear her influence in contemporary indie rock, from Tune-Yards to Lana Del Rey to St. Vincent to FKA Twigs. And yet DiFranco and her music always seemed disconnected from the machinery of the music industry. She never signed to a major label, instead starting Righteous Babe at 20 years old, so, as she explains in her book, she would never have to take corporate money to make her music. She stuck to her independent guns long after no one gave a shit anymore about selling out, and she was sexually fluid before that was commonplace.
DiFranco's memoir is a deeply retrospective work, not only grappling with her own history but with the decade in which she was most famous, and it comes at a time when public discourse seems particularly eager to revisit the Clinton years. One of DiFranco's 20 studio albums is called Revelling/Reckoning, which seems like an apt description of the way we think about the '90s: reveling in the prelapsarian era just before the internet took over our consciousness, when people still had to get off their couches in order to communicate and most interpersonal exchanges were ephemeral and therefore less subject to the fear of digital backlash. But we are also reckoning with that time — the way the media mistreated women back then (see Lorena Bobbitt, Monica Lewinsky, Tonya Harding, Anita Hill), and the way the era's feminism was full of its own prejudices and blind spots.
DiFranco had a front-row seat to those contradictions. There is a purity in the grittiness of her path — for the first years of her career, she made a living by taking buses all over the eastern seaboard to play coffeehouses and college dorm rooms — but some of her stories and songs can feel so '90s, stuck in an era when rebellion was defined by liberally using the word cunt. She is a foremother, to be sure. But, as she herself acknowledges, her feminist awakening was situational. "I think that all of us see the social movement we were part of as starting with us," she tells me. "That's the human experience, the world begins and ends with me. So I told the story of the feminist revolution which started in 1989, in New York, with me — that's one more very subjective take on the way of things."
After a while, we leave the Standard for a memory tour of the East Village, heading toward her old stomping grounds of Alphabet City, which she jokingly refers to as her "landscape of misdeeds." As DiFranco walks down Seventh Street, past manicured brownstones that were dilapidated when she lived in the neighborhood, she tells me that writing her memoir made her confront just how much of her New York life was one of constant danger. One of her first jobs was working the 3 a.m. shift at the UPS factory on the West Side Highway, and she would walk by herself, at 19, in the alleys near Port Authority in the middle of the night. Her stomach was so tight after rushing past dark recesses that she often lost her breath.
"One of the things I noticed when I had sort of written the damn book and it was in front of me was how much of it was about survival and safety," she says as we turn onto Avenue A. I mention a passage where she meets a strange man on the street in her early 20s and agrees to move into a spare room in his apartment just because the space is big enough for her to practice her music in. She later discovered that the man was sleeping in her bed while she was away on tour. "I will never let my daughter read my book," she jokes. "I just was sure of my own invincibility, which I think is an ingredient in youth, you know? … I was already angry, and I was insistent that I was going to walk wherever the hell I wanted to walk, whatever the hell time I wanted to walk there. It took a lot of risk taking just to be free and a lot of gauging the odds."
DiFranco's desire to take risks, despite the odds, gained her a lot of fans, the kind who would order her early tapes from feminist catalogues like Goldenrod and Ladyslipper when she had no official distribution channels. She was constantly touring, eventually moving up from coffeehouses in college towns to venues like the Beacon Theatre in New York and the Newport Folk Festival. She performed on Late Night With Conan O'Brien more than once.
In her early years, much of DiFranco's material grew out of her experience as a bisexual woman — she still uses the term dyke to describe her younger self, and did more than once during our interview — and many of her fans were queer women who were thrilled to find a singer speaking so plainly about her sexual experiences. They often looked to her for political guidance, which sometimes led to friction. Her "mother mentors," as she puts it, were the women of the Second Wave, so insistent on breaking down the male-female binary that they did not always engage in fluid thinking about women's liberation. Even if she embraced their spirit (and they hers), she wasn't always comfortable with their rigidity. She played the long-running Michigan Womyn's Music Festival, the women-only camping folk festival that inspired the Idyllwild Wimmin's Music Festival episode on Transparent. But she only played it once, because, as she writes in her memoir, she felt its environment was far too inflexible. She arrived at the festival with a friend, who was asked to remove her band T-shirt because it had a picture of men on the front. The festival was DiFranco's ideal fanbase — if she was embraced fully by one group in the '90s, it was the sort of women who danced naked in the woods — but she never felt fully a part of the groups that claimed her. (The festival ended in 2015 largely owing to criticism for its trans-exclusionary environment.) "Everywhere we went," DiFranco writes, "some woman seemed to be dedicating herself to protecting some other theoretical woman who might be triggered or feel tacitly oppressed by some tiny detail of the known universe … the quest to make everyone seem happy all the time seemed to have led to a world of micromanagement."
When she married her first husband, a male sound engineer named Andrew Gilchrist (whom she always called Goat, she writes, because "to me he looked more like a goat than a person named Andrew"), in 1998, some fans felt betrayed. "I read somewhere that I'm trying to challenge my dyke following by sleeping with a man," DiFranco told The Advocate in 1997. "God, I would never go to such extremes — like there's a straight girl from hell lurking within me." She's still haunted by the messages from gay women who said they felt hurt and abandoned. "There had really been no more backlash against my marriage than there had been to every other thing I'd ever done but, after a certain number of repetitions I doubted even the weight of my own experience," she writes in her memoir. "All the cards and gifts and sweet messages of congratulations I'd received from listeners were eclipsed by the clamor of controversy." (She married for a second time, to the producer Mike Napolitano, in 2009, and now lives in New Orleans with him and their two kids.)
Even her decision to start her own record label, Righteous Babe, to distribute her tapes so that she would never have to be beholden to "the Man," stirred criticism, or at least caused misunderstandings. After a 1997 Ms. article praised DiFranco for making more per record than Hootie & the Blowfish, DiFranco wrote a blistering open letter to the magazine expressing her dismay that a feminist publication would focus on the financial aspects of her music and not the artistic qualities. She wanted to stand outside capitalism completely, not be praised for her ability to game the system. "I mourn the commodification and homogenization of music by the music industry, and I fear the manufacture of consent by the corporately controlled media," she wrote. "Last thing I want to do is feed the machine."
And then came the plantation incident. In 2013, DiFranco planned a four-day artistic retreat at the Nottoway Plantation in Louisiana, a giant plot of land where, as a writer for Jezebel noted at the time, "the horrors of slavery are totally sanitized and glossed over." After the event's Facebook page was overrun by critics and a change.org petition to cancel the retreat earned 2,700 signatures, DiFranco canceled the retreat and issued a statement of apology. "i did not imagine or understand that the setting of a plantation would trigger such collective outrage or result in so much high velocity bitterness," DiFranco wrote on her website. "i imagined instead that the setting would become a participant in the event."
DiFranco tells me that she found the entire retreat experience devastating. "It put a level of fear into me that I had never felt. I could stand up to anybody, until it was my own tribe. I would not be taken down by anybody. But when it became my own tribe, I experienced a crisis … I just think Goddess help all the young artists and writers who are trying to be intrepid and insist on being human and being able to make mistakes, because that's part of evolution."
DiFranco's entire oeuvre is about being aggressively human — what it feels like to take up space as a woman, the sheer fact of having a tactile, tangible body — which is why she tells me that she shies away from social media now. She doesn't have the stomach for it, and she wants to save her vulnerability for her songwriting and her live shows. "I really feel like if I had grown up in the age of social media, that would have sincerely affected my journey," she says. "I know that a lot of shit that I just decided to do, I decided to do in a moment because it existed in a moment. We were experiencing something together in a moment. If that moment was going to live forever online and be criticized by the whole world … Would I have taken my shirt off? No. Would I have spoken so unfiltered? I don't know."
Now if she wants to post to Instagram, she sends pictures to a friend, who posts for her. She never checks the comments. She also does not read articles about herself or album reviews. She doesn't even listen to her own old records — she tells me she only hears the mistakes she made. To mark the release of her memoir, she is putting out a best-of record called the No Walls Mixtape, and to create it, she had to go back and listen to some of her earliest recordings. All she could hear at first was the "cheesy digital reverb" available to her in 1990. But once she stripped the recordings down to just her singing, she learned to appreciate them. "I was like, That sounds like a young person freeing their voice from their body," she says. "I am glad that happened." I ask her how she feels, given her reluctance to listen to her past efforts, to be publishing a book that chronicles her most intimate thoughts and experiences. "I guess lately I've been feeling acute dread," she says. "This is a whole new level of oversharing for the oversharing queen. I just want it to be June. I just want to get to the other side."
Another thing that happened when Ani DiFranco said fuck in the café: Time and space sandwiched and I felt a pang somewhere deep beneath my breastbone. Suddenly I was 15 again. Listening to DiFranco's music (at first on tapes, then on CDs) was my first real exposure to a woman cursing with conviction, with no filter between herself and her righteous indignation. DiFranco provided a welcoming, if not bombastic, gateway to feminism for the kind of girls who sang alone in their bedrooms and felt angry at the world but didn't quite know why. The chorus of "Untouchable Face," a song off her 1996 album Dilate that is one of her most streamed tracks on Spotify, [SG4] revolves around DiFranco cooing "Fuck you" in a measured, passive-aggressive singsong to an ex-lover who spurned her for someone new: "Fuck you / and your untouchable face," she sings. "Fuck you / for existing in the first place."
These lyrics are, looking back, almost cringeworthy — flippant and impudent, like blowing a raspberry in public. And yet, when I first heard them, sometime during the summer between seventh and eighth grade, they imprinted themselves deep in my psyche as a kind of oracular truth. I sat in my room day after day, singing along with DiFranco's enunciated rhymes, yelling to the void about untouchable faces when I had yet to touch anyone's face but my own.
In a 2015 post on the women's site The Hairpin (RIP) called "32 Feelings & Then Some: An Inquiry Into the Non-Legacy of Ani DiFranco," the writers Lola Pellegrino and Meredith Heil did a cheeky investigation into why DiFranco's music does not seem to resonate with as many young people as it once did for the members of my microgeneration (young Gen-Xer/older millennials) who blasted "Not a Pretty Girl" in our cars. The authors came up with several hypotheses: The kids are all listening to Lana for their sad-girl feels (and now, perhaps, Billie Eilish), her earnest raging against capitalism may be less potent in the era of influencers and hypebeasts, or simply that the entire landscape of music has become more diverse, more queer, and more radical, and that as a woman with two children married to a man, she is no longer on the forefront of the fight.
DiFranco, for her part, is content to be "pushed into the gradual position of elder." The title of her memoir, No Walls and the Recurring Dream, is both reference to the open-plan house she grew up in, in Buffalo, New York, and a dream she keeps having in which she walks across the stage of an empty theater. "The stillness is further charged by the wistfulness of my lonely exit," she writes of the dream. "Such a time we had! Such an extravagance of love! Is this a dream? Or … my deathbed?"
She ends the book on this note, speaking as if she already feels the dream is evaporating. She tells me that her 12-year-old daughter has a more sophisticated understanding of gender than she ever had as a young person. "She informs me that in the sixth grade it's hip to be queer … It's another identity to try on. As it should be for young people. I mean see which hat fits me best, and what I feel most me in. What an amazing change." Then she adds: "I hope this book feels antique."
As we swing back toward the hotel and walk past Odessa, the all-night greasy spoon where she tells me wrote one of her first songs, "The Diner," she seems calm, turning her face into the sun. What she really learned, she says, while writing her book at her kitchen table during "stolen mommy moments," was that even though she often posed as a tough girl, a tomboy with dirt stains on her knees and a switchblade up her sleeve, she was often not as strong on the inside as she fronted. "I can be extremely manipulated and not in charge of shit in my actual life behind the scenes," she says. "I mean I sort of have constructed this outward crusade of bravery and self-determination, but actually, it's like … whoa." She sees her story as a lesson in perseverance, in learning to stumble and get back up. "Just follow your instincts," she says when I ask what she wants readers to take away from the book. "Just don't listen to the world of people naysaying what you think of as your path and what your perceptions are. And make your own mistakes. It's okay."
*A version of this article appears in the May 13, 2019, issue of New York Magazine. Subscribe Now!