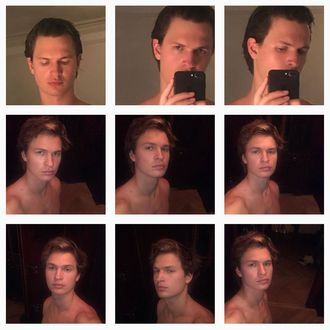 Warhol is quaking.
Photo: Ansel Elgort/Instagram
Posting one random shirtless Instagram selfie is an acceptable way to pander for attention. Two, also acceptable, but starts to look thirsty. Three's pushing the limit, but whatever. What exactly does it mean to post over 15? This is the question that Ansel Elgort — actor, musician, philosopher of modernity — posed on Instagram last night by posting 17 shirtless selfies within ten minutes of each other. Was he just feeling himself? (Fair.) Is this promo for the Goldfinch trailer, dropping today? Is he contemplating how Tony from West Side Story would act in a world with smartphones? (Look deep into your soul and you'll realize Tony would be so annoying on Instagram.) My guess: Ansel couldn't decide which selfie was the best and he posted them all, which means it's our time to help him out and choose the best one. So, which do you prefer?
1.
The best comment here: Ansel's high-school-aged West Side Story co-star absolutely roasting him with "is this how the cool kids post now."
2.
Love to get weird metalwork in frame.
3.
Modeling is all about working those angles.
4.
Ansel, where are you? Who turned off all the lights?
5.
Starting to worry that this is a Suspiria situation and that doorway in the background is haunted.
6.
Ansel, please clean your room before doing this.
7.
MTV, welcome to my dungeon crib.
8.
Is now a good time to talk about the time I sat next to Ansel on the C train? He seemed nice.
9.
I think these were all shot in the same room, but it's funny to imagine Ansel wandering around an apartment taking all the photos.
10.
Ah, he pulled out the chin again.
11.
Going down for more of a smolder.
12.
He found a mirror! Good for him.
13.
This look is very Big Little Lies season-two poster.
14.
Ansel, drop the skin-care routine.
15.
Ansel's girlfriend, Violetta Komyshan, comments, "I think this one is the best but they're all pretty good tbh." Who are we to argue with her?
16.
Back at it with the chin!
17.
Zoë Kravitz asks, "Dude. What is happening right now ? Lol." And, for the millionth time in our lives, we closely identify with Zoë Kravitz.
So, which selfie is your favorite? Personally, I'm a 5 dominant with 12 rising, which means I'm gregarious and yet introverted, and also terrible with money. Yes, this is our new astrology.