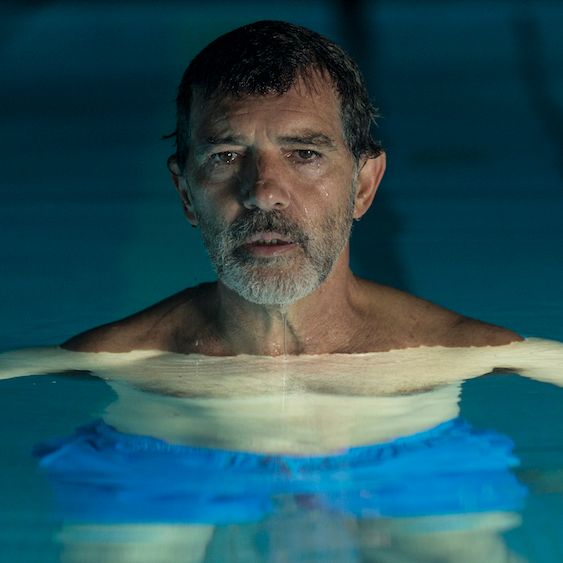 Light spoilers for Pain and Glory below.
There's a scene in Pedro Almodóvar's latest film, Pain and Glory, that I haven't been able to stop thinking about since I saw it at Cannes earlier this week. The film is Almodovar's most deeply personal, his 8½, in which he confronts and painstakingly re-creates memories and moments from his own life (including an exact replica of his current apartment). Antonio Banderas is Salvador, an aging film director and obvious Almodovar avatar — complete with the shock of salt-and-pepper hair — who obsesses just as much about his ever-growing list of ailments as he does about his past: his love affairs, his movies, growing up in a small Spanish village with his mother (Penélope Cruz), and the first man who overwhelmed him with erotic desire when he was a boy.
When we first meet Salva, he's spontaneously decided to develop a heroin habit, and he spends the first half of the film drifting in and out of consciousness, avoiding his health problems and his professional obligations as he "chases the dragon" with his friend Alberto (Asier Etxeandia), the actor who starred in his most famous film 32 years earlier. During one of their drug-fueled conversations, Alberto begs Salva to let him star in a play based on a monologue Salva wrote, titled "Addiction." It's a story of Salva's first love lost, of the man that got away after falling headfirst into his own heroin habit — and of Salva's regrets about the way the relationship ended, his lingering pain. Salva agrees, but refuses to see the play. He's lonely, depressed, anxious, and might be on the verge of giving up altogether. Until Federico (Leonardo Sbaraglia) returns to him.
Federico stumbles into Alberto's play by accident one night, and grows visibly emotional as Salva's story unfolds in front of him. By the end of the performance, tears are rolling freely down his face. He confronts Alberto in his dressing room, confessing that he recognizes the story — and that he's Salva's lost love. Seconds later, he's phoning Salva, and within 20 minutes, he shows up at his apartment.
The scene that follows is beautiful, perhaps the best I've seen so far at Cannes. It's moving, it's surprising, it's tragic — and it's pretty freakin' hot. Salva and Federico immediately embrace each other with an intimacy that belies their still-strong attraction, gently tracing each other's graying facial hair and speaking for hours about why and how they let one another get away. Salva, hopeful and afraid, asks Federico if he has a current partner. "Yes," says Federico. "A man or a woman?" asks Salva, tears gathering in the corners of his eyes. "A woman," says Federico. "I was never with another man after you."
At the end of the night, the men embrace again at Salva's door, gripping each other tightly. Federico pulls back and looks directly into Salva's eyes. "For old times," he says, kissing Salva deeply. They stand there, hungrily devouring each other, then pull away, shyly remarking that they're both visibly aroused. "Do you want me to stay and sleep with you?" asks Federico. "Of course I do," says Salva. "But you should go."
It's a stunning, emotionally bare scene in a film full of them. But it stands out for its slow-burn style — by my count, the scene goes on for at least 15 minutes — and for its raw, candid depiction of passion: the way it can intermingle with regret and sadness, the way you can briefly revisit a moment in time but never fully recapture it. A few days after the premiere, I had the chance to speak with Banderas and Almodóvar about the scene at a luncheon on top of a local hotel.
As it turns out, Almodóvar actually sprung the kiss on the two actors at the last minute. "The kiss is very erotic," he said, laughing. "I admit it: They didn't know about it. I surprised them. I thought about that kiss just the night before. In the script, there was a 'civilized' kiss, a regular kiss. But that really erotic kiss — I got excited. At the last minute, I thought it was important that they realize that they were hot after this kiss. I told them that morning they were going to shoot it."
Banderas wasn't fazed. It wasn't his first gay kiss onscreen, nor was it his first with Almodóvar. (That would be Law of Desire, which both men remember causing an uproar in their native Spain when it screened in theaters. At the luncheon, Banderas recalled convincing his scandalized mother that the scene was okay by pointing out he'd murdered men in his other work, and nobody had batted an eye.) "It was fine," said Banderas of the spontaneous addition of the kiss. "No problem. No prejudgments, no nothing, since I started working as an actor. I had a professor in Argentina who said, 'All the morality, prejudgments you may have about yourself and society, take it like a jacket, every day, and leave it outside of this room.' I always work like that with Pedro. He said, 'The kiss has to be like that.' So we go for it. Period. It's not gonna change me. I am who I am. I know my sexuality. It's very clear to me. I'm not afraid of it and I have nothing against it. People can love whoever they want in the way that they want."
"If they'd had any problem with that sequence, I'd feel dirty and uncomfortable," added Almodóvar. "But Antonio and Leonardo were completely free. If they'd had some resistance, the erotic scene would be much less lively."
Banderas added that his tears in the scene surprised him more than the kiss did. "When [Federico] said, 'I'm married, I live in Argentina, I had two kids,' it hit me so strong. I expected Pedro to say cut, but he didn't," he said. "I was like, 'Shit!'I had no idea it'd hit me so strong, emotionally." He wasn't surprised, though, by the audience's palpable reaction to the kiss. "You have the intellect of Europe in this theater, watching [the film quietly]," he laughed. "Then the kiss comes, and suddenly you hear [long exhale]. I looked over at Leo and smiled."
Almodóvar admitted that the interlude was the most difficult and personal for him to film and ultimately include in the final cut. "It was about a love that was cut short, somebody I was still very much in love with. It was painful to put in the film; I was really doubting it," he said. "But I think it was important to have it to explain Antonio's character. But in reality, I fired [my lover], and never got to see him again. Having him come back in my flat and discover, through the monologue, what he'd been through, and having this reconciliation scene, was my way of completing my story, which was left uncompleted."
Part of Almodóvar's hesitation was owed to the scene's roots in reality. "When you write about real characters, you involve people that are not on the public scene. So I'm very careful with that," he said. He told a story about how he based a character in 1988's Women on the Verge of a Nervous Breakdown on his friend, who once dated a man she didn't know was a terrorist. When the friend found out, she wasn't upset about her lover's acts of violence — she was upset he'd lied to her. Almodóvar found that absolutely hilarious, and immediately put it into the film. But his friend was furious. "She begrudged me," he said. "I told her, 'But it's wonderful. I turned something dramatic into a wonderful comic character.' But she didn't like it. These are the problems of autofiction."
I asked Almodóvar whether the actual Federico might stumble upon the film someday and recognize himself in it, much like he does in Pain and Glory. He thought for a moment, then smiled. "It's possible," he said.