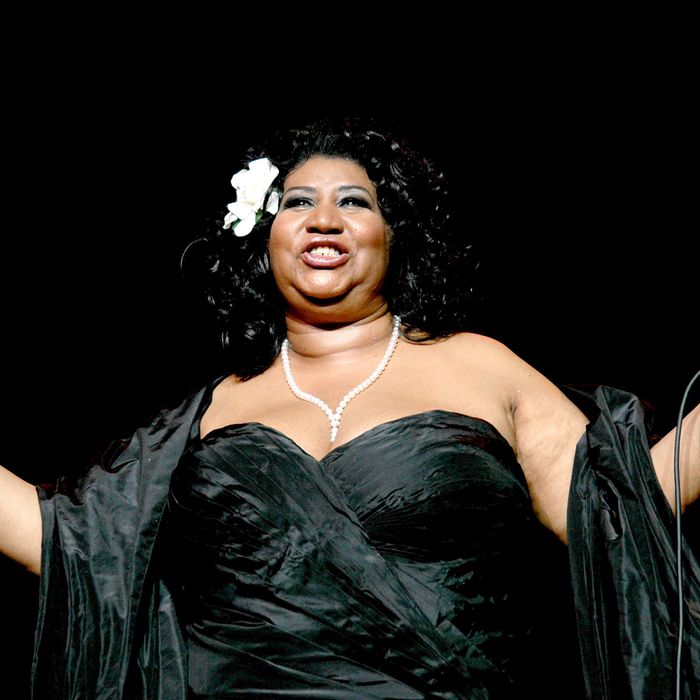 Now that the legend's wills have been discovered, it's up to the courts and her sons to decipher them.
Photo: Angello Picco/REX/Shutterstock
When Aretha Franklin died in 2018 at the age of 76, her family believed she hadn't left behind a will. That would have made things fairly easy for her four sons — Clarence, Edward, Teddy, and Kecalf — as Michigan law declares that each of them would inherit a quarter of the estate, leaving them to decide the particulars among themselves.
But then, in a mid-May plot twist, Franklin's family discovered three wills handwritten by the Queen of Soul: Two dating from 2010 were locked away in a cabinet, and another from 2014 was found in a spiral notebook left under a couch cushion. Though fairly detailed and seemingly fair to each of her sons, the wills are now headed to court over questions about their validity and details, some of which contradict each other or are too difficult to decipher because of Franklin's scribbled penmanship.
It appears that Franklin's estate won't be nearly as complicated as the mess Prince left behind (with all of his sibling drama and extremely convoluted finances, which included hefty tax bills and a trove of unreleased recordings), but there are still plenty of questions. Just as we did with the Purple One's complex legacy, Vulture is attempting to break down what Franklin's wills mean for her estate, how any of this might get settled in or out of court, and what the last testaments reveal about her life — such as the paternity of one of her children and which employees she felt the need to take a few digs at.
The Wills
Both newly discovered wills have a few things in common. Aretha says she's of "sound mind," though she notes in her 2010 will that she wasn't completely of sound "body," having high blood pressure and a pancreatic neuroendocrine tumor that caused her to cancel tour dates that year and ultimately proved fatal. Another document included with that will states that a different handwritten will from "1972-1973ish" was either stolen or went missing and is "no good today."
All three documents — viewable here, here, and here via the Detroit Free Press as well as a petition for the courts to validate the 2014 will brought by Franklin's youngest son, Kecalf — include a lot of underlining and strike-throughs, additions above and below the lines of text, and notes in the margins. The 2014 will includes a line that first names her third son, Teddy, as the executor of her estate, but then his name is crossed out, leaving "Kecalf + _______??" on the page with a note reading "Fill in" written next to it. At the end of this document, Franklin drew a smiley face next to her last name, which one can assume is meant to be her official signature.
Without the aid of an attorney or another representative having drawn this up in an editable digital format, Franklin's will sometimes reads like stream of consciousness with occasionally illegible notes added in bolder ink. Still, it's clear Franklin had a good grasp of her estate, including her properties, possessions, record contracts, tax bills, and more, many elements of which are very detailed. Why she never had her will professionally done remains a mystery, though her mentions of inept employees — her "primary but grossly inefficient attorney" and an accountant who forgot to remind her about a tax payment that ended up costing her $90,000 — suggest she was wary of letting anyone else handle the task.
The Heirs
While Prince's estate was set to be divided among his sister Tyka and his five half-siblings with nothing slated for his deceased brother's children, Franklin's will accounts for her sons. According to the New York Times, two of them, Kecalf and Edward, favor abiding by the 2014 will, while Teddy and Clarence don't. Eldest child Clarence, whom Aretha had when she was 12 years old, is the only son not to receive one of her three houses in the will, leaving him out of any money his brothers would gain from their sale.
It's unclear why Franklin left Clarence out of any financial gains from the homes, but it is apparent why she didn't leave him a house — because of unspecified special needs, the 64-year-old lives in a Detroit group home. While the 2014 will says his brothers and other representatives of the estate are to look after him, the 2010 version is more specific, giving Clarence $150 per week and leaving instructions to provide him with seasonal clothing. Franklin also included a note to herself to transfer guardianship of Clarence to her niece, Sabrina Owens.
Another surprise in the 2010 will is Franklin's naming of Edward Jordan Sr. as Clarence's father. He was already known as the father of her second son, Edward, but many had speculated that Clarence's father was Franklin's school friend, Donald Burke. Either way, Franklin stipulated that Jordan should "never receive or handle any money or property belonging to Clarence" because "he has never made any contribution to [Clarence's] welfare, future or past." She underlined "never" for emphasis.
Owens's role in the estate is now unclear. After Franklin's death, the four brothers unanimously approved of her becoming executor, while the 2014 will says Kecalf should fill that role; instead, Owens would receive $200,000, with $50,000 going to Franklin's now-deceased half-sister, Carl Ellan Kelley. Owens has already served the estate well, spearheading the release of the critically acclaimed Franklin documentary Amazing Grace.
The Possessions and Funds
Franklin's wills include provisions to distribute her finances to her children, grandchildren, and other family members, with the sons inheriting most of her possessions and contracts related to song royalties and upcoming projects, including a biopic that will reportedly star Jennifer Hudson. The financials are a bit murky, as at times they are said to be distributed equally but it is also specified that Clarence's situation be handled separately. The 2010 will says Kecalf and Edward must take classes in business administration and earn a degree or certificate in order to receive the "aforementioned things" in the will, including the properties and shares of her estate.
Franklin specifically willed her gold records and CDs, awards, cars, and piano to her children as well as her "papers," which she wanted to see donated to a college music department. Her gowns, shoes, and other clothing items were also left to them to be sold at auction by Sotheby's or given to the Smithsonian or other museums of their choice.
The Next Steps
Initial court documents filed over the wills seek to have Franklin's catalogue and likeness be appraised by Shot Tower Capital, which has handled the cases of Prince and Michael Jackson. On June 17, a Michigan judge is set to rule on whether the 2014 will is admissible, but Franklin's heirs will still have to decide many of the next steps in managing her legacy and business matters and agree upon all the vagaries of the document. The estate is currently represented by David J. Bennett, the same lawyer Franklin called "grossly inefficient" in 2010, and he hopes the four brothers and their attorneys will, with the help of a mediator, come to an agreement on all matters before ending up in court like Prince's family.
Update, August 21: According to a New York Times report, the drama over the validity of Franklin's handwritten wills and which of her four sons — Clarence, Kecalf, Edward, and Teddy Jr. — gets what has, indeed, spilled over into court. The court-appointed guardian for her eldest son, Clarence, has argued in court that the wills cannot be authenticated. Kecalf is still arguing that the 2014 will be recognized and has challenged Franklin's niece, Sabrina Owens, as executor of the estate, requesting that he be appointed executor instead. In recent court docs, he accused Owens of mismanaging Franklin's estate and taking her Mercedes-Benz for personal use, which Owens denied; she claims that Kecalf asked permission for his son to use the car. Edward remains sided with Kecalf in advocating for the 2014 will. Meanwhile, Teddy has asked that all three wills be recognized as a summation of Franklin's wishes, and that he be added as executor alongside Owens.
David J. Bennett, the lawyer for Franklin's estate, has come out against Kecalf's petition for executor, saying he lacks "the capability to be a personal representative." The judge in the case is asking that the family find a mediator to settle their differences out of court. Per the Times, under Michigan law, "the family could bypass questions of the validity of the wills if all heirs can come to an agreement." In the interim, a lack of control over the estate has put its business interests on hold: The Times reports that an MGM Aretha Franklin biopic starring Jennifer Hudson will move forward without the estate's permission, claiming to have secured the necessary rights and Franklin's blessing while she was alive, as will a NatGeo season of Genius dedicated to the singer. Another revelation from the report: Even Barack Obama is caught up in the drama. At a recent hearing where a judge considered distributing some personal keepsakes to her sons, Bennett claimed that Obama has asked to be given the iconic silver-bow hat she wore to his first inauguration.