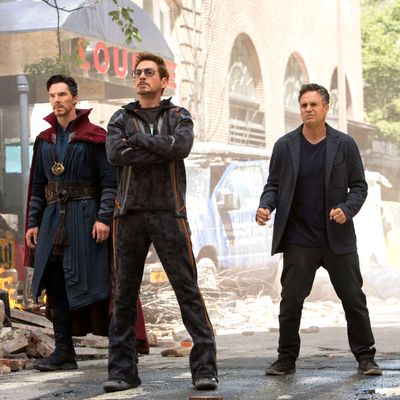 A few Avengers feeling blue that they probably won't beat
Avatar.
Photo: Marvel Studios
UPDATE: Disney needed only offer fans a free poster and a few minutes of extra Hulk content for Avengers: Endgame to do precisely the thing we at Vulture have been saying it would not do: topple Avatar's decade-long run as the highest-grossing film of all time. On Saturday, during Marvel's 90-minute blitzkrieg panel unveiling the MCU's Phase Four plans at San Diego Comic-Con, studio president Kevin Feige revealed that Disney's distribution team had just informed him that the penultimate Infinity Saga movie had squeaked by to outearn James Cameron's Skittle-hued sci-fi fantasy.
"If you adjust for inflation, he still he holds the title," Feige said onstage. "But right now in Hall H, Avengers: Endgame is the biggest film of all time."
PREVIOUSLY: Over its opening weekend in theaters, Avengers: Endgame displayed a box-office invincibility truly befitting its superhero dream team. The 22nd entry to the Marvel Cinematic Universe hauled in a staggering $1.22 billion globally — with about $357.1 million coming from Canada and the United States alone — to become the highest-grossing debut in movie history. Endgame effectively decimated the previous title holder (and its own previous installment), Avengers: Infinity War, which earned $640.5 million worldwide over its first weekend in April 2018.
While there's little doubt ticket sales for the latest Avengers film are headed north of $2 billion, the guessing game surrounding its future financial return has already become a top-trending Google search: Will Endgame topple Avatar as the most successful movie ever made?
For more than a decade now, James Cameron's visually dazzling, digitally groundbreaking sci-fi epic has reigned atop the box-office rankings chart, with an astonishing $2.787 billion take over its stint in theaters. Over the years, the film has had to fend off competition from worthy challengers: Star Wars: The Force Awakens, Jurassic World (2015), and Marvel's The Avengers among them. But none have managed to nudge Cameron's movie out of the No. 1 spot — or the No. 2 spot, for that matter. His 1997 film Titanic still holds strong in second place with a $2.187 billion gross.
Endgame, for its part, is already 2019's most lucrative movie, breaking records as the highest-grossing film in North America, biggest international debut ($859 million), most-successful Chinese opening ($330.5 million), and biggest single-day domestic take. As the film heads into its second weekend, over which it is expected to hold on to the top spot, Fandango is reporting that Endgame ticket sales for repeat customers are 85 percent stronger than they were for Infinity War — a bellwether that fans are planning on seeing the latest Avengers again and again.
Fandango's managing editor Erik Davis feels Endgame "has a shot" at unseating Avatar, but a variety of factors — including Endgame's ability to sustain repeat viewership, remain in theaters throughout the year's most-competitive movie release corridor, outperform a number of impending blockbusters over the coming weeks, and maintain high performance in China — will be crucial to its run at the throne.
"Avatar came out in December, around the holidays, so it had another two weeks of just holidays and people being around and people being able to go to the movies," Davis points out. "And then it had January and February, which are historically less important months at the movies to really find its rhythm. Avengers: Endgame only has a couple of weeks before you get a Detective Pikachu movie and a John Wick movie and an Aladdin movie. You get all of these other big summer movies that are just right on its tail. And so, those could slow down its momentum."
Indeed, around Avatar's December 2009 theatrical bow, the science-fiction thriller punched below its weight, entering the multiplex at the same time as Alvin and the Chipmunks: The Squeakuel and Sherlock Holmes, and coasted into January alongside Jackie Chan's The Spy Next Door and Denzel Washington's The Book of Eli. Theater owners had little incentive to prematurely boot Avatar from its establishments.
A veteran movie marketer who has orchestrated campaigns for a number of blockbusters, and who requested anonymity due to sensitive business relationships, is even less confident in Endgame's chances. He believes Cameron boasts name-brand recognition as a visionary auteur, a status Endgame co-directors Anthony and Joe Russo simply cannot match. "Avatar was from a star director," says this marketer. "It was fresh and new. There was huge curiosity and huge repeat showings. [Endgame] is a cartoon!" (Endgame is also part of a franchise, built off of the 21 movies that came before it, which one could argue serves as sufficient name-brand recognition.)
Comscore senior media analyst Paul Dergarabedian gives credit to Endgame when it comes to its international performance. For all its world-beating success, Avatar only collected $204.1 million in China; international ticket sales weren't as important to Hollywood in 2009 as they are now. But the overarching reason that Dergarabedian doesn't believe Endgame can snap Avatar's reign as No. 1 is simple: the Pandora-set epic's cumulative theatrical haul is basically so gigantic no other movie in the current theatrical climate can match it. In an era of Peak TV, when the theatrical moviegoing experience is losing ground to over-the-top streaming giants and movie ticket sales are down 27.7 percent from where they were a year ago, audiences just don't turn out like they used to.
"Certainly it'll wind up on the upper extreme echelons of box office," Dergarabedian says. "But Avatar with nearly $2.8 billion? It's absolutely astonishing. Incredible. Whatever word you want to use. Shit, in retrospect, Avatar is an even bigger deal than we thought at the time."
Short of displacing Cameron's Skittle-hued Na'vi fantasy, the more likely outcome for the last Avengers installment will be knocking out the No. 2 movie on the all-time earners chart. "It's got the best shot at beating Titanic," Davis says. "That Avatar box office is just so huge. And it's going to be tough for any summer movie, no matter how anticipated it is, to really break that Avatar record."