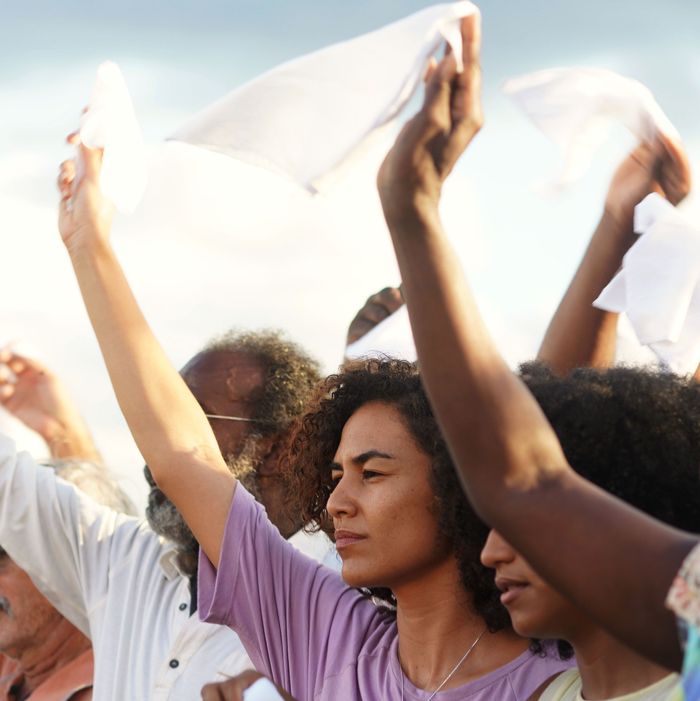 One of the pleasures of Cannes is stumbling into a film that you know absolutely nothing about and emerging with a new favorite. On Wednesday night, after a screening of Deerskin (a movie where Jean Dujardin talks to a jacket) went long, I had to hightail it across the Croisette to make it into Bacurau*, a film I'd heard (1) was from Brazil, (2) was very good, and (3) not very much else about. (I was not alone in this; in the run-up to the premiere people kept calling it "Baracao.") The festival's official synopsis was incredibly vague: "Bacurau, a small town in the Brazilian sertão, mourns the loss of its matriarch, Carmelita, who lived to be 94. Days later, its inhabitants notice that their community has vanished from most maps." After navigating the traffic, pedestrian barriers, and impromptu photoshoots of downtown Cannes, I successfully made it into Bacurau two minutes before the lights went down, with no chance for further research. In retrospect, I wouldn't have had it any other way.
What exactly is Bacurau? Like the fable of the blind men and the elephant, the movie initially feints at a handful of genres before slowly revealing itself about an hour in. In the opening sequence, Teresa (Barbara Colen) hitches a ride back to the village to attend her grandmother's funeral and deliver much-needed medical supplies — ah yes, I thought, a film about a young professional coming to grips with her roots. Gradually we get to know the inhabitants of Bacurau in all their charming, folksy glory: a no-nonsense doctor (Sônia Braga), a hunky semi-reformed gangster, a priest who delivers sermons by megaphone, as well as a mysterious herb. Are we heading towards a gentle, humanist portrait of a town, sort of a Bill-Forsyth-goes-to-Brazil thing? At various points in the first hour, we also seem to be in a gimlet-eyed social satire, or maybe a horror film. There's a sleazy local politician who's up to no good, broken coffins littering the highway, and horses stampeding down Main Street. Modern technology is on the fritz — the village disappears from Google, and everyone's phones loses service. Two motocross bikers pull into town, and may not be what they seem. What's going on?
To reveal exactly what's occurring would spoil much of the fun of Bacurau, but I will say this: Directors Juliano Dornelles and Kleber Mendonça Filho are clearly not fans of Brazilian president Jair Bolsonaro, a Trumpian figure big on torture and dictatorship, nor of Westerners who see the country as their own personal playground. It's hard to beat the trembling, surreal vibe of the first act, but the movie doesn't lose much steam once we know the surprise. (Since villainous German actor Udo Kier pops up in the opening credits, you can tell he has something to do with it.) We're treated to an extended discussion on whether Brazilians "count" as white, a legendary outlaw who turns out to resemble Cristiano Ronaldo, and copious nude scenes that contrast the hard, toned bodies of outsiders with the earthy flab of the villagers. As Dornelles and Filho made one audacious creative decision after another, and all the tension finally exploded in an orgy of bloodletting, the audience at my screening didn't know whether to laugh or cheer. So instead, they did both.
Now, on Thursday, word is getting out. At the American Pavilion, everyone was buzzing about "that Brazilian movie." Nobody described it exactly the same way, but today, they all got the name right.
*An earlier version of this piece misspelled Bacurau. It has been fixed throughout.