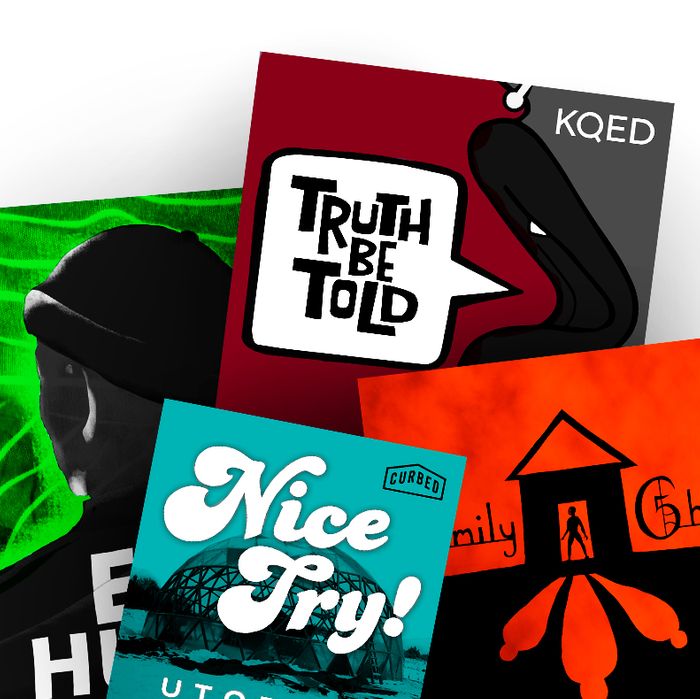 Photo-Illustration: Maya Robinson/Vulture
The summer heat has finally graced us with its presence, and if you're going to sweat on your commutes, you might as well sweat with the sweet, sweet sound of podcasts flowing into your ears. The full slate of summer podcasts has yet to reveal itself in its entirety, but in the meantime, here are a few picks to check out as we head into the season.
Fiasco (Prologue Projects, Out Now)
Slow Burn may be continuing with a new host and a new direction, but Leon Neyfakh, who led the first two seasons, is furthering his work in political documentary through a brand-new podcast: Fiasco. The debut season dropped this week, with its intent to tackle the 2000 U.S. presidential election's Florida recount — the thorny and maddening electoral episode that forever altered American history. The subject matter seems very much in keeping with Neyfakh & Co.'s previous interests: chaos, political scandal, and the collective forgetting of recent history. I'm excited for this. Listeners should note, though, that Fiasco is only available behind the paywall of Luminary's podcast app.
Family Ghosts season 2 (Spoke Media, Out Now)
Every family has secrets, and every lineage is a story. That idea is central to this quiet and shaggy podcast, whose approach generally endeavors to inject a sense of care into what would otherwise be lurid narratives. Created by Sam Dingman, who was a senior editor on Karina Longworth's You Must Remember This, the equally memorable Family Ghosts has returned with a brand-new collection of stories for its sophomore season.
Hosted by Tonya Mosley out of the Bay Area public radio station KQED, Truth Be Told is pitched as an advice show made by and for people of color. On the menu: the notion of being "enough" within a specific community, the complexities of interracial dating, dealing with well-meaning white people, and how to allow for the feeling of joy during an apocalyptic time.
Nice Try! Utopian (Vox Media Podcast Network, May 30)
You can't fault the human desire to build a perfect community, despite the reality that most, if not all, of such attempts have generally ended in abject failure. The subject of utopias sits at the heart of a new narrative show from the Vox Media Podcast Network, which is being produced through Curbed, its real-estate-focused digital media brand. Called Nice Try!, the first season will explore various campaigns to build utopias across history. The seven-episode debut will feature a fair amount of globe-trotting, and it will also be hosted by Avery Trufelman, on loan from the 99% Invisible team and fresh off Articles of Interest, her remarkable miniseries on fashion that dropped last year.
Ear Hustle season 4 (Radiotopia, June 5)
The story of Ear Hustle is as remarkable as the stories that it tells — and recently, that story became ever more striking. In case you need a refresher, the podcast started out as a collaboration between Earlonne Woods and Antwan Williams, both inmates at San Quentin State Prison, together with the artist Nigel Poor, that sought to provide listeners a window into the life of the incarcerated on their own terms. Last November, California governor Jerry Brown commuted Woods's sentence, with the commutation letter citing the podcast as part of the case for Woods's character. Now a free man, the upcoming season will document Woods's reentry into society, and it will also feature interviews with other inmates who have left prison after serving extended sentences.
Revisionist History season 4 (Pushkin Industries, June 20)
Famous Canadian Malcolm Gladwell returns for a fourth season of his popular Revisionist History podcast, which holds the familiar premise of reexamining the overlooked and misunderstood. (Shout-out to Dan Taberski's Headlong.) Now distributed through his brand spankin' new podcast company, Pushkin Industries, this upcoming season will be made up of eight episodes offering deep dives into the world of law schools, the Boston Tea Party, Pat Boone, and, intriguingly, Jesuitical reasoning. I imagine this spread will excite Gladwell fans quite a bit, even if a new season means that it'll be a little while longer before he puts out another book.