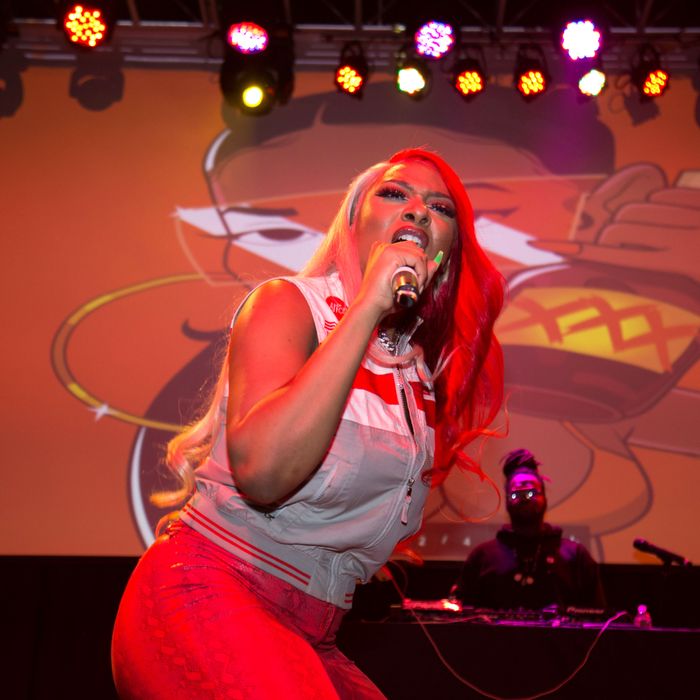 Megan Thee Stallion represents a fundamentally different, more urgent Houston sound.
Photo: Brian Stukes/Getty Images
Every week, Vulture runs through the best, most interesting, and sometimes most confusing rap releases and other news. In this installment: a troubling spike in rap-related shootings, Megan Thee Stallion's extremely hot debut album, the return of Tyler, the Creator, Rolling Loud drama, and DJ Khaled offers another cloying reminder that he has way too many famous friends.
Megan Thee Stallion, Fever
For a city — the country's fourth largest, mind you — with a long, rich, and varied hip-hop tradition, Houston has been presented rather two-dimensionally to rap fans around the country. The popular explosion of 2005, which was defined by "Still Tippin," was an earned reminder that there were innovative strains of Houston rap that were drawled and laconic, decidedly post-Screw. But while that sound was and is a major pillar of the music, its qualities were taken as blanket signifiers for the whole city. You'll remember that at the beginning of this decade, when Harlem's A$AP Rocky signed his famously lucrative deal with Sony/RCA, he was fawned over as being "post-regional" for marrying New York slang and mythos to sounds from around the country. While he was borrowing most liberally from Memphis — a fact that would be more widely accepted a few years later, when that city became one of the most influential in contemporary rap — he was frequently credited with synthesizing and paying homage to Houston, simply for slowing and pitching down some vocals.
Houston's newest homegrown rap star, Megan Thee Stallion, represents a fundamentally different, more urgent sound, but one that's just as popular in and central to Houston's rap scene. Like her earlier work, her debut album is crisp and propulsive, so uptempo as to feel relentless. The album's penultimate song, "Big Drank," is a conspicuous ode to the styles Swishahouse was interpreting a decade and a half ago. Megan is a daring, acrobatic rapper in the most literal sense: She's willing to tie herself up in knots with precise, staccato runs, which are kept from seeming like navel-gazing exercises through her finely attuned feel for the production and through sheer force of personality. (Some of her best-known songs are really just video clips of her freestyling over songs like, well, "Still Tippin.") Fever is believable both as a self-assured mission statement — like a lower-stakes, friendlier Thug Motivation 101 — and as utilitarian club music.
DJ Khaled, Father of Asahd
For someone who has been so eccentric and so overexposed for so long, DJ Khaled has transferred to his albums remarkably little in the way of a unifying voice, unless cloying commercialism can be considered a unifying voice. Like his other records, Father of Asahd is for the most part a collection of songs that seemed to be cut from the popular rap albums that dropped in the last 18 months and some toothless, Frankensteined stabs at pop radio. The days when you could reasonably expect a "We Takin Over" are gone, maybe in part because the rappers who were the right age and era to be seen as Khaled's true contemporaries no longer have a stranglehold on mainstream rap; he seems very grateful, as he should be, that Cardi B and Meek Mill and etc. will bless him with their scraps. Asahd has particularly grating songs from Justin Bieber/Chance the Rapper/Quavo and Chris Brown/Lil Wayne/Big Sean, which are inferior retreads of previous similarly annoying efforts. The anthemic "Higher," which pairs John Legend with the late Nipsey Hussle, is a welcome bright spot.
Tyler, the Creator, IGOR
In the hours following IGOR's release, there was a significant amount of guesswork by fans — much of it later proved wrong — about who the guest features on the album might have been. Nearly all the vocals on the album are treated or manipulated in some way, and so an album stuffed with A-list talent (and, in Tyler, one of the most instantly recognizable voices in rap this decade) forces to the foreground its production, songwriting, and arrangements, making his sixth and most personal album feel, strangely, like it was conjured from the ether.
Why were so many rappers shot at last week?
In the past week and a half, at least four prominent rappers found themselves both tangentially and directly involved in unsolved shootings; in one of those instances, a bystander was killed and a child was grazed by a bullet.
• Early last Friday morning, a caravan of buses leaving a Young Thug performance at LIV Nightclub in Miami came under fire while en route to a Miami Beach hotel. Three passengers were taken to a local hospital and treated for non-life-threatening injuries; while Thug was initially believed to be in either a bus or one of the trailing cars, his representatives clarified that he was not present at the time, but did confirm that DJ Keyz was hit and sustained a minor injury.
• Last Tuesday night, the Memphis rapper Yo Gotti's tour bus was hit by shots multiple times after a concert in Nashville. Gotti is not believed to have been onboard when the shooting took place; no arrests have been made.
• A week ago Friday, a car belonging to YFN Lucci was shot up in the rapper's native Atlanta. The red Mercedes G-Wagon, which is registered to Lucci's mother, sustained at least five bullet holes, and when police responded to the scene, they found a man inside the car — not Lucci — who had been shot non-fatally in the shoulder.
• Last Sunday, NBA Youngboy (a.k.a. YoungBoy Never Broke Again) and his crew were shot at outside a Trump resort in Sunny Isles Beach, Florida. His girlfriend, Kaylyn Marie Long, was shot and wounded in the attack, a bullet grazed a 4-year-old boy at the scene, and one bystander was fatally shot. YoungBoy (née Kentrell Gaulden) was not injured, and it's unclear if he was the intended target. Police confirmed that YoungBoy's team fired back in self-defense and no one was charged; he went on to perform his set at rap festival Rolling Loud in Miami hours later. The rapper has since reportedly been jailed for violating probation on a previous assault charge by speaking about the shooting on social media (per his probation terms, he's barred from social-media activity).
Tyler, the Creator returns to England after being banned
Dressed in an unmissable pink-and-red suit and sporting a shock of fake blond hair, Tyler, the Creator made a surprise return to London after being banned from the U.K. in 2015 over lyrics from his first two albums. That prohibition — issued by Prime Minister Theresa May, who was then serving as Home Secretary — accused the rapper of "encourag[ing] violence and intolerance of homosexuality," and was set to last for three to five years. Tyler's appearance abroad sparked some degree of chaos among his English fans, and a scheduled concert was shut down owing to the mayhem. Early this morning, he announced a pair of September shows in the city.
There was so much drama at Rolling Loud 2019
For the second year in a row, Lil Wayne missed his headlining set at Rolling Loud's flagship Miami festival. While last year's cancellation carried with it an air of mystery, the New Orleans native addressed this year's decision head-on, tweeting the following message:
"To all my fans who came to see me at Rolling Loud, I'm sorry but I won't be performing. The Festival Police (Not Rolling Loud) made it mandatory that I had to be policed and checked to get on the stadium grounds. I do not and will not ever settle for being policed to do my job and give you guys a great show."
The checkpoint was far from the only police activity at the festival. Kodak Black, already facing charges in a couple of different cases — including one in which he stands accused of raping a high-school student — was arrested before his set on federal weapons charges. Police were also called to the scene amid false reports of an active shooter on night one of the festival.