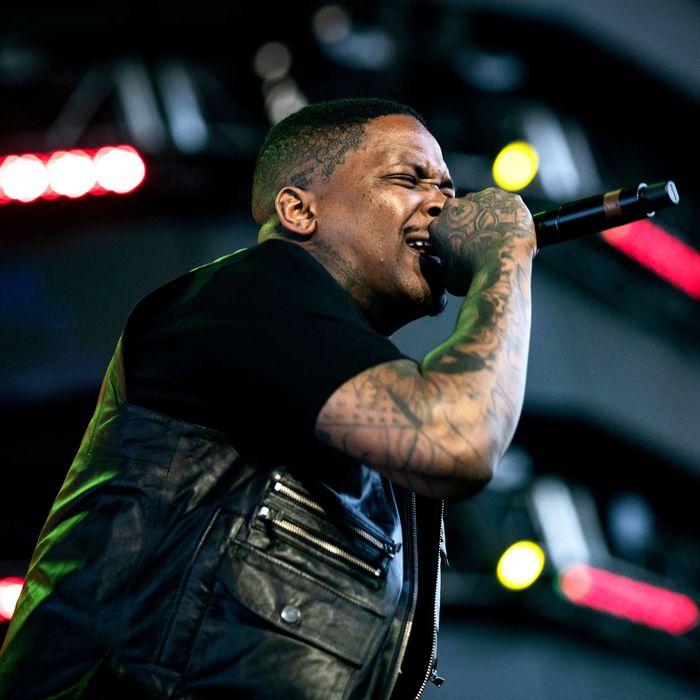 Photo: Etienne Laurent/EPA-EFE/REX/Shutterstock
Every week, Vulture runs through the best, most interesting, and sometimes most confusing rap releases and other news. In this installment: YG gets back to business while Nipsey Hussle's alleged killer faces more charges, Flying Lotus's best album in almost a decade, Blu & Exile add to their mythology, Little Brother's return, and more.
YG, 4REAL 4REAL
A version of YG's fourth album was nearly finished and ready to drop as a surprise release in mid-April. (It was initially called 4 Real — just one.) That plan was canceled when Nipsey Hussle, YG's close friend and collaborator, was killed in front of the clothing store he owned and operated at Crenshaw and Slauson, the very block he called home in his work. YG's sets at Coachella last month, which were planned as promotion for the new album, became wrenching tributes: He ambled around onstage, pulling from a bottle of tequila, rapping Hussle's lyrics to the crowd, musing about what his friend would have said about the moment.
4REAL 4REAL has been amended from its early drafts, both to include references to Hussle and to add to the list of featured guests. Those collaborations are some of the album's strongest tracks, from the sneering, minimal "I Was on the Block," which features Valee and Boogie, to "Do Yo Dance," which comes aided by Ty Dolla $ign, RJ, Kamaiyah, and Mitch and is sure to be a massive summer hit in the city. Beyond that, the album bends toward formalist introspection ("Heart 2 Heart," "Hard Bottoms & White Socks," "Keisha Had a Baby") and occasionally toward the up-tempo fury of last year's Stay Dangerous ("Bottle Service," "Stop Snitchin," and its DaBaby-assisted remix). It reaffirms YG as one of L.A.'s great rap stars this century.
Blu & Exile, True & Livin
By now you probably know Blu's mythology more than his work: A little over a decade ago, Blu & Exile released Below the Heavens, which was hailed immediately as a masterpiece by underground rap fans, and Blu — young, handsome, a little subversive but enamored with history — was poised to become the biggest rapper out of Los Angeles. There were the meetings with Nas, the major-label offers, the furiously excited message-board threads. He did sign, with Warner, and the wheels of the machine began to turn. Think Kendrick Lamar before there was a Kendrick Lamar. But it quickly became clear that Blu was unable to play the sorts of games you have to play to be a star. The album he recorded for Warner, NoYork!, was a masterpiece of a certain kind, but it was little like the heady West Coast comfort food many expected — it had forays into electronica and beat music and was mixed in a deliberately inaccessible way. In the decade since, Blu's released a significant amount of music that's often daring and brilliant, but exists outside of the arc imagined for him by prospectors in 2007.
True & Livin is a new EP that pairs him once again with the producer Exile (Blu had leaked their follow-up to Below the Heavens in 2011, as Give Me My Flowers While I Can Smell Them). Everything about the EP, from the title to the staid head-nodding of the title track, suggests a pivot toward true-school revivalism. Blu is a magnetic enough rapper to make nearly any style exercise engaging, but "True & Livin" is the driest the duo could possibly sound. Fortunately the next two songs — the slightly off-kilter "Spread Sunshine" and the rewardingly mean posse cut "Power to the People" — are worth repeated listens, even if they aren't part of a long-awaited coronation.
Flying Lotus, Flamagra
While 2014's Grammy-nominated You're Dead! is certain to go down as one of Flying Lotus's most celebrated albums, Flamagra is the best one since his 2010 triumph Cosmogramma. There are artifacts of the beat music scene he led and helped define, but the album bends toward jazz-funk hybrids that FlyLo pulls off with a technical dexterity that is staggering but never ostentatious. The guests are smartly chosen (Tierra Whack and Denzel Curry shine in particular), and longtime collaborator Thundercat provides the necessary aid. Many of its best moments are small: the nervous, pulsing "Pygmy," or "Ff4," which approximates the sturdy bounce of G-funk through assembled spare parts. It shows off an astonishing range and an even more striking vision.
Geto Boys Cancel Reunion Tour
The Geto Boys, the legendary rap group from Houston, have canceled their scheduled four-date reunion tour; the run was scheduled to begin in Pontiac, Michigan, last Friday. It was put together quickly after Bushwick Bill announced that he'd been diagnosed with stage IV pancreatic cancer; the group had not released music together since 2005's The Foundation. TMZ reports that the cancellation was brought on by Bill's hesitancy to participate in a tour called "The Beginning of a Long Goodbye: The Final Farewell," which he evidently found to be garish profiteering off his assumed death. Bill has reportedly booked a 20-date tour called "Phuck Cancer," which will kick a portion of its gate receipts toward pancreatic cancer research. That begins June 8 in Dallas.
Alleged Nipsey Hussle Killer Indicted by Grand Jury
Eric Holder, the 29-year-old man charged with murdering Nipsey Hussle in March, has been indicted by a grand jury in Los Angeles County on both his initial charges — one count of murder, two of attempted murder for the other men he hit with bullets, and one count of possession of a firearm by a felon — as well as a pair of new charges: two counts of assault with a firearm. Indictment by a grand jury allows the district attorney's office to skip the preliminary hearing and move directly to trial. Holder, who has pleaded not guilty to all charges, faces life in state prison if convicted. His bail has been set at $6.53 million; he's due back in court next month for a pretrial hearing. His defense team will no longer include Chris Darden, the infamous O.J. Simpson prosecutor, who initially signed on with Holder but has since stepped down.
Little Brother Returns
Little Brother, the critically beloved rap group from North Carolina, has announced that they've reunited, with plans to release new music and head out on tour. The announcement comes after a run of successful solo work by one of the group's emcees, Phonte, whose most recent album, No News Is Good News, was released last year to considerable acclaim. Little Brother formed at the end of the '90s in Durham, where Phonte, Rapper Big Pooh, and producer and DJ 9th Wonder were attending North Carolina Central University. Their 2003 debut album, The Listening, was hailed as an instant classic by rap fans and critics who favored the ideologies and aesthetics of turn-of-the-century underground hip-hop, and the group was positioned as a salve for the ills of commercial rap, including with their major-label debut, 2005's The Minstrel Show. From there the group began to splinter: 9th Wonder had blown up and was working with a variety of other artists, meanwhile Phonte (who had developed a cult following with his R&B side project, The Foreign Exchange) and Big Pooh pushed ahead with other people behind the boards. They haven't released music together since 2010. Phonte clarified in an email to DJ Booth that the reunion is between him and Phonte, and that the MCs had agreed with 9th Wonder some time ago that Little Brother would continue as a duo.