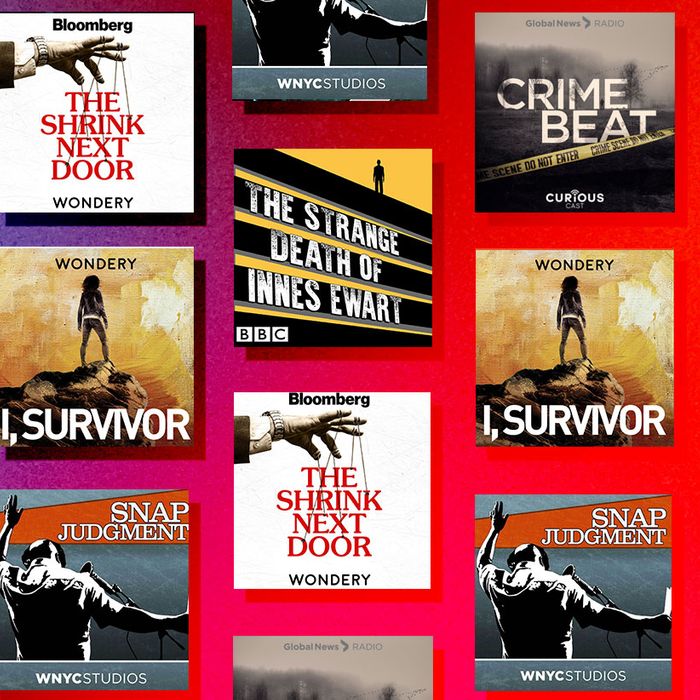 The true-crime podcast universe is ever expanding. We're here to make it a bit smaller and a bit more manageable. There are a lot of great shows, and each has a lot of great episodes, so we want to highlight the noteworthy and the exceptional. Each week, our crack team of podcast enthusiasts and specialists will pick their favorites.
Snap Judgement: "No One Calls Me Shooter"
How do you stop a school shooting before it happens? In the case of Portland, Oregon's Parkrose High School, the school administration decided they knew who the likely culprit of a future shooting would be — Sanders (as he's referred to in this piece by Bethany Barnes in The Oregonian), a 16 year old boy with autism. This episode of Snap Judgement, hosted by Glenn Washington, follows Sanders and his parents as they try to get to the bottom of how the police and the school came to the conclusion that Sanders would commit a crime (their evidence includes a trench coat, a pair of scissors, and a statement that was "overheard") and what Sanders and his parents did in response to the accusation. You'll find yourself exhaling hard in the show's last moments, and pondering it long after it's over. —Chanel Dubofsky
The Strange Death of Innes Ewart: "Death at the Mall"
Eighteen years ago, 27-year-old Innes Ewart was found dead at the bottom of a parking garage in East London. Authorities felt the evidence was clear: Innis had jumped and taken his own life. Case closed. But his family and journalist Mick Morton, believe there is more to the story. Morton, who made a documentary about the case 12 years ago, is reexamining the puzzling death in a BBC Scotland Disclosure podcast, The Strange Death of Innes Ewart. Plenty about the case doesn't add up: Innis loved his computer programmer job, was close to his family, and had purchased a movie ticket for later that day. There is also the question of why Innis withdrew $1,000 from his bank account before his death. CCTV footage from the parking garage shows Innis walking out of an elevator alone before going outside. What happened next remains a mystery, as there were no cameras on the rooftop. Morton deftly brings listeners into the fold as he shares his own questions and talks with Innis's mother, who hopes the passage of time may finally bring a plausible explanation about what happened to Innis. —Lara Bricker
Only on Luminary
Original podcasts with original ideas for original people. Check out our free trial and start listening to can't-miss shows you won't find anywhere else.
The Shrink Next Door: "The Familia"
These days everyone knows that the relationship between a client and their therapist must have very distinct boundaries, but chances are good that even before the American Psychiatric Association addressed this thorny topic, Dr. Isaac Herschkopf was way beyond the pale. The first three episodes of this podcast focus on Marty Markowitz, whom journalist Joe Nocera first met when Marty was "working" for Herschkopf, a.k.a. Ike, at a tony house in the Hamptons. Except Marty wasn't the handyman — he was the owner of the glitzy house next to Nocera's, and he was Ike's patient.
If you've ever been tempted to Google your shrink but thought the better of it, you'll cringe at the stories from Ike's former patients who used to party with him at his place in the Hamptons, along with friends, family, and random celebrities. But more than that, the behavior described by former patients "Judith" and "Emily" in the fourth episode, not to mention Marty and his sister Phyllis in earlier episodes, is downright abusive. Ike isolated his patients, urging them to cut off contact from their families and friends, before manipulating them into turning their lives (and lots of their money) over to him. It's really sad to think about the relationships destroyed at Ike's insistence, and how his patients still struggle with the long-term effects of his so-called treatment, which was basically the opposite of Hippocratic Oath. Plus, if you like putting faces to names, there are tons of great photos and documents available to peruse on Bloomberg — like the one with Ike and three of his female patients relaxing in their bathing suits. Ack. —Jenni Miller
I, Survivor: "The Unlikely History of 'Dirty John'"
If you followed the case of Dirty John — and even if you didn't, it's hard to not know it existed, given that there was an L.A. Times article, a podcast, and a Bravo series — you probably remember Terra Newell. Terra is the youngest daughter of Debra Newell, who married John Meehan, the con man who would later attempt to murder Terra in a parking garage. Terra killed Meehan in self defense (with the help of her dog), and on this episode of I, Survivor, she tells the story of her attack and reclaiming her life to hosts Wagatwe Wanjuki and Jenna Brister. Don't listen for more information about Meehan, that's not what happens here. Come instead for finding out what Terra and Debra's relationship is like now, how EMDR is helping Terra move forward, and truths about what we remember and don't remember in the aftermath of trauma — it's not what you think. —Chanel Dubofsky
Crime Beat: "The Day Ryan Lane Vanished"
Since its debut in March, Crime Beat has proven itself a more than worthy entry into the true-crime podcast pantheon. (If you haven't yet listened to the two-parter about babysitter Kelly Cook, plug in your earbuds now!) Much of this praise is owing to host Nancy Hixt, a seasoned crime reporter for Global News, who not only brings her two decades' worth of knowledge and experience to bear, but also has an uncanny ability to get both suspects and surviving family members to open up. This week's episode about the disappearance of Ryan Lane — a young father who vanished right after being reunited with the 4-year-old daughter he shared with his ex — is probably not the most suspenseful in the podcast's brief catalogue (it becomes pretty clear early on who the chief suspects are), but there are still a number of satisfying twists and turns along the way. And it's a great showcase for Hixt's solid reportorial skills. Consider Crime Beat the more hard-boiled Canadian cousin to Phoebe Judge's Criminal. —Amy Wilkinson