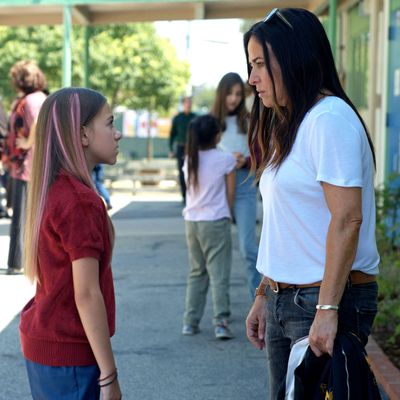 Olivia Edward and Pamela Adlon in
Better Things.
Photo: Suzanne Tenner/FX
In the current season of Better Things, Sam Fox, played by creator Pamela Adlon, comes up with a subversive but effective strategy to get her younger daughters to stop bickering. "You have one minute," she instructs. "You can say anything you want to each other, anything. You get it all out. Say the worst things that pop into your head. Anything. And then it's over." Sam's youngest, Duke (Olivia Edward), who is around 10, unleashes a creatively filthy stream of insults and curse words that stuns everyone into silence. Then they all burst out laughing, Sam included.
Sam has a tumultuous yet ever-loving relationship with her children, who are the cherished center of her world even as they drive her insane, but she's far from alone on TV these days. Better Things is one of several messy, detail-oriented comedies that emphasize the absurdly hard work of raising children, and the dual (and dueling) identities of life as a parent. Shows like Better Things, Catastrophe, and SMILF vary in tone and perspective, but they share a commitment to realism and an aversion to schmaltz, making them both brutally honest and perfectly suited to the current era of comedy. Since parenthood itself is such a broad canvas for humor, the creators of these shows don't need to stray far from the reality of raising children to explore a wide array of emotions — something viewers have come to expect from the best of the genre.
Consider them part of a rising subcategory of comedies — New York Times critic Alexis Soloski has dubbed them "mom-coms" — that are far less polished in their depictions of parenthood than the typical family sitcom. (Many, like Motherland, The Letdown, and Workin' Moms are international series; others, like Jane the Virgin and One Day at a Time, are just as likely to make you weep as laugh.) These series evoke the 24/7 nature of contemporary child-rearing, and the pressure to perform as the perfect parent. And, in a reflection of the nichification of TV, they are far more specific in the details particular to each character's situation.
Better Things' Sam Fox is a devoted yet constantly frustrated single mother juggling work, her three daughters, and her aging mother, who lives next door. She is a mother, a friend, a daughter, an actor, and a charity. The series similarly flips roles without warning from funny to bizarre to tragic: Anger softens into affection; a dramatic moment at the dinner table is punctured by a fart. Simultaneously a surrealist comedy and a family drama that's shot like an indie film, Better Things, like Sam herself, is many things at once: raunchy and sweet; sad and riotous; grown-up and guileless.
This kind of tonal mix has become the standard in cable TV comedies, and it stamps some of the most critically acclaimed series of the past few years, like Atlanta, You're the Worst, Barry, and Killing Eve. Showtime's SMILF picks up this trend and runs with it. The show has been criticized for being "all over the place," too messy and chaotic; episodes can take the form of dream sequences, or flashbacks, or strange odysseys to the city dump.
But that tonal tumult feels appropriate for a show about a working-class mother living in a one-room apartment in South Boston and struggling to raise her son while earning a precarious living. "Larry, I'm very hungover," Bridgette Bird, played by creator Frankie Shaw, announces to her toddler son, rising from the bed they share to change out of the dress she fell asleep in. Larry was unplanned, and his birth seems to have scrambled Bridgette's sense of identity, like having a child has somehow wiped clean her sense of self; when his father takes him for a night, she falls apart, sleeping the day away and binge-eating, unable to pry herself from her apartment for a trip to the hair salon with friends. "We'll try again next weekend," her ex says, dropping Larry off a day early.
Amazon's Catastrophe, a gimlet-eyed look at what raising children does to even the most apparently enviable relationship, uses humor as a kind of escape valve for the immense pressure of marriage and family. Creators Sharon Horgan and Rob Delaney play Sharon and Rob, a schoolteacher and marketing executive raising their two young children in London. In the pilot, the two have a weeklong fling while Rob, an American, is in town on business; when he learns Sharon's pregnant, he tells her, "A terrible thing has happened. Let's make the best of it." He proposes marriage, and when the ring falls out of his hands and into a puddle of street urine, Sharon picks it up and puts it on: "It's just a bit of piss. I love it."
In a sense, these kinds of comedies take the romance out of family life. "The thing with parenting, it's devastating," Shaw said in an interview last year. "So like, if you're gonna do it, do it real. It's not meant for sitcom." And yet in emphasizing the destabilizing, crisis-inducing disorder of domesticity, these shows hint at a more subdued and realistic kind of romance — the inexplicable alchemy of becoming a family, the mundane, interstitial moments that define life as a parent. One recurring scene on Better Things features Sam in the kitchen, chopping avocados, boiling water for pasta, a kid or two in the background, doing homework or strumming a guitar; another sees Sam plunging a tricky toilet. Both scenarios are fixtures of ordinary life, not sentimentalized or even dramatized so much as duly recorded — Adlon's testament to the constant, quiet work of running a household. Even when Sam sighs and glares and yells out, fruitlessly, for help, the work still gets done, and it looks like love manifest.
Catastrophe, which recently released its fourth and final season, never idealizes marriage or parenthood; its protagonists seem perpetually stunned to have found themselves past 40, in a committed relationship with children. "Having kids is like strapping yourself into a Formula One race car," Rob says affably at a dinner party. "Boom. Your life is over. But not in a bad way." Rob and Sharon's kids remain in the background, but the show explores how having children cements a relationship, for better or worse.
A dark cloud hangs over the final season. Rob, an alcoholic, has secretly begun drinking again, and the heat between him and Sharon has cooled. It seems like the show is preparing the audience for a split, but in the final episode of the series, the two confirm their commitment to each other. Rob's relapse, coupled with the unexpected death of his mother, converge on a colossal fight that finally forces out the truth: They need each other. "There's a working part missing now," Sharon confesses to Rob, as she tells him she'll never leave him. "You took it out or something. Now I just don't work without you. I'm 100 percent reliant on you, okay?" The series ends with the revelation that Sharon is once again pregnant, and the two take an impromptu dip in the ocean, on a beach marked unsafe for swimming. They end up literally out to sea, paddling against the current, and the camera cuts to black before they reach the shore. They're in this together, till death.
It calls to mind one of the most poignant episodes in SMILF's second season (and its last; the network canceled the show in March, after cast and crew members alleged that Shaw behaved inappropriately on set) is a flashback to the day Bridgette gave birth to her son, at home, despite the loud protestations of her mother Tutu (Rosie O'Donnell). Bridgette and her mother have a shouting match in a public park; shortly before giving birth, Bridgette makes a mess of the bed ("I peed I pooped I threw up," she whimpers when Tutu comes in). When the baby is born on the living room floor, all the tension diffuses, and Bridgette, Tutu, the baby's father, and the doula sit huddled around the newborn together. It's a far cry from the typical sitcom treatment of childbirth, where the mother-to-be glistens in a bright, sterile hospital room, if we see her giving birth at all. SMILF's version — like all these shows' visions of parenting — is messy and ugly and smelly and chaotic and, finally, beautiful.