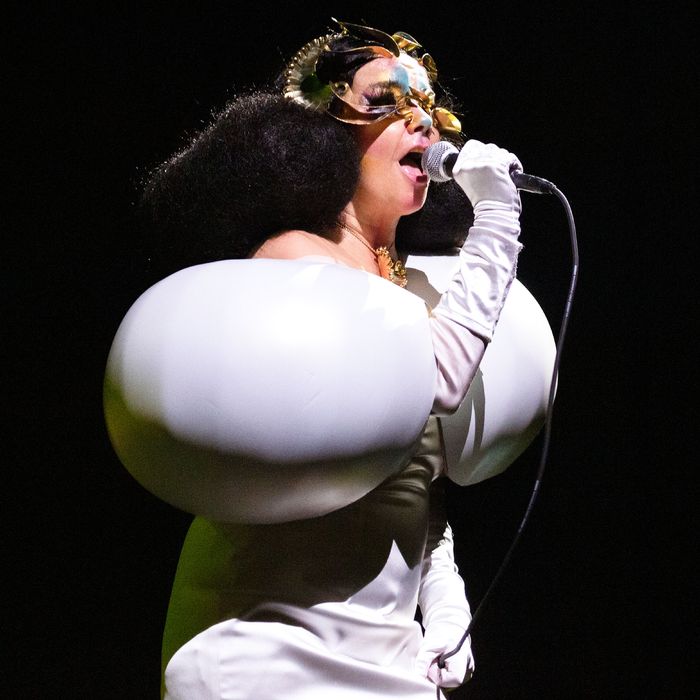 It's a breathtaking display of what Björk and her band are capable of, and what magic is possible inside the Shed at NYC's Hudson Yards.
Photo: Santiago Felipe
Depending on whom you ask, New York City's Hudson Yards — a ten-year development push to rehabilitate the garish commuter rail yard along lower Manhattan's western edge — is either a cornerstone for the art and commerce of the "City of Tomorrow" or a playground for the elite aided by funds originally earmarked for communities in greater need. The Shed, the yard's signature arts center, hopes to unite these groups in celebration of their differences. It is, like the yard's more lurid attractions, a peculiar marriage of tech and architecture. The space transforms to meet the needs of the performance: a six-story movable shell allows the building to swallow the plaza outside in both indoor and partially open-air settings, and seating arrangements inside are changeable, so that it is possible to visit the building more than once and enjoy a different room each time.
The Shed's opening season aims to make great use of the building's versatility. Soundtrack of America, the inaugural showcase, paid homage to black singers, rappers, producers, choirs, and marching bands. Other attractions included a lecture by Boots Riley, director of the acclaimed Sorry to Bother You and leader of the radical rap collective the Coup. This month, legendary minimalist composer Steve Reich joined painter Gerhard Richter and composer Arvo Pärt for a unique audiovisual experience. The Shed's hottest ticket is Cornucopia, a concert series by the inimitable Icelandic singer, songwriter, and producer Björk and an evolution of the stage show for her 2017 studio album Utopia. It's a breathtaking display of what Björk and her band are capable of, and what magic is possible inside the Shed's McCourt space.
Like the otherworldly videos for Utopia and its precursor, Vulnicura — see: "Notget," "The Gate," and the new "Tabula Rasa" — Cornucopia chips away at the viewer's sense of time and setting. During the early set highlight "Blissing Me," you start to forget that you're in a multimillion-dollar temperature-controlled room in downtown Manhattan. You begin to feel as though you've been transported elsewhere, shrunken down to the size of a caterpillar and treated to a festival put on by local wood nymphs. The stage gives the appearance of an outgrowth of oyster mushrooms, one for the singer and her harp player, Katie Buckley; another for drummer and percussionist, Manu Delago; a third for the storied Icelandic producer Bergur Þórisson; and a fourth for the flute septet, Viibra. A screen behind the flutes pumps in visuals, sometimes mined from the music videos and sometimes not, while complementary videos are displayed on either side of the band and projected on a series of translucent curtains at the front of the stage.
Eleven players beating out intricate grooves surrounded on every side by polymorphous, alien scenes of nature is a freight train for the senses. Full immersion in a busy world of plant and insect life is the ideal setting to visit a body of work whose sounds, visuals, and ideas seem to suggest some powerful elder god in an act of terraforming. What sets Björk records apart from their peers is the inventive interplay between electronic and acoustic sounds. "Pagan Poetry," from the Grammy-nominated Vespertine, wears its music-box melody and hissing, programmed drums so comfortably that the line starts to blur. Utopia opener "Arisen My Senses" pairs bird calls, harp notes, and blissed-out synths seamlessly enough to demolish questions about genre. Simply put, Björk makes Björk music. It's fitting for a catalogue that doesn't much sound like anything else to generate a live show that doesn't look like anything else.
Cornucopia's sights are a heady extension of a heavy record, but the human element gives it power. Manu Delago is a wonder through the night, knocking out tricky drum patterns on an array of instruments, including a standard electronic kit, Native American water drums, and the Hang, a Swiss invention similar in sound to a steel drum. The flute septet doubles as a dance troupe, buzzing around the stage like sprites, and elsewhere, surrounding the singer as they play a circle flute, which combines four rounded woodwind instruments into a loop. Björk's mercurial vocal and unique words guide the ship. Aided by the Icelandic Hamrahlíð Choir, she nails every soaring note with passion and unnerving precision, and makes dancing to the confounding time signatures of her productions seem easy as she lands playful gestures on beat, all of this in a dress that forbids easy movement. Most of her wardrobe comes care of Balmain creative director Olivier Rousteing; the last outfit for the evening, designed by Iris Van Herpen, transforms the singer into a swarm of butterflies.
In the end, Cornucopia sends the crowd back into the night with a chilling call for greater environmental stewardship from 16-year-old Swedish activist Greta Thunberg ("You say you love your children above all else, and yet you are stealing their future in front of their very eyes"); a warning from Björk about the necessity of global climate-change pledges like the Paris Agreement; and a dream of a future where technology and nature can commune as one. For 100 minutes, Cornucopia helps the audience to imagine that world. It is one of the most incredible displays of lights and sounds ever to grace a stage in the city. The Shed won't erase every qualm New Yorkers have had about the future of Hudson Yards, but a state-of-the-art space in Manhattan for groundbreaking cultural events is a good start.