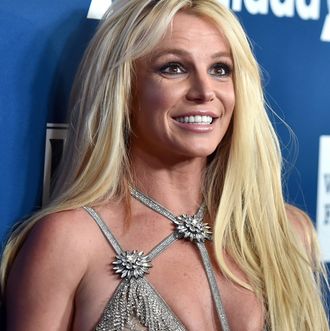 Photo: Alberto E. Rodriguez/Getty Images
For all the fans out there who thought someone was controlling Britney's Instagram, she wants you to know, ahem, "you're wrong." The singer uploaded a video yesterday in which she called out everyone who said she didn't post her own content, a theory fueled by the #FreeBritney movement, which believes that the pop star's handlers are micromanaging her every move and overstepping the boundaries of her court-appointed conservatorship. "For those of you who don't think I post my own videos," Spears wrote, "I did this video yesterday, so you're wrong, but I hope you like it." In the post was another video of Spears posing for a photo shoot.
In the same day, Spears also uploaded a picture of herself chilling on a pool float and another of the photo shoot. Spears won a restraining order against her former manager Sam Lufti earlier this month, alleging he harassed her and her family. In April, apparently distraught over her father's health troubles (he recently suffered a ruptured colon), she checked into a mental-health facility for a month. After leaving the facility, she uploaded a video to Instagram asking fans to give her privacy. Meanwhile, the #FreeBritney movement gained popularity with fans amid ongoing speculation that the singer has no control over her professional and personal life. Spears has posted pictures and videos throughout April and May trying to let her fans know she's totally fine, thank you very much, and is just dealing with a lot.