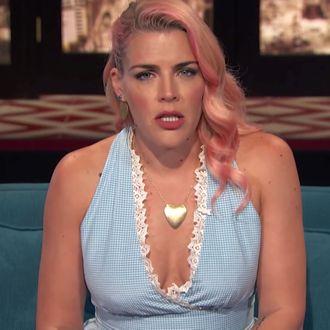 Busy Philipps.
Photo: E! Entertainment
In her memoir released last year, Busy Philipps revealed that she had an abortion at the age of 15, a decision she finally got "absolution" for years later when she met the pope. However, on yesterday's episode of the soon-ending Busy Tonight, Philipps elaborated on how horrific Georgia's new abortion bill is for women, which would prohibit the procedure after six weeks.
"I know that people feel very strongly about abortion, but let me just say this. Women and their doctors are in the best position to make informed decisions about what is best for them. Nobody else, nobody," Philipps said. "The statistic is that one in four women will have an abortion before age 45. That statistic sometimes surprises people, and maybe you're sitting there thinking, I don't know a woman who would have an abortion. Well, you know me." Philipps wanted to remind viewers of her abortion story, she added, because she's "genuinely, really scared for women and girls all over this country," and hopes this will encourage women to "talk more" about their experiences. We're definitely talking now.