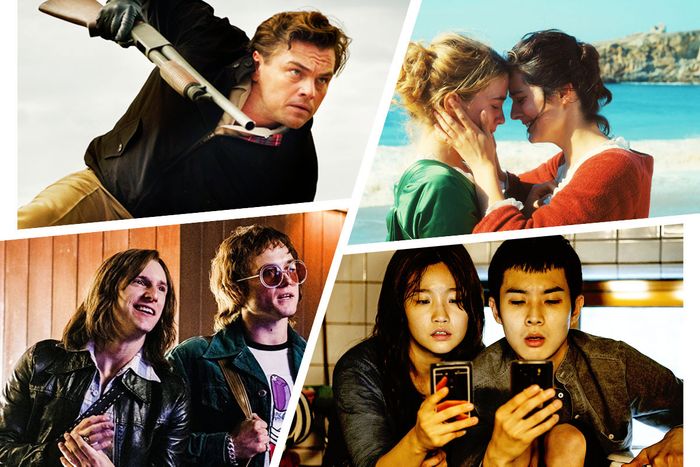 Clockwise from top left:
Once Upon a Time in Hollywood
,
Portrait of a Lady on Fire
,
Parasite
, and
Rocketman
.
Photo: Vulture, Sony Pictures, Hulu, Paramount Pictures and Neon
Though the fall festivals remain the most effective launch pad for any given year's Oscar crop, as the self-proclaimed "most important film festival" in the world, Cannes traditionally hosts its fair share of films that go on to make a splash in the awards landscape. Last year's slate at the Croisette garnered 14 Oscar nominations — 6 alone for BlacKkKlansman, 3 for Cold War, plus 1 each for Border, Capernaum, Mirai, Solo: A Star Wars Story, and Palme d'Or winner Shoplifters. That run of success was due in part to the increasingly global makeup of the Academy, a development that bodes well for the 2019 Cannes crop, which was once again dominated by international premieres. Could this year score even more nominations?
To begin with, we've got to put aside those acclaimed foreign-language films for a moment and talk about the two highest-profile English-language films that screened at the festival: the Elton John biopic Rocketman, which played out of competition, and Quentin Tarantino's Once Upon a Time in Hollywood. Both were among the most anticipated films of this year's festival, and after bowing to favorable receptions at Cannes, they'll each look to follow the awards paths blazed by successful predecessors.
For Rocketman, comparisons to last year's Bohemian Rhapsody have been unavoidable. Not only do the two rock biopics share a director, they also turn out to share many of the same scenes, as well. But when you're counting up the pair's few differences, not all of them break Rocketman's way. Coming out second doesn't help, nor does the May release, and like Vanity Fair's Richard Lawson, I get the sense that, when it comes to beloved musical figures, Elton John is not on quite the same level as Freddie Mercury. As I see it, the film has two advantages over BoRhap. (1) It can count on a charm offensive from the real John, and (2) Taron Egerton, who seems to have undergone intensive media training in preparation for a nine-month Best Actor campaign, can really sing! The Welsh actor's performance alongside John at Rocketman's premiere after-party was one of the most buzzed-about moments of the festival, and voters are undoubtedly going to be treated to many such duets throughout the fall. Egerton's people might want to start weaning him off dairy now.
Tarantino, meanwhile, is following in his own footsteps. Each of the director's past three films have won at least one Oscar, with Inglourious Basterds and Django Unchained both scoring Best Picture nominations as well. Critics are calling Once Upon a Time the director's best film since Basterds, and the film's nostalgic re-creation of 1960s Hollywood should be an easier sell with voters than his ultraviolent Westerns. If the Stateside reactions are anything like the rapturous reception at the Croisette, a major string of nominations is in play, including in the crafts, and in screenplay, where Tarantino is a perennial contender. When it comes to co-stars Leonardo DiCaprio and Brad Pitt, some category fraud may be in store: The two hunks have similar screen time, but as films rarely double-up in the lead acting categories, it seems a good bet that Pitt, who plays the stunt double and sidekick of DiCaprio's washed-up actor, will get bumped down to Supporting instead. Margot Robbie's lack of dialogue as Sharon Tate was the source of some controversy at Cannes, though given that the well-liked Robbie was able to sneak into some precursors last year for the little-loved Mary Queen of Scots, that may be less of an issue for Oscar than it seems.
Speaking of the acting races, Antonio Banderas won the festival's Best Actor prize for his turn as a melancholic filmmaker in Pedro Almodóvar's semi-autobiographical Pain and Glory. Almodóvar's films have traditionally done well with Oscar, and at Cannes Banderas proved a winning interview subject; the Spanish actor is expected to be a formidable campaigner on the trail. Oscar loves a Hollywood veteran doing some of his best work late in life, and the narrative is strong for the never-nominated Banderas.
Fox Searchlight picked up Terrence Malick's A Hidden Life, a biopic of a conscientious objector who defied the Nazis, with an eye toward giving it a major push. Pundits seem skeptical that this three-hour religious drama will catch on with voters, especially considering Malick is hardly the campaigning type. Still, it wasn't so long ago that The Tree of Life cracked both the Best Picture and Best Director lineups, and Searchlight is clearly hoping the exquisitely photographed lightning can strike twice. At the very least, a cinematography nod seems possible, and you should not bet against this film's picturesque alpine valley at the Location Managers Guild Awards.
Last year's competition slate included three of the eventual nominees in the foreign category (now called Best International Film), and you could fill all five spots with movies that earned raves at Cannes this year. Bong Joon-ho's social satire Parasite won the Palme d'Or, and alongside Pain and Glory seems the likeliest candidate for a Cold War–style breakout. This year's jury was filmmaker-heavy, an encouraging sign for Bong's chances of cracking Oscar's ever-more-international directing lineup. Even just a foreign-language nod for Parasite would make history — it would be the first-ever Korean feature to land an Oscar nomination in more than 30 years of trying. The second-place Grand Prix prize went to Mati Diop's Atlantics, the first film directed by a black woman to premiere in competition at Cannes, and the Senegalese love story could thrill voters with its phantasmagorical depiction of the emigration crisis, a subject voters often gravitate toward in the doc categories.
Other countries will have harder submission decisions. Will Brazil go for the dystopian satire Bacurau, a sharp critique of president Jair Bolsonaro, or the period melodrama The Invisible Life of Eurídice Gusmão, which won the Un Certain Regard sidebar? France, which has garnered more foreign-film nominations than any other country, will have a tough choice between two acclaimed titles: Céline Sciamma's lesbian romance Portrait of a Lady on Fire, which won the Queer Palm, and Ladj Ly's police drama Les Misérables, which took home the Jury Prize.
The various sidebars saw their own contenders emerge, as well. Robert Eggers's The Lighthouse, which premiered in Directors' Fortnight, may be too bizarre for Oscar voters — it's a surreal, black-and-white two-hander filmed in a square aspect ratio that showcases every bodily fluid known to man — but stars Robert Pattinson and Willem Dafoe should get attention in the artier precursors. When it comes to animation, Oscar tends to reserve a spot or two for foreign contenders, good news for Critics' Week standout I Lost My Body, a nimble fable about a disembodied hand returning to its owner. And the buddy comedy The Climb, recently picked up by Sony Pictures Classics after cracking up audiences in Un Certain Regard, should make a splash at the Indie Spirits. (If all goes very well, the film's balletic long takes could help it crack the Cinematography lineup too.) But as always, when it comes to Oscar, Va donc savoir pourquoi!