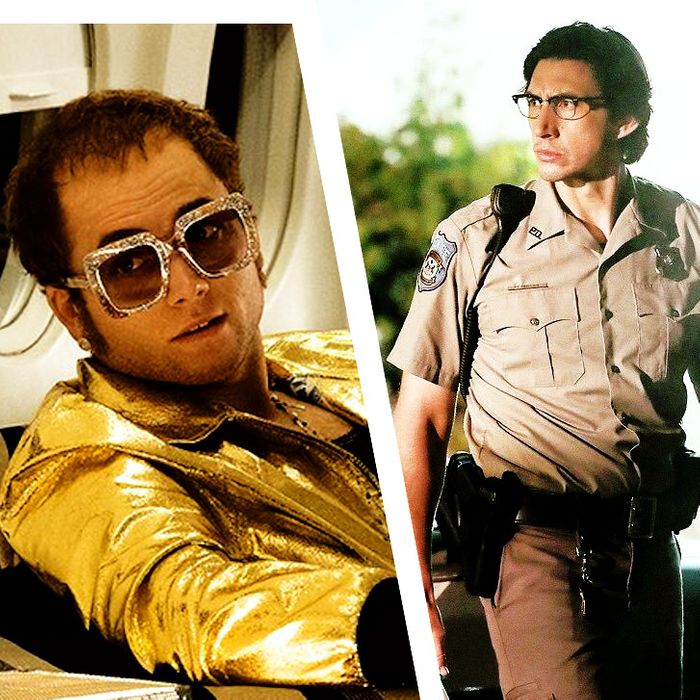 Photo: Courtesy of the studios
While Sundance is the spiritual home of American indies, and the fall trio of Venice, Telluride, and Toronto serve as the opening bell for awards season, the Cannes Film Festival's mandate is a little more ineffable. Cannes bills itself as "the most important film festival in terms of worldwide impact," and it's simultaneously a showcase for the best contemporary international cinema, an orgy of spectacular industry dealmaking, and an excuse to create many, many new rules. (No Netflix films in competition! No flats on the red carpet!) As we put the finishing touches on our glamorous Continental makeovers, here's a look at the films we're most excited to see at the Croisette this year.
Once Upon a Time … in Hollywood
Quentin Tarantino's latest film (and the first unassociated with Harvey Weinstein), Once Upon a Time … in Hollywood stars every hot blond person working in film: Brad Pitt, Leonardo DiCaprio, Margot Robbie, Dakota Fanning, and Austin Butler. (Al Pacino, Kurt Russell, James Marsden, Lena Dunham, Margaret Qualley, and the late Luke Perry are here, too, among dozens of others.) The official logline is "a faded television actor and his stunt double strive to achieve fame and success in the film industry during the final years of Hollywood's Golden Age in 1969 Los Angeles," but the film is famously Manson-family-centric, as well: Robbie plays Sharon Tate, Fanning is Squeaky Fromme, and Emile Hirsch is Jay Sebring, a friend of Tate's who was murdered by the Manson family alongside her. Originally scheduled to premiere with the 50th anniversary of Tate's death, the film has been moved to a July 26 release date after Tate's family objected — but lucky Cannes audiences will get a glimpse of the much-anticipated dark comedy first. —Rachel Handler
The Dead Don't Die
"Chillest director alive" Jim Jarmusch is back with a hipster-zombie flick starring Jarmusch's past and, ostensibly, future muses: Adam Driver, Tilda Swinton, Chloë Sevigny, Steve Buscemi, Selena Gomez, Bill Murray, and Danny Glover. Filmed in upstate New York last summer, the movie follows the citizens of the "sleepy little town of Centerville," who find themselves under attack by flesh-eating zombies. Jarmusch is famous for his singular, esoteric taste — his last few movies starred Driver as a bus-driving poet and Swinton as a chic vampire — but this is his first foray into the world of the murderous undead. It should be a black comedy … to die for. I'm sorry.
—R.H.
Lux Æterna
Absolute freak Gaspar Noé has been quite prolific over the past few years, making films about dancers going insane and killing each other (Climax); uncannily attractive humans having constant, graphic, actual sex with one another onscreen (Love); and now, a story of two actresses … talking about witches? Lux Æterna's logline is classic Noé, both provocative and completely impossible to parse: "Two actresses (Charlotte Gainsbourg and Beatrice Dalle) are on a film set telling stories about witches — but that's not all. Lux Æterna is also an essay on cinema, the love of film, and on-set hysterics. It's a brilliant fast-paced medium-length film for Gaspar Noé's return." But based on his history, the movie will likely be titillating and surprising — and perhaps inspire a walkout or two. —R.H.
The Lighthouse
Last time Robert Eggers went to a film festival, he left with a horror hit on his hands: The Witch, starring Anya Taylor-Joy as a Puritan girl tempted by Satan himself, propelled both Eggers and Taylor-Joy to instant cult fame. His much-anticipated follow-up, The Lighthouse, is finally premiering at Cannes. Plot details have been kept mostly under wraps, but we do know the film stars Robert Pattinson and Willem Dafoe, as a lighthouse keeper named "Old," in early-20th-century Maine. Shot on 35-mm. black-and-white film stock, the film has been described as a "fantasy horror story set in the world of old sea-faring myths," and apparently the set's conditions were so harsh that Dafoe and Pattinson hardly spoke while filming. —R.H.
Portrait of a Lady on Fire
Céline Sciamma's last film, Girlhood, won critical acclaim at Sundance back in 2015 with its thoughtful, straightforward portrait of black teenage girls growing up in the projects around Paris. Her follow-up, Portrait of a Lady on Fire, stars Sciamma's real-life girlfriend Adèle Haenel and centers on an 18th-century painter commissioned to do a wedding portrait of a young "reluctant bride," who's just left a convent. "Intimacy and attraction grow" between the women as the story unfolds on an isolated island in Bretagne. If Girlhood is any indication, the film should be both sweet and unflinching — and hopefully, considering the subject matter, hot. —R.H.
Port Authority
Port Authority star Leyna Bloom is the first trans woman of color ever to open a film at Cannes — a meaningful moment for a festival that hasn't always been as inclusive as it could be. In Danielle Lessovitz's feature debut, Bloom plays Wye, a beautiful kiki ballroom dancer who falls in love with a young drifter named Paul (Fionn Whitehead). The two begin an intense relationship, and Wye introduces Paul to her "self-selected chosen family." But when Paul discovers Wye is trans, he's "forced to confront his feelings for her and the social forces that seek to rupture their bond." Backed by Martin Scorsese and produced by the people behind Call Me by Your Name, Authority looks like it might be a fascinating, groundbreaking debut from several on-the-rise talents. —R.H.
Diego Maradona
Asif Kapadia's follow-up to the Oscar-winning Amy paints an intimate portrait of another vivacious brunette whose antics proved irresistible to paparazzi cameras: Argentine footballer Diego Maradona. Using his signature mélange of archival material (reportedly created from "500 hours of never-before-seen footage"), Kapadia follows the diminutive midfielder through his early years in Barcelona, his controversial World Cup victory, and his cocaine-laden, Mafia-connected glory days at Napoli. A less stark tragedy than that of Amy Winehouse (at 58, Maradona is still with us, coaching in Mexico), the documentary nonetheless continues the filmmaker's focus on the alienating effects of global fame. Diego Maradona will debut on HBO later this year. —Nate Jones
Parasite
Two years after Okja, Bong Joon-ho returns to the Croisette with this "tragi-comedy" about two Korean families — one unemployed, the other affluent — whose lives become fatefully entwined. Judging by the title alone, things don't seem poised to end well, and the film's trailer promises forged résumés, Native American headdresses, and blood-spattered picnics galore. Bong is one of our most provocative satirists, and he does not seem to have lost his taste for big swings. —N.J.
Frankie
Ira Sachs, that bard of small-scale New York drama, is going international. With an all-star cast that includes Isabelle Huppert, Brendan Gleeson, Marisa Tomei, Greg Kinnear, and Jérémie Renier (the Belgian Jeremy Renner), Frankie follows three generations in crisis during a family trip to Sintra, Portugal. You can't go wrong serving up gentle humanism alongside highly Instagrammable locales, and this film may do for Portugal's Atlantic coast what Call Me by Your Name did for northern Italy . —N.J.
Rocketman
Dexter Fletcher finished Bohemian Rhapsody after Bryan Singer was unceremoniously fired; now he's back with a biopic of a queer '70s rock star that his name's actually on. Taron Egerton, who starred in Fletcher's Eddie the Eagle, is on hand as Elton John, and you may have heard that he does his own singing. Judging by the rapturous pre-festival buzz, I think it's gonna be a long, long time before anyone takes Egerton off their Oscar shortlists.
—N.J.
The Young Ahmed
The Dardennes scored very high in our list of behind-the-camera brothers, and they return to Cannes as the rare filmmakers who've won the Palme d'Or twice. Ahmed sees the brothers turning their social-realist gaze to the topic of Islamic terrorism, a development that has much of the film community nervously tugging at their shirt collars. Critics worry that this story of a Belgian teen who's slowly radicalized will play into Islamophobic stereotypes, but the Dardennes' track record suggests they've got the conscience and the nuance to pull it off. —N.J.
A Hidden Life
Having spent the last decade or so producing exquisitely beautiful studies of his own navel, Terence Malik is ready to turn his gaze back toward the outside world. Somewhat surprisingly, he chose a biopic of Franz Jägerstätter, a conscientious objector who was executed by Nazi Germany in 1943. The cast is a veritable Who's Who of Teutonic faces: August Diehl (Inglourious Basterds) as Jägerstätter, Jürgen Prochnow (Das Boot) as a soldier, and the late Bruno Ganz (of Downfall and a million Hitler memes) as a judge. —N.J.
Atlantics
In the department of small victories, this year's Cannes competition lineup features a whopping four female directors, including the first-ever black woman to compete in this slate: actress turned filmmaker Mati Diop, whose feature Atlantics is based on her 2009 documentary short of a similar name. Set in Senegal, the film follows a young woman whose boyfriend disappears at sea in an attempt to migrate to Europe, and it comes into the Croisette boasting a co-sign from Claire Denis, who directed Diop in 35 Shots of Rum. — N.J.