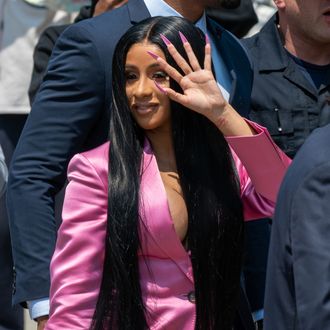 Cardi B.
Photo: David Dee Delgado/Getty Images
A glam-yet-mum Cardi B appeared in Queens court Friday for her alleged role in a strip club brawl last fall, and seemed exasperated by the same media attention she slammed in her new single, "Press."
The rapper, legally named Belcalis Almanzar, arrived in a black SUV at noon, sporting a satiny, hot-pink pantsuit. She was escorted by a throng – at one point, more than a dozen — of court security officers inside the building.
It appeared she was more insulated from the press and public than Harvey Weinstein was at his last court appearance in Manhattan. (One reporter who covered the last Weinstein proceeding, present for Almanzar's today, remarked of the contrast in security: "I could have touched Weinstein if I wanted to.")
Almanzar's stiff air during her public court appearance comes just hours after she dropped "Press," an apparent criticism of the constant online speculation about her life, in which she raps "Cardi don't need more press."
Little was revealed in the proceeding, except that prosecutors mentioned grand jury involvement in the case.
Asked for clarification, the Queens District Attorney's Office said that "further investigation necessitated presentation before the grand jury" but didn't give more information. It's unclear how grand jury involvement would impact the case against Almanzar.
In April, Almanzar rejected a plea deal relating to an alleged melee at the Angels NYC Strip Club early on August 29, under which she could have copped to just one class A misdemeanor. She could now face a year in prison.
Sisters Sarah Wattley and Rachel Wattley, who were bartending at Angels that morning, alleged that a fight erupted after someone in Almanzar's entourage hurled a drink toward them.
Sarah claimed a drink got in her eye; Almanzar was accused of throwing booze and a glass bottle during the alleged altercation.
Almanzar is believed to have thought that her husband, Offset, had a hookup with one of the Wattleys.
Almanzar is due back in court August 9.