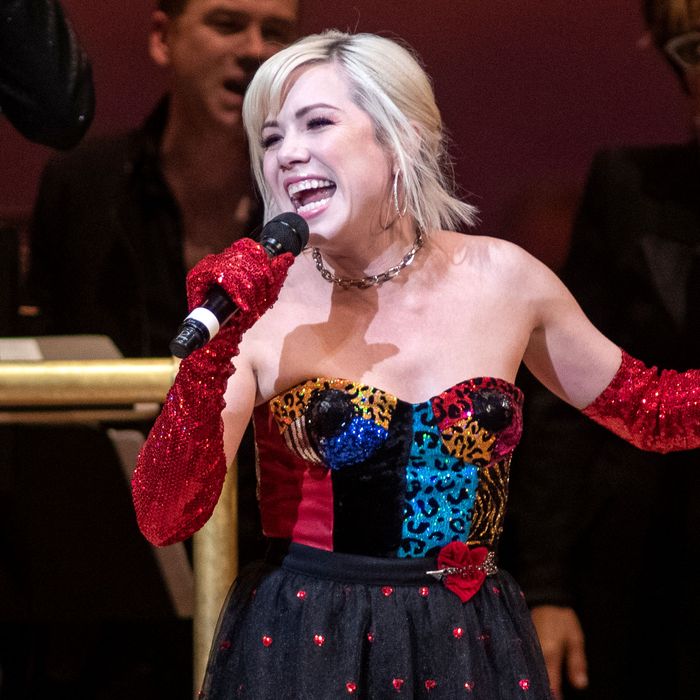 Dedicated
is both stranger and freer than the last record, but it also feels more confident and considered.
Photo: Mark Sagliocco/Getty Images
Why didn't Emotion blow up, commercially? Canadian singer-songwriter Carly Rae Jepsen's 2015 sophomore album stalled out at No. 16 on the Billboard album charts but thrived on prestige media year-end lists, sparking odd conversations in the process. Fans swore the public was just late to the party. Anti-pop cranks delighted, suggesting that Emotion was an Emperor Has No Clothes moment for "poptimists" overly eager to anoint a new diva, whether the public cared or not. The discourse was goofy. When you suggest that an artist is being foisted on the public by music nerds and critics, often you're really communicating who you heed when you look for new music. This says nothing of who is actually listening to the music. In order to pawn Carly Rae Jepsen off as a "critical darling" who lacks a base outside of hip tastemaker spheres, you have to ignore a lot of voices — particularly those of women, people of color, and LGBTQ fans who have been vocal supporters of Emotion, 2012's Kiss, and the singles and EPs released in between.
Truthfully, Emotion was top heavy. The back end slips into a succession of lightweight, mid-tempo dance pop confections like "When I Needed You," "I Didn't Just Come Here to Dance," "Your Type," and "LA Hallucinations," songs that didn't ask a whole lot of Jepsen as a vocalist, that seemed duller in the wake of Taylor Swift's 1989, where songs like "Style" and "Out of the Woods" scooped Emotion's sleek retro style a year prior (although you could argue that Carly is on the shortlist of singers whose work inspired Swift's shift in sound). Pop's not a meritocracy, as much as it strives to broadcast the appearance of it. Decent records fly under the radar all the time. Terrible ones do mammoth numbers every month. Looking for rhyme or reason in that is chasing shadows sometimes. The charts don't have to make sense.
Carly Rae Jepsen isn't a flash in the pan or a hip music nerd talking point or a knight or what have you. She's a singer-songwriter in the traditional sense, gifted, workmanlike, and privy to the peaks and valleys that come with cultivating a career. She didn't rush into a new era after wrapping the touring engagements for Emotion. She hung back and plotted. This week's new album, Dedicated, is a product of hard work and fierce deliberations. Jepsen told GQ the track list was hashed out in part in a listening session at her home where friends lobbied for songs through votes and debates. It's worth the fuss. Dedicated is both stranger and freer than the last record, but it also feels more confident and considered.
Dedicated delivers on Jepsen's promise of an "understated disco" record and gets a surprising amount of wiggle room out of the concept. There are Moroder-esque electro tunes, tracks indebted to the '90s Max Martin school of Swedish pure pop, Balearic bops, and more. The methodical synth figure of "Too Much" evokes Swedish synthpop outliers the Knife's "Heartbeats." "Automatically in Love" marries church chords and sultry swing, like Demi Lovato's "Sorry Not Sorry." "I'll Be Your Girl" mixes waltz-timed reggae and psych rock. "Want You in My Room" is jangly guitar pop. "Everything He Needs" struts to a chorus on loan from Harry Nilsson's Popeye soundtrack. The production is restless and intriguing, even in the slower, simpler songs, where funky guitar licks and crisp drum sounds keep Jepsen from settling into a rut.
Carly's pushing herself too. She's more of a presence here than on Emotion, which sometimes buried her in the mix. Her breathy vocal for "Julien" underscores the lust in the lyric. "Want You in My Room" uses stacked harmonies and coy raps to effect the same mood. "Feels Right" trades soaring high notes with Electric Guest singer Asa Taccone. Jepsen's voice still runs a little wispy, though, and sometimes in the wrong spots. It's not the best match for the simmering resentment of "Right Words Wrong Time," and it blurs the words in the closer "Real Love." Misjudgments are scant, though. Dedicated is the work of a creator in progress, of an artisan sharpening her tools and fine tuning her attack. It can only get better from here.