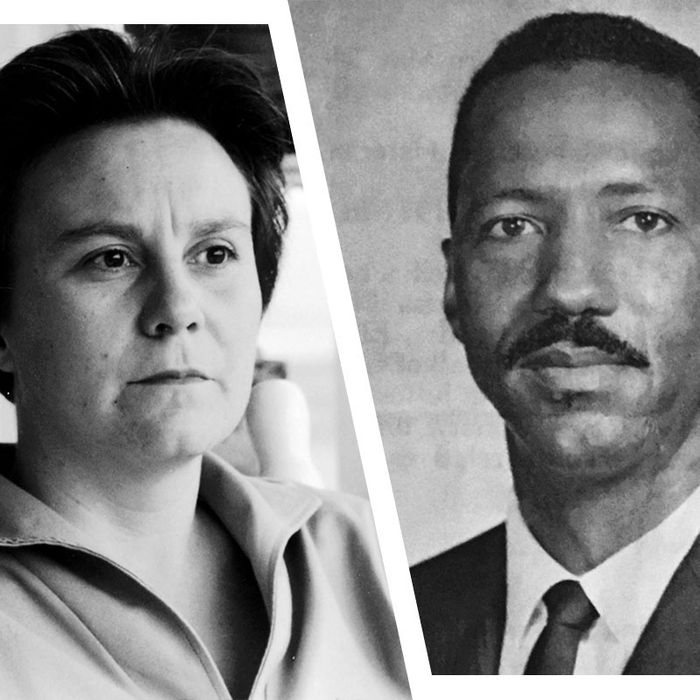 Harper Lee and Willie Maxwell, whose story she researched extensively for a book she never published.
Photo: Getty Images and Courtesy of Knopf
"There are no saints and there are no sinners — people can simultaneously be both," says Casey Cep. "I think she was interested in how this could be." The author of Furious Hours, an enthralling debut about crime, fact, and fiction, is talking about the second of her book's subjects, Harper Lee. Lee's crowd-pleasing morality tale, 1960's To Kill a Mockingbird, made her world-famous, but the author was more complicated than her book.
Moral ambiguity is what binds the two narrative threads in Furious Hours: the first is a meticulously researched accounting of the case of Reverend Willie Maxwell. An Alabama preacher who very likely murdered five of his relatives in the 1970s for insurance money, Maxwell himself was eventually killed at the funeral for one of his victims. In perhaps the darkest true-crime twist of all, the lawyer who had defended Maxwell later represented the vigilante who shot him to death.
The second thread in Cep's book is a more difficult quest; she aims to figure out why Harper Lee was unable to tell the story of the first part. Through the lens of the book Lee tried and failed to write about Maxwell and his lawyer, Cep makes it clear why, years after Mockingbird made her a household name, Lee felt compelled to grapple with the murky ethics of true crime. The novelist had nearly graduated from the University of Alabama's law school before dropping out to be a writer; later, she'd helped her childhood friend Truman Capote investigate the story that would become In Cold Blood. Lee hoped to write the same kind of electrifying crime story, but with one very important distinction: Her book would not be a "nonfiction novel." There would be no artfully crafted, cathartic scenes that never actually took place. Every word she wrote would be true.
"The issue was that she had, as she would later say, 'enough rumor, fantasy, dreams, conjecture, and outright lies' for a volume the length of the Old Testament," writes Cep. Investigating Maxwell for herself, Cep comes up against all of the narrative problems that stymied Lee: Maxwell had never confessed to the crimes; autopsies of the victims provided inconclusive results; many of the residents of Alexander City, Alabama, gossiped about how Maxwell had practiced voodoo, but he'd never said so himself. Most glaringly, the book that Lee wanted to call The Reverend would focus on a white lawyer named Tom Radney, who profited from representing both a black serial killer and the black vigilante who killed him. These ambiguities, these shades of gray, would make the book a tough pill for Mockingbird fans to swallow.
That moral complexity is exactly what appealed to Cep about investigating both lives — Maxwell's and Lee's. "What was nice was to be able to apply her ethics to her own life," says Cep, "to learn as much as I could about her without relying on myth or secondhand information."
"Harper Lee is like kryptonite for reporters," Cep says with a smile. We're sitting at a table in front of the New York Public Library on one of those rare spring days when, if you sit directly in the sun, you can take off your jacket and still feel warm. It might have been the kind of day that Lee herself would find refreshing on one of her own frequent visits to the Library — she split her life between her hometown of Monroeville, Alabama, and Manhattan — while the allegedly reclusive author was trying to write the Maxwell book and hiding in plain sight. "Until the year she died," says Cep, "it was a rite of passage for young reporters to try to find her, and most would fail." We laugh at the idea that Lee could have been doorstepped right here, in one of the most public places in the world.
Lee patronized the Library from her earliest days in New York until just a few years before her death in 2016. Cep researched a good deal of her own book inside the building. "It's important to imagine her at the New York Public Library in the '80s and '90s — and how it had changed since the 1940s," Cep says, gesturing behind us at the building but also more generally at how the standards of journalism changed over half a century. "As a writer you don't form your ethics in the ether," she says. "You do it in response to what other people are doing. She had strict ideas about fiction versus nonfiction, but she was working in a genre whose boundaries had become more porous."
Lee had a front-row seat to the rise of the "New Journalists" — Tom Wolfe and Joan Didion and, of course, her childhood friend Capote — writers who infused nonfiction with novelistic values. But she had no interest in being one. In Furious Hours, we learn about Lee's objections to Capote's slipperiness with the truth, which she kept private like so much else, but which she shared in letters to Capote's New Yorker fact-checker, Sandy Campbell: "Truman's having long ago put fact out of business has made me despair of 'factual' accounts about anything.'"
Janet Malcolm's book, The Journalist and the Murderer, about the ethical morass of crime journalism, came out in 1989, when Lee was still wrestling with Maxwell's story. Did that book possibly affect Lee's thinking? "I think she had thoughts on everything," says Cep. "I'm sure she followed the murder case that Joe McGinniss covered," the basis for Malcolm's book. Lee "would never have been part of her own book," as McGinniss was. "There are so many true-crime books now where the reporter tells you why they did it or tells you their frustrations, and that was never going to be the version of the Maxwell case that Harper Lee did."
The conflict between the obligation to be truthful and the impulse toward psychological complexity has become a central tension of true crime, loudly articulated. (Entire podcasts have been built on less.) Cep thinks Lee was prescient in grappling with those questions privately. "I'm grateful for the chance to talk through those issues through her," she says, "to consider the act of decision-making that writers have to do around how you make a court transcript talk versus a newspaper article versus imaginative dialogue." Cep feels that she moved in tandem with Lee, matching her style in the Maxwell portions of the book, not so much in deference to the great author as in sympathy. They were compatible, Cep and Lee; their approach was the same, even if Lee gave up and Cep picked up the pieces.
The Lee who grappled with the dark story of Maxwell makes more sense to us in light of the book that came out not long before her death — the "prequel" of sorts to Mockingbird. Much to the despair of readers who had named their children or pets after the hero Atticus Finch, Go Set a Watchman, published in 2015, portrayed the crusading lawyer not as an ardent supporter of civil rights but as a sort of relatively moderate bigot who became less progressive as he aged. It was an early draft of Mockingbird, a messier piece both aesthetically and morally.
Asked if she was hesitant to read Watchman, Cep says, "I would read her grocery list." She adds, "If you read it in the spirit of it being a draft that she didn't return to, and as a look at her early ideas, it's fine." In Furious Hours, Cep writes that "Mockingbird had been read as a clarion call for civil rights, but Lee's views were more complicated than any editor wanted to put in print."
Cep credits Lee's editor at J.B. Lippincott, Tay Hohoff, with helping her write a better novel with less complicated politics — but she believes the process must have been painful for Lee, at least at first. "To some extent there's a tremendous appetite for moral ambiguity," says Cep, "but there is a Venn diagram of morally ambiguous and best seller, and Tay tried to make a readable and successful novel. There's a letter in which Lee described Tay as the Quaker Hitler, so you do get the sense that she was working with a forceful personality, but one she admired. Mentors can create a kind of charismatic coercion. You want to please them."
As for which book is better, Cep prefers Mockingbird, but I like to think Watchman's moral nuance would have done better with modern readers if Lee were writing today. "It's an interesting exercise in literary criticism," Cep tells me, "to read both Mockingbird and Watchman and think about which is better. It depends on the kind of reader you are."
If Lee was looking for a good man with his fair share of flaws — a more realistic Atticus — to be the subject of her true-crime book, then the attorney Tom Radney was a perfect specimen. A white Alabama lawyer who had dabbled in progressive politics, Radney saw himself, in Lee's words, as "a cross between Atticus Finch and Robert Redford." (Is it surprising that Lee was interested in a lawyer influenced by her most iconic invention?) Cep believes that Radney played a major role in the book Lee was trying to write. "Tom was a very good man who lived in a complicated time," says Cep. "Any lawyer is pressed by their ethics and the ethics of their career. She had lawyers in her family" — not just her father, a model for Atticus, but her sister, Alice — "so no one understood that more than she did." It's difficult not to compare Radney to Watchman's Atticus Finch 1.0, the cocky former golden boy who's not quite best-seller-list material (yet), but who's compelling nonetheless.
So, why on earth didn't she write it? "Some people say that Lee's scrupulousness is why she ultimately couldn't publish this book," Cep says. "I think it's a terrible way of looking at it because her scrupulousness shaped her fidelity to that case. I agree with her that writing a nonfiction book obligates you to not invent dialogue, to not invent scenes." If not for a toxic combination of writer's block, alcoholism, and perfectionism, Lee could surely have written a second, more nuanced masterpiece.
Harper Lee may be known to some as a one-hit wonder, but Cep is certain that she was not lazy or lacking for ideas. She has seen the lists of topics Lee wanted to cover, along with personal letters in which she was funny and opinionated about contemporary politics. "Atticus is great as a character, but there are real-life complicated men and women I wish she would've written about," says Cep.
And maybe there is more; there's certainly cause for hope. "For every story I heard about her throwing out manuscripts, I heard stories about her productivity and how people saw her working," says Cep, "and soon the estate will come together, and there will be more." She's particularly optimistic that Lee's notes and tapes from the Maxwell investigation still exist, even if Lee never got to publish her definitive true-crime book. "For someone who loved facts so much, I have a hard time believing she'd just discard them." In the meantime, we have the consolation of knowing that while Harper Lee is done writing, Casey Cep is just starting out.