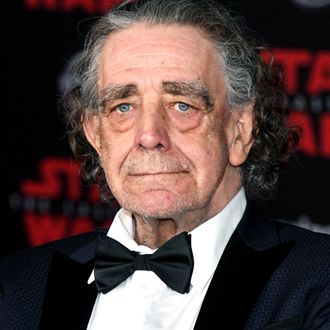 Photo: Ethan Miller/Getty Images
Today, the globe-spanning Star Wars fandom mourns. Peter Mayhew, best known for playing Chewbacca in decades-worth of Star Wars properties, died today at the age of 74. The actor was home in Texas with his family at the time, and his death was confirmed on his Twitter account this afternoon, along with a statement from his family. Mayhew had been hospitalized in 2015 with pneumonia, but recovered from that bout with illness, and toward the end of his life had to use a cane (fashioned to look like a lightsaber) or wheelchair due to mobility issues. The last time he suited up as Chewbacca was for J.J. Abrams in The Force Awakens, but he assisted production on The Last Jedi as a consultant to help Joonas Suotamo as he took over the role of the most beloved Wookie in any galaxy, near or far.
The 7-foot-2 London native was actually discovered while working as a hospital attendant in 1976. He landed a small role in Ray Harryhausen's Sinbad and the Eye of the Tiger before the fateful casting that would make him a part of the Star Wars universe the very next year. "He put his heart and soul into the role of Chewbacca and it showed in every frame of the films," reads the statement from his family. "But to him, the Star Wars family meant so much more to him than a role in a film." You can read the rest of the letter in the tweet posted below.