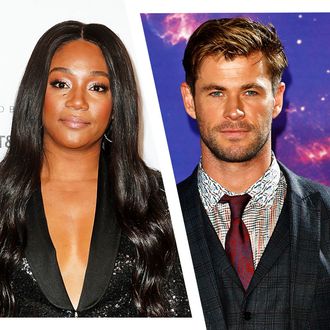 Tiffany Haddish and Chris Hemsworth.
Photo: Getty Images
Move over, Dyke and Fats, because there's a new buddy-cop duo in town. According to Deadline, Tiffany Haddish and Chris Hemsworth are teaming up for a comedy in the works titled Down Under Cover, written by Peter Hoare. Hemsworth will play an undercover detective who is tasked with cracking "a series of baffling casino heists in which the prime suspects are a troupe of Australian male erotic dancers." Hemsworth's character is forced to pair up with Haddish, who plays "a lone wolf who does things only one way: hers. Together they have to work as an unlikely duo to solve the crime of their careers."
Hemsworth currently stars in Avengers: Endgame and recently signed on to play Hulk Hogan in an upcoming biopic about the wrestler. Haddish, meanwhile, stars alongside Ali Wong in the recently released animated Netflix comedy series Tuca & Bertie and is producing an upcoming stand-up series for the streaming network called — you guessed it — They Ready.