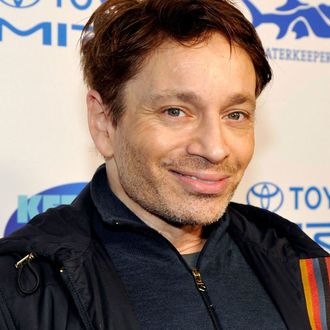 Photo: John Sciulli/Getty Images for Waterkeeper Alliance
In his new memoir, Baby Don't Hurt Me: Stories and Scars From Saturday Night Live, Chris Kattan claims to have broken his neck during the show's May 12, 2001, episode. As part of an "MSNBC Investigates" parody poking fun at parental fears about kids reenacting Jackass stunts, the actor played a teen so committed to roleplaying as Rose from The Golden Girls he ended up in a coma. (You can watch the sketch here.) During the airing, asserts Kattan, he fell backward out of his chair, severely injuring his neck when his head struck the stage. "The impact that my injury and subsequent surgeries had on my career was immense, but more importantly, the fallout proved to be devastating to some of the closest relationships in my life," the actor says now.
However, as Variety's Michael Schneider observes in his article about Kattan's memoir, NBC denies knowing about the incident entirely. "A spokesperson for NBC said the network had no record of any claim and declined to comment further," Schneider writes. According to Kattan, both Lorne Michaels and producer Ken Aymong allegedly knew about his injury, going so far as to recommend a doctor. The network, the actor says, paid for two of the five surgeries he eventually needed. Michaels reportedly turned down Variety's request to be interviewed about Kattan's claims.
"NBC had stopped paying my medical costs after the second surgery," alleges Kattan. "The SNL family I was part of had stopped taking care of me, and soon I wasn't able to pay for everything myself. But I never really fought for myself or demanded anything. I never thought about the potential legal ramifications of what had happened to me on the set and what was happening now. I had been brought up to be responsible for myself. I wasn't about to sue anybody. I never wanted to be that person: spending my life debilitated and fighting a network. I wanted to hide everything, pretending I was okay and in good enough shape to be go out in public and be social."