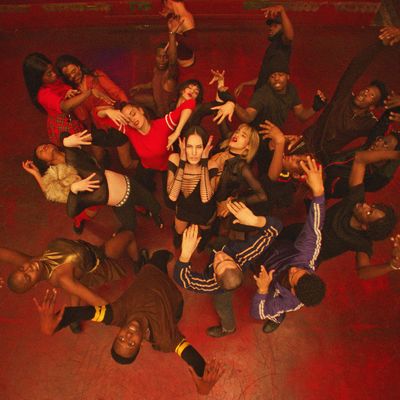 Writer and director Gaspar Noé created a unique set of challenges for the cast and crew of his movie, Climax, about a dance party in France that transforms into a drugged tour through hell. With almost no script, few professional actors, and rough plans to build the movie from as many long takes as possible, he leaned heavily on his choreographer, Nina McNeely. While he directed and operated the camera, it was her job to wrangle 20 dancers with different skill sets and backgrounds, almost none of whom had performed together before (except for a few from the group Electro Street). There were a few more hurdles she had to leap over: McNeely only had two days of preproduction rehearsals to get everyone on the same page. Worse, the first time her dancers would all be in the same room was the day she started shooting. Oh, and none of them knew what if felt like to be psychotically high.
"They had never done hallucinogens before, which was really surprising to me and Gasper," McNeely says, recalling how she assembled a supercut of people on PCP and flakka (also known as gravel) to give her dance crew a sense of the drug's bodily effects. "Different than our 20s!"
Considering how central (hallucinatory) dance is to Climax, it's hard to imagine Noé pulling the film off without a choreographer to smooth out the finer points, but the filmmaker's original plan was to control the chaos himself. McNeely never would have secured the job had it not been for the film's star, Sofia Boutella, who got the role after Noé slid into her Instagram DMs and offered her the part. "Dancers are a different beast," Boutella told him. "You don't want to have that weight on your shoulders." By chance, Boutella had befriended McNeely just a few months earlier and suggested Noé review her work. He liked what he saw, and so he brought her onboard to wrangle his beasts.
The shooting schedule for Climax fit appropriately with the movie's frenzied vibe: 12-hour days that started at 3 p.m. and ended at 3 a.m. Every shooting day was a bit of a surprise, so McNeely had her dancers warm up with daily battles. "We just put on the music super-loud and let them kind of like show off," says McNeely. "They love to anyway, and I think them starting to get a little bit competitive was exactly the energy it needed. They had to be show-offs for the whole film." Including warm-ups, Boutella says they'd have about five hours of rehearsals before taking lunch, with the remainder of the days spent shooting 14 to 17 takes of each scene.
Here's how McNeely, Noé, and a room full of rowdy dancers brought two of Climax's most immersive dance sequences to life.
The Opening Number
The film's opening number is a five-minute single take of pure energy, with DJ Daddy (Kiddy Smile) spinning an instrumental edit of Cerrone's "Supernature." As dancers stream in and out of the frame, what we don't see is McNeely standing next to a camera crane, yelling counts and instructions until she nearly fainted. (That happened twice.) She doesn't speak any French either, but fortunately her assistant did — and had a background in contemporary dance — so she could capably relay instructions from McNeely and/or shout obscenities at the dancers in French when they got too rowdy.
With so many soloists needing to come off as a believable unit, McNeely decided that a single element was necessary to anchor the number. "I tried a bunch of different things, like maybe some bouncing all together, and they all looked so different. Voguers were flipping their hair and krumpers were stomping and like I was like, 'No, okay. Don't ever do that again,'" says McNeely. Instead, she pared the work down to the most basic element she could think of: walking. It was a simple way to showcase each of the dancer's personalities, get them synchronized and on rhythm, and create a foundation for the structured improvisation that, as McNeely says, came off looking "fucking incredible."
The opening number took a whole day of shooting, during which time McNeely reminded her dancers, "If [Noé] picks this take and you fucked it up, that fuck up is forever. It is in the film." That meant they had to bring it in absolutely every long shot. The version you see in the film is was what Noé captured on the 17th try, near the end of a 12-hour day. "I think the exhaustion got a little real for sure," says McNeely. "But dancers need a certain kind of direction and encouragement, and I think if you give them a lot of confidence they'll blow your mind and elevate your work to like a whole new level. Allowing them to shine through is really what you have to do."
Selva's Climax
Boutella's big moment comes when her character, Selva, hits the peak of her bad trip. In a hallucinogenic panic, she walks down a hallway that opens into a small sitting area with one wall papered over to look like a peaceful stand of trees. With the music still throbbing in the background, the image calms Selva for the first time since she started losing her mind and she goes into a kind of euphoric trance, writhing on a couch and at one point shoving her hands down into her tights as though she were forcing them inside her skin.
McNeely and Boutella actually worked out the loose choreography for the scene by accident. During their first studio session together, McNeely ran off eight counts while Boutella danced. Eventually, they put on music, with Boutella improvising while McNeely yelled out notes she could either take or ignore. Eventually, McNeely started filming Boutella and what began as an experiment ended up serving as the basis for Selva's breakthrough moment. The character doesn't turn hostile or aggressively sexual under the influence as much as she does fearful, and Boutella imagined a painful backstory for the character to imbue her collapse with a kind of melancholy.
"Once I was given the choreographer I wanted to find the complexity, an element that was interesting to watch and also fun for me to explore," says Boutella. "I thought something quite extreme was a choreographer who never had the opportunities as a dancer that she wanted, or who is older now and isn't where she once dreamt she would be, and probably this dance competition is the one thing that made her happy in a very long time and gave her some sort of reward. You add that to the drugs and the substance, and it could be something that was pretty nightmarish to look at." Selva's bliss is then tragically broken when she hears a child crying out in the distance — who has been accidentally locked in a boiler room while he tries to survive his own unintentional dosing. Hey, we warned you this was hell!
Similar to the opening sequence, McNeely was behind Noé's shoulder during the scene (he also did his own cinematography) guiding Boutella through each of the seven takes. "It was a bit heartbreaking," the actress says of Selva's experience. "I think that end moment is just her admitting that she has failed and that it didn't go the way she wanted it to go."