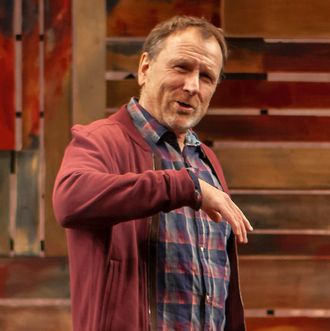 Colin Quinn in
Red State Blue State
.
Photo: Monique Carboni
CNN is getting into the business of comedy specials, and it's kicking things off with Colin Quinn. The network announced today that it's added a new hour-long special from Quinn titled Red State Blue State, a presentation of his Off Broadway show of the same name that ran in New York earlier this year. In the special, Quinn "brings the funny tackling the absurdities, hypocrisies and calamities on both sides of the political divide."
"Everything that occurred in this country, to [the people on the left], is still under the cloud of this racist, sexist [agenda]. Nobody's denying that part — I'm not denying that part — but that's not all of anybody's whole story," Quinn told Vulture about the show back in January. "And then the other side, the right, is like, 'No, we're all good.' So there're these two sides of ignorant, definitive truths, [and] in a world of subjective truth, they think there's objective truth. And that bothers me when anyone does it."
"We are always looking for new ways to engage our viewers by exploring the issues that are most important to them," CNN talent and content development EVP Amy Entelis said on the news. "Colin Quinn's show is a smart political satire that speaks to what is dividing our country."
Like the Off Broadway show, the special is directed by Bobby Moresco, and Tony Hernandez, Brian Stern, Amy Entelis, and Lizzie Fox all serve as executive producers. CNN will air Red State Blue State on Memorial Day — Monday, May 27, at 9 p.m.