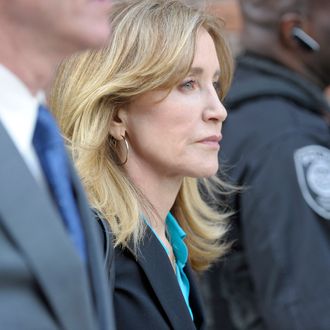 Felicity Huffman.
Photo: Joseph Prezioso/AFP/Getty Images
More than a month after stating she would be pleading guilty for her involvement in the college admissions cheating scam, Felicity Huffman has officially entered a guilty plea in a Boston court today. Per CNN, Huffman could receive up to 20 years in prison for paying a $15,000 sum to ensure a higher SAT score for her oldest child, on charges of conspiracy to commit mail fraud and honest services mail fraud. TMZ reports, however, that federal prosecutors have recommended a "low end" of four months in jail due to Huffman's continued cooperation, in addition to the actress paying a $20,000 fine and agreeing to 12 months of supervised release.
"I am in full acceptance of my guilt, and with deep regret and shame over what I have done, I accept full responsibility for my actions and will accept the consequences that stem from those actions," Huffman said in a statement last month. "I am ashamed of the pain I have caused my daughter, my family, my friends, my colleagues and the educational community. I want to apologize to them and, especially, I want to apologize to the students who work hard every day to get into college, and to their parents who make tremendous sacrifices to support their children and do so honestly." In addition to Huffman, 24 other parents have pleaded guilty since last month for their involvement in this college admissions scam. They do not include a very media-friendly Lori Loughlin, who happily entered a not-guilty plea.
Update, May 14: Huffman's court testimony has been reported by the Los Angeles Times. Through tears, the actress said her daughter was diagnosed with a learning disability at a young age, which motivated Huffman to take part in the scam. "My daughter has been seeing a neuro-psychologist since she was 8 years old," she told the judge, adding that she "didn't want to create the impression" the psychologist was involved in the scam in any capacity. Huffman is expected to receive her sentence on September 13.
This article has been updated to reflect details from Huffman's court appearance in Boston.