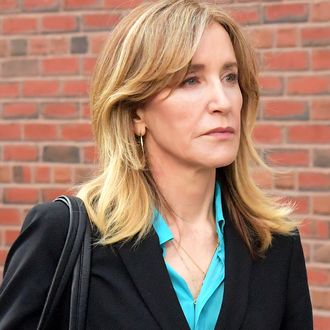 Felicity Huffman.
Photo: Paul Marotta/Getty Images
Felicity Huffman has pleaded guilty to her role in the Operation Varsity Blues, while Lori Loughlin and her husband have both entered not-guilty pleas. But there could be more indictments coming in the sprawling investigation of parents manipulating the college admissions system to get their kids into top-tier universities. Multiple defense attorneys tell the New York Times that more parents have been informed by authorities that they are under investigation, and that "they have sent target letters to three students, raising the prospect that the students could face criminal charges." In addition to letters and phone calls, prosecutors have also issued subpoenas to obtain banking records, information from accountants, and phone logs, according to the Times. For its report, the paper spoke with seven defense lawyers in total and more than a dozen parents who have kids at various high schools connected to the scandal around Los Angeles.
While those in touch with law enforcement have brought on legal representation, sources tell the Times that they've spoken to parents who are afraid they'll be caught up in the scandal next, but are delaying hiring attorneys so as not to arouse suspicion and debating whether to turn themselves over to authorities. One mystery parent under investigation is even alleged to have paid $6.5 million — the highest sum documented so far — to have their child recruited as a college athlete.
Meanwhile, on the student end, the Times reports that about two dozen University of Southern California students are having their admissions investigated by the student judicial-affairs office, and two other students — one at Yale and one at Stanford — have had their admission revoked. The parents of the latter two students, however, have not been criminally charged. This is probably going to make Julia Roberts even sadder.