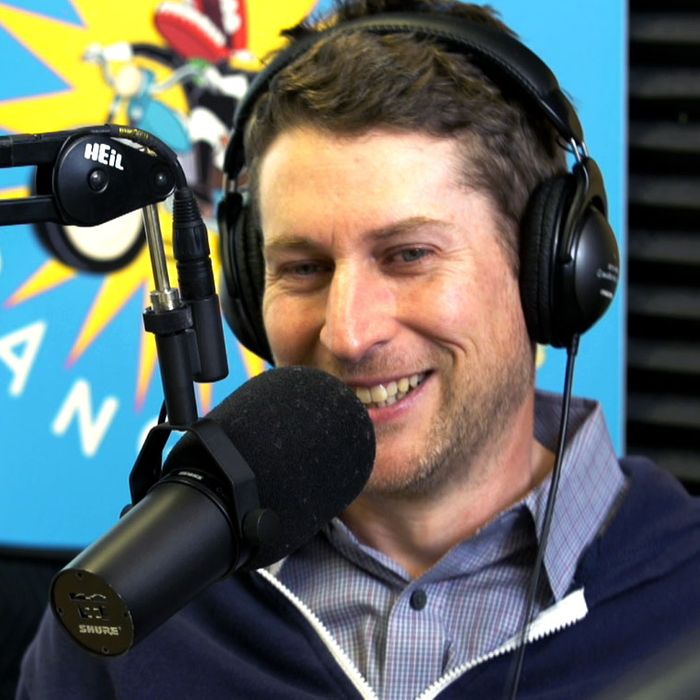 Photo: Comedy Bang Bang/Earwolf
"The first thing I thought was, No one's going to listen to this," said Tom Lennon, remembering the first episode of Comedy Bang! Bang! (then Comedy Death-Ray) recording ten years ago, live from a small recording studio at Indie 103.1. At the time, he felt like what he, fellow guest Rob Huebel, and host Scott Aukerman were having was "just an ordinary conversation in a weird, smelly little room."
"I didn't think that it would basically launch a juggernaut of different podcasts. And it certainly didn't seem like something that would last ten years."
While Comedy Bang! Bang! has gone through many iterations over the last decade — first as a weekly live show at M Bar and later at the Upright Citizens Brigade in Los Angeles, then becoming a radio show and ultimately one of comedy's pioneering podcasts (not to mention a five-year stint as a TV show on IFC) — the through line, other than Aukerman as ringleader, is a consistent circus of experimentation by some of comedy's most creative minds and new generations of talent. It's what frequent guest Jason Mantzoukas calls "a comedy incubator for happy accidents."
The show as we know it was born after Aukerman, who had been doing comedy bits on his friend Joe Escalante's morning radio show in the mid-2000s, found out the station was moving to internet radio and was looking around for people who wouldn't mind not getting paid ("I was like, 'Well, I'm not doing anything, and I can bring some famous and funny comedians on the show. So I'll just do it for free,'" Aukerman said). He picked Lennon and Huebel for his first episode partly as a safety net — he was nervous and wanted to stack the deck with two extra-funny people to carry the weight if he ever blanked.
"I'd been hanging out with Rob a lot that month because we had not only gone to a Back to the Future convention together, but we had gone to the Michael Jackson estate sale in Beverly Hills, which was weird," Aukerman remembers. Lennon, at the time, was more of a recent friend who sometimes did the live show, and whom Aukerman knew had radio experience.
"So we did the show, and it was a real blur. And we didn't even tape it!" Aukerman says. "The podcast was the furthest thing from our minds at that point, but a fan who was on the A Special Thing message board wrote to me and said that he had taped it and could email me a recording, so we started putting it up as a podcast."
Ten years later, Comedy Bang! Bang! episode 599 premiered on Monday, marking the milestone anniversary with a ten-hour revelry featuring its greatest hits (like Nick Kroll's Fabrice Fabrice, Paul F. Tompkins's Andrew Lloyd Webber, or Seth Morris's Bob Ducca, to name a few) and more. Aukerman, who was still editing the longest episode in podcast history (he thinks) last Friday evening, quickly realized it would be a record-breaker when the guests he expected to do 10 minutes did over 30.
"What I really wanted to do was take people through a virtual tour of the last ten years of the show, and have guests on from each era doing their most well-known characters," Aukerman said. "Then I realized, Oh, man, I think this show might be really long, like over five hours. And Taran [Killam] said, 'Let it be ten hours, for the tenth anniversary.' Because why not?"
Longtime fans of the show have plenty to dig into as the episode serves as a retrospective, but it isn't all inside jokes. The beauty of improvisational podcasts, when done well, are the genuine moments of discovery in nonsense, of which there are plenty. And who couldn't use that in 2019? James Adomian put it well: "It gives people on their morning commute a window into more of a midnight world."
As a companion to the tenth-anniversary episode, we've collected the fondest Comedy Bang! Bang! memories and favorite episodes of some of its most illustrious guests from over the years. Scroll down for some hilarious anecdotes, behind-the-scenes tidbits (if you haven't caught on to the Lennon-Huebel Easter egg by now, spoiler alert), and more all tied to different episodes.
John Mulaney
I was driving to William & Mary College with Joe Mande to do a show in 2011. We were listening to Aukerman interview Andy Daly, who played the owner of a burlesque show, I think. He kept using the phrase "And one for daddy." It was maybe an hour-long interview and they went through this character's whole life. At about minute 40, they revealed that Andy's character was illiterate and made up his own language of shapes. I was laughing so hard that my eyes were too watery to keep driving and I had to pull over on the side of the road in Virginia.
Listen: "Somethin' for Daddy!"
Reggie Watts
I really enjoyed creating the theme song for Comedy Bang! Bang! Scott originally asked me to make it for Comedy Death-Ray. He was just like, "Hey, could you make a theme song?" I was like, "Sure," then I sent it and he was like, "Great." Super simple. Scott's always been easy with me. I think that that's what made me compelled to work with him — because he understood how to utilize my talents for what he was doing, and it was just a great collaboration that way. So much silliness. But I guess my favorite episode would be when Tears for Fears were on. I mean, that was huge for me. I'm a big Tears for Fears fan and Roland Orzabal fan. They were very influential to me, so it was really amazing to do a podcast with them there in the studio. It was amazing.
Listen: "Pie Quiz With Tears for Fears"
Jason Mantzoukas
A lot of my all-time favorite moments that I've been a part of for Bang! Bang! are Andy Daly episodes. I love being a part of ongoing narratives — taking a ridiculous character and finding and pushing for these bigger story lines — like the series we do with Andy on the "Hundreds" anniversary episodes, which eventually tell this larger story, connecting all of his characters. I don't think I've ever laughed as hard as on, say, the Chip Gardner episode. What's most fun about the podcast is when somebody comes in with half an idea, which Andy always has, and then it's just a matter of going, "Okay, so what are we all going to do with it?" And then you're playing with some of the best improvisers, knowing you can just build something from scratch, and that's electric when it works.
Listen: "Mayor of Hollywood"
Lennon Parham
The character I keep coming back to every time I need a pick-me-up is Jordan Peele as Jermaine "The Gentle Giant" Jones, a real-life American Idol contestant who left the show under mysterious circumstances. It hits me right in the comedy feels. And, of course, a shout-out to the episode "Finger Guns" where Scott and Marissa Wompler allowed a young, gifted teacher and former sniper to accompany them and thus Charlotte "Chardog" Listler was born. Crazy proud to be part of this comedy canon.
Listen: "Words With Friends"
Nick Kroll
The first time I did Comedy Bang! Bang!, I had just starting watching Mad Men and Jon Hamm was the other guest, so I was very excited to meet him. I had just created El Chupacabra, a Latin-radio-station DJ character, and CBB was coincidentally sharing a studio with El Gato, a Latin radio station. As the show moved along, I began calling Jon Hamm "Juan Jamon" and he began improvising with El Chupacabra. It was exhilarating to be doing bits with Don Draper and simultaneously frustrating to think that a top-notch hunk actor like Jon Hamm was not only a very good sport but also could improvise, in Spanish no less. I've hated him from that day forward.
Listen: "The Baby's Sunglasses"
James Adomian
I've always loved going on Comedy Bang! Bang! (Comedy Death-Ray in the old days) as a gonzo improv experience where lots of things are done wrong and loose, intentionally and accidentally, but it's a pure sandbox where we show up to try out all kinds of incredible lunatic and asshole characters. There are some people and moments and riffs that I will always remember from all those early years: Seth Morris cracking me the fuck up as his character Bob Ducca, always afflicted by incalculable plagues and medical conditions that he would just keep rattling off in self-pity; my sweet smart-ass friend Harris Wittels, whom I was lucky to share an hour of laughs with so many times in the studio; the shifting anti-canonical backstory of the Enigma Force Five; the surly antagonism of Jesse Ventura versus Scott Aukerman; the disgusting dishes that delighted food critic Merrill Shindler but that Brian Posehn physically could not handle hearing about; the pure blissful energy of Amy Poehler's improv choice when up against misogynist shock jock Tom Leykis; and Paul Giamatti falling into Reggie Watts's magical music machine and then getting echoed and tortured back onto himself.
Listen: "Happy Black Friday!"
"Weird Al" Yankovic
My favorite Comedy Bang! Bang! episodes are probably the "Solo Bolos" (last time I checked, they were up to "Solo Bolo Cincolo"). These are special episodes where Scott Aukerman's one and only guest is Ben Schwartz, and their on-mic chemistry is a wondrous thing to behold. But the high point of every "Solo Bolo" is undeniably the Olympic Song Challenge, where Scott and Ben sing a marathon-length medley of ostensibly random songs. Now, if you played one of these medleys for me and told me they had, say, a week to work on it, I suppose I wouldn't be particularly amused or impressed, but the fact that they do these medleys completely off the top of their heads is insane, and makes them insanely funny. Both Scott and Ben seem to have an encyclopedic knowledge of song lyrics, and the way that they pull off some of those wild segues makes me wonder if perhaps their brain stems are somehow connected. But the fun part is just hearing these two guys reveling in pure geeky joy — it's impossible to listen and not at least smile.
Listen: "Solo Bolo Cincolo"
Patton Oswalt
Hands down, it's the "Andy Daly Character Suicide" episode, where he basically brings out this massive repertoire of his characters and they all kill themselves. The switching of personas is psychotic and brilliant.
Listen: "Wipeout!"
Mary Holland
There are so many memorable moments from doing CBB over the years! I remember Tim Baltz making me laugh so hard when he did a character who designed adult coloring books and he said his wife left him because he had "a shitty attitude." I could watch Lauren Lapkus do CBB for hours and hours. She's so effortlessly funny. One of my favorite memories is the episode I did with Tatiana Maslany, Kristian Bruun, and Paul F. Tompkins. All the guests were hilarious and then when I introduced my character, PFT laughed so long and so hard, it has crystallized in my mind as one of the proudest moments of my life.
Listen: "Scrounging and Lounging"
Tom Lennon
I've gotten in a place with Scott where I just never ask questions. For example, the very first episode of Comedy Bang! Bang! was with me and Rob Huebel. Now, every couple of years when we are both on the show again, Scott prints out the conversation that we had on that very first episode for us to read as a script. Only a few people have really noticed it, but every time Rob and I are on the podcast, about four times now, we have the exact same conversation that we had that first day. Word for word. It's a perfect insight into the mind of Scott Aukerman, who said, "I had an idea to take this totally casual conversation you had two years ago and transcribe it down to the pauses and the ums." In my showbiz career, it's one of the weirdest things I've ever done and I'm just really, really proud of it.
Listen: "Welcome to Comedy Bang Bang"
Rob Huebel
Tom Lennon and I have the now-bizarre privilege of being the very first guests on Comedy Bang! Bang! I say "bizarre" because now we are trapped in this fucking time loop where every few years, Scott has us come on and reenact (from a transcript) our original unscripted interview banter. So if you listen to us on the show, you will hear me talking about Human Giant and I Love You, Man like it's still current and Tom explaining how Reno 911 should never be called Reno Nine-Eleven. I'm sure it's confusing to people, but isn't that what good comedy is for? To confuse and frustrate people and make them wonder why the fuck these idiots are having the same conversation every time they come on the show?
Listen: "The Big One-Oh-Oh"
Casey Wilson
My favorite Comedy Bang! Bang! moment was the episode I did where Drew Tarver guested as the insanely wonderful Martin Sheffield Lickley, a British man who discusses the most horrific events in his life but then bursts into these cheesy love songs ("Love Train" and "Ship of Love" are among the greats). All the songs are very upbeat but end with devastating info like "MY SON'S DEAD!" It's honestly difficult to explain or encapsulate, but it's brilliant.
Listen: "Ship of Love"
Seth Morris
One of my favorite Comedy Bang! Bang! memories would be the very first time I did my character Bob Ducca. Scott Aukerman saw me do Bob a couple of times at UCB and invited me to do it on the podcast. Bob is a ridiculous, middle-aged guy who is both a hypochondriac and riddled with real ailments that only he has. For the podcast, I made him be Scott's ex-stepfather coming on the show to reconnect with his "son." I read a list of ailments that Bob has (Puff Knuckle, Dirt Belly, etc.), and I think another one of his friends from the many support groups he's in (Hank Sharptoe, Uminia O'Brien). It was just dumb words read in a sad, deep voice, but people liked it. When you make funny people laugh it's an amazing feeling.
Listen: "The Premiere of Bob Ducca"
Jerry Minor
Jerry Minor has no thoughts, but Cyber Thug has a few words: "Anyone who listened from the beginning knows the best episode of that nerd-ass show was when I took over. I believe it was twice. The one with Bobby Bottleservice was one of the best ever. I spit that fire and Miles was on point. Y'all are all some nerds. Cyber Thug was the best thing ever. Funny and hilarious and quality. All other podcast ain't shit. [Drops mic.]"
Listen: "A Cyberthug Take-Over!"
Paul Scheer
CBB is the closest feeling to doing improv live onstage. Scott creates this amazing environment where you have to fully commit to whatever choice you make, and you can't bail on it until the show is over. Meanwhile, the entire time Scott and the rest of the panel are having so much fun poking holes in your character's logic and adding elements to your personality, it becomes this communal improv exercise where you are just trying to keep this character's metaphorical Jenga tower from toppling over. I think the most fun I've had on the show is when I come in with nothing and just make a choice in the moment. Nick Kroll has this great Sylvester Stallone impression and I just became his little brother Frank, and we had this Mice and Men relationship. We learn that Frank has a hole in head that leaks brains that he has to eat to stay smart, and all he wants is to do is be kissed by a girl. The whole thing culminated in Sly mercifully killing his brother to save him from himself. It was a little one-act play that I think could give True West a run for its money.
Listen: "The Stallone Brothers"
Riki Lindhome
My favorite CBB memory was in 2010 when Kate Micucci and I got to be on the show with our musical-comedy hero, Weird Al. Scott was so generous to make that happen for us. That episode is also memorable for me because I had to pee really badly and couldn't wait until the end of the podcast. But when I tried to get back in the studio, I was locked out. So everyone, including my comedy hero, was waiting for me for an embarrassingly long time.
Listen: "A Cover of a Parody"
Will Hines
On one episode I got to do with James Adomian, he wasn't sure which of three characters he was going to do. I think he had it narrowed down to Jesse Ventura or Sebastian Gorka, but he didn't decide until right before he was introduced. He had a piece of paper with like five things written on it for each one. He went with Jesse, and I don't think he looked at his paper the entire time. He was hilarious and hard to keep up with, in a fun way. It was like improvising with a speeding van full of money on the run from the cops.
Listen: "Error 502"
Matt Walsh
I'm a sucker for any episode that has James Adomian, Paul F. Tompkins, and Lauren Lapkus. And it's important to note that the one guest-star role I insisted on doing between Veep seasons was Scott's boss L. Jefe Maninchargo on Comedy Bang! Bang! the TV show. I'm a big fan of Scott and his absurdist taste.
Listen: "2014 Holiday Spectacular"
Jessica McKenna
One great thing about CBB is that you can have an idea for a character, but it's really going to be shaped by Scott and the other guests. My original character, Power Wheels Beth, got pimped into maybe being able to predict death? Or, like, cause death? I'm still confused and I was there. She had to explain all this through a freestyle rap and Weird Al was there. I remember thinking, He's a legit icon and I'm rapping about Leonard Cohen's death (before he died!). I mean, that's a sentence only CBB could afford. It's the best kind of chaos.
Listen: "Pow! Pow! Power Wheels!"
Jon Gabrus
Comedy Bang! Bang! was actually my first foray into listening to podcasts (after, I guess, This American Life). I was living in NYC when I started listening, so I was so pumped when Scott reached out about doing a character on the show. I'm not really a character person, so I just chose something easy for me (Gino Lambardo), and now it's the only character I've done on the show for the last six or so years. As for one solid memory, I think it was the second episode I ever did where Brendon Small was the other guest and he was doing his characters Victor and Tiny. Now, I'm someone who can barely do one voice (seeing as Gino is just my regular accent), but this guy is doing two different characters interrupting each other right in front of me — not to mention, hysterical. Then he tells this long-ass story about a cheeseburger and I almost pissed my pants. I just remember being so thankful that I got to do stuff like this in my career.
Listen: "Tiny Cheeseburger Story"
Jimmy Pardo
Over the years, I have had the pleasure of not only guesting [on] but also guest-hosting for a couple of episodes. It's always a great time, but no appearance compares to episode 121 when Scott and I paired up to play show staple "What Am I Thinking?" — a game that has two people count down and then blurt out a word at the same time to see if they match. Starting with "Courvoisier" and "Phantom of the Opera," we somehow, in the eighth round, apropos of nothing that had been said, both yell out "Jism!" Not jizz or even cum, we both went with the upscale "Jism!" Podcast history was made that day!
Listen: "Bro-ing Out"
Thomas Middleditch
What I love so much about doing CBB is that I can get all my dark humor in the form of a silly character, and somehow, we manage to keep it protected and not too disturbing. Like Lyle Cummings, a southern man who was hired by the middle school to choke teens out so they wouldn't do it themselves. Or Kaitlin, a vlogger who got sucked into an underground world where she had to make "Lil' Choices" only to, in the end, meet an interdimensional mole man who might have just been a pedophile. Or the voice of China. The country. It's always been an outlet where I get to wring out the sponge of all the madness that I take in every day and just leave a big ol' stinking pile of weird for everyone to listen to.
Listen: "Educainment Squad"
Matt Besser
When Scott asked me to do Comedy Bang! Bang! for the first time, I remember being in the car with him driving somewhere, I'm not sure where we were going, and him explaining to me what a podcast was. I'm not sure what I thought, but doing a character on it sounded like a lot of fun. One of my best memories, for different reasons, was doing the Stuttering King with Harris Wittels because it was just fun doing it with him. When you made Harris laugh, that was a special thing. I think the shows that you remember the most are the ones where you're both doing good comedy and you're hanging out with friends, and those two factors feed each other.
Listen: "Phishing for Compliments"