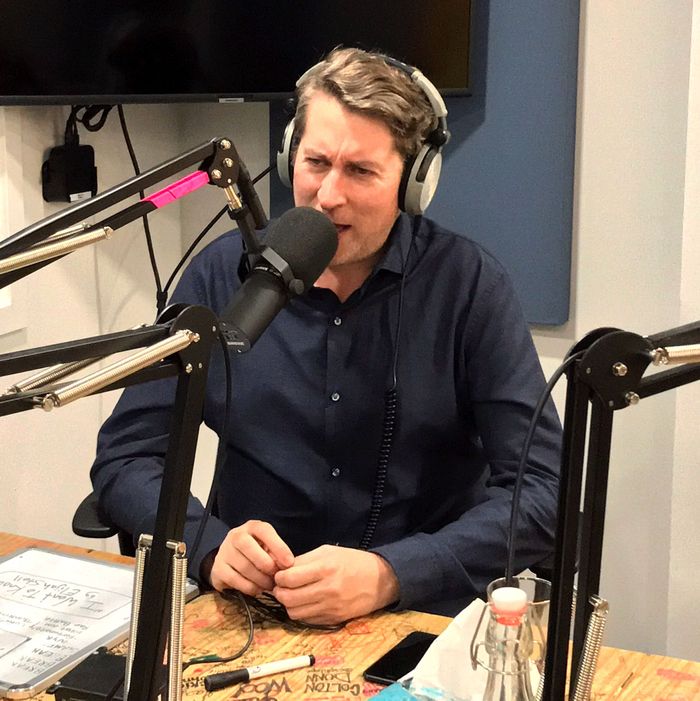 Scott Aukerman.
Photo: Earwolf
The comedy-podcast universe is ever expanding, not unlike the universe universe. We're here to make it a bit smaller, a bit more manageable. There are a lot of great shows and each one has a lot of great episodes, so we want to highlight the exceptional, the noteworthy. Each week, our crack team of podcast enthusiasts and specialists will pick their favorites. We hope to have your ears continuously plugged with the best in aural comedy.
This week, Scott Aukerman celebrated the ten-year anniversary of his podcast Comedy Bang! Bang! by dropping a ten-hour anniversary episode, so we figured it was only fitting to dedicate this week's comedy-podcast roundup to such a notable accomplishment. In case you haven't listened to the massive, star-studded two-parter yet, you can fix that right here:
If you're not already subscribed to Comedy Bang! Bang!, you can keep up with all the latest episodes on Apple Podcasts, Spotify, or the Earwolf website.
Hour 1 — Reverse Murderball Body
Aukerman wastes precious little time launching into the ten-hour tenth anniversary Bang! Bang! marathon extravaganza: He begins with a few nostalgic words about the history of the show and its journey from radio to podcast to TV show back to podcast (its ideal form), then he's quickly derailed by unofficial CBB co-host and 43-time guest Jason Mantzoukas, characteristically not in character. As the inspiration behind so many legendary T-shirts, including the iconic Heynong Man, Mantzoukas makes a fitting first guest, followed swiftly by Andy Daly (38-time guest) as world-famous water-skier Hot Dog. All the water-skiing has given Hot Dog a reverse Murderball body (small on top, big on the bottom), which will come in handy when the next Rock and Roll Hall of Fame induction ceremony to slight Sha Na Na triggers the biblical rapture. While Hot Dog prepares to rise up and become the Antichrist, poet laureate of the American West Dalton Wilcox (also Andy Daly) immediately gives up. The stakes are high entering hour two. Will Santana featuring Rob Thomas make the lineup of Woodstock 2019? Will the ghost of Charles Manson return to the podcast? Will there ever be a long-sleeved Heynong Man T-shirt option? Only time (specifically the following nine hours) will tell. —Kate Doyle
Hour 2 — I Know Why the Caged Bird Died
Dame Sir Andrew Lloyd Webber's 28th(!) appearance kicks off the second hour. To Aukerman's surprise, ALW has been shrunk to the size of a cat in order to save money on sets for the upcoming Cats movie. Paul F. Tompkins could have brought back any of his dozens of characters for the milestone, but ALW just feels right. Aukerman's clingy stepfather, Bob Ducca (Seth Morris), makes a triumphant return, wrist gnats in tow. Ducca forgoes his usual list of unbelievably funny fake ailments for a list of book titles that's sure to spawn some excellent fan art. Highlights include If You Smell a Fart in the Elevator, It Was Probably Me — and It Probably Wasn't a Fart and the future Pulitzer Prize–winning It Was Broken When I Got Here: The Story of My Body. Longtime CBB fans can never get enough Ducca content, as his appearances have been few and far between since his beloved CBB spinoff Affirmation Nation ended in 2015. Finally, Maddest Man Jon Hamm drops in. Hamm has been making appearances on the show since year one, when then-named Comedy Death-Ray was on something called "terrestrial radio." Juan Jamon's most memorable appearance was on episode 211, when he read ad copy as El Chupacabro, the brother of Nick Kroll's El Chupacabra. For the tenth anniversary, he and Aukerman similarly give Depend adult diapers free unsanctioned ad reads. —Mark Kramer
Hour 3 — You Can't Handle the Real Emotion of Family
Early on in the third hour, Aukerman's nephew Todd (Lauren Lapkus) stops by to drop major wisdom. Although he's in middle school, he hits the host with deep-cutting zingers such as "You can't handle the real emotion of family." Perhaps his wisdom comes from the time he wished to be grown up at a carnival. The wish came true, and Todd was 30 for a while, which the two discuss briefly before reminding everyone that even though Todd is middle-school-age again, he still has a 30-year-old's dick. Or perhaps Todd's ability to see through to Aukerman's core is a result of their close living quarters at the apartment where they share a bed. Either way, his aggressive attacks on Aukerman's character are some of the funniest takes on the podcast. Keeping it fresh and young, 8-year-old (Pow! Pow! Power Wheels!) Beth (Jessica McKenna) shows up next. While Beth's mom is busy working in marketing on another floor in the Earwolf building, Aukerman talks about where babies come from. It's an uplifting start to the hour that reminds listeners of simpler and sassier times. —Becca James
Hour 4 — Asshole in the Wind
Welcome to hour four, where the good times continue to roll in this marathon of an anniversary special! Up top, we're welcomed by newer friends Bone Queef St. Gynecologist (Zeke Nicholson), Entrée PeeE Neur (Ego Nwodim), and MC Sugar Butt (Carl Tart). With some of our guests pulling double character duty, this one goes to some pretty wacky places. Along the way, we discover which current presidential candidate Entrée used to date, why B.Q. has an issue with voting, and what MC Sugar Butt considers the best sandwich. As we say goodbye to our newer cohort of characters, we're visited by older pals of the pod in the latter half. Given that this is an anniversary show, Aukerman welcomes back inaugural guests Rob Huebel and Thomas Lennon to reminisce about their appearance on the debut episode of CBB ten years ago. While catching up, the three are interrupted with a quick visit from Aukerman's old radio sidekick, Lil' Gary. Without giving away too much, let's just say this interruption was short-lived. As we close out the hour, Björk (Matt Besser) stops by to give Aukerman a musical tribute in celebration of his milestone. After bashing Elton John for a bit, she delivers a showstopping rendition of "Candle in the Wind." ­ —Tom Rainey
Hour 6 — A Relief for the Brain and the Soul
If you've been scrubbing around through all ten hours in search of any sort of "Farts and Procreation" tribute, congrats! You found it at hour six! Or at least the closest we can get to an "F&P" tribute. After a brief visit from Joey Tortellini (Thomas Middleditch), Aukerman is joined by Chelsea Peretti and Adam Scott. While we don't hear from anyone down at Carl's Lumberyard, the Tired Lady, or any other characters (which would of course just be wrong without Harris Wittels), we do get to hear these three catch up as themselves, as Aukerman checks in on what each has got in the pipeline. If you're hoping Scott drops any hints about the upcoming season of Big Little Lies, Big Little Lies 2: Keep On Lying, you're going to be disappointed, because the particular pipelines they're referring to are, of course, their colons. Later, Peretti shares what her old podcast, Call Chelsea Peretti, might be like today if she were still putting out new episodes. The bad news is it would be 99 percent ads. The good news? Well, they'd be ads for things like sighing, coughing, giggling, and swallowing.
Rounding out the sixth hour is an appearance by one of the show's oldest friend's, Fabrice Fabrice (Nick Kroll), a name so nice you have to say it again, as he rattles off a bunch of productions he's done craft services on. From Liar Liar and The Cable Guy to the Cable Ace Awards and Breaking Bad, the influence Fabrice Fabrice has had on the entertainment industry knows no bounds. He also performs some spoken-word poetry that is not to be missed. For a show filled to the brim with people so committed to making people laugh, moments of sincerity or reflection about what ten years of a show like Comedy Bang! Bang! means to both listeners and guests could be hard to spot. But Chelsea wraps it up perfectly, telling Aukerman, "It's been an honor and just such a relief for the brain and soul to just come be silly." And in case you're nervous that things might get too sappy or sentimental, the second half of that statement is an ad for clearing your throat. —Leigh Cesiro
Hour 8 — I'm a Little Joker Boy
This hour of the tenth-anniversary special begins with a real creak-slam-sit as Paul Rust starts the clock for his long-standing "New No-Nos" segment, a riff on Bill Maher's "New Rules" that has him smugly dunking on everything from decades as a concept ("Why don't they ever refer to a decade as 12 years or even three years?") to toddlers who need a Band-Aid (" 'I need a Band-Aid for my boo-boo?' Um, how about I give you a Band-Aid for your poo poo"). Owned! Then Neil Campbell brings back "popular" recurring guest Ernie Bread, who promptly kills himself by fizzing cyanide suppository, adding to CBB's prolific body count. Next come Mr. Bread and Mama Bread (also Campbell and also-also Campbell) to not-really-mourn their son and flaunt their passionate marriage. But all of this is lead-up to Bobby Moynihan's return as Fourvel, the murderous little orphan boy who stands three apples high. Removed from Dame Sir Andrew Lloyd Webber, he finds a new nemesis in Batman (Moynihan, switching voices on a dime). Mary Holland as Great British Baking Show loser Eugenia Wobbles rounds out a delightfully stabby hour. —Rebecca Alter
Hour 10 — Singers Who Don't Sing, an Intern Who Doesn't Intern, and Jesse Ventura
Coming into the homestretch for the "longest single episode of a podcast ever," as host Scott Aukerman occasionally declares, I was curious to see if it was going to culminate in a big "Let's get everyone into the studio together" moment. Instead, the final hour unspooled as the show had in the beginning: through a steady parade of returning characters from the past decade, from frequent CBBers like John Lennon (Mike Hanford) to rare guests like Boston comedian Captain Moustache (Brendon Small). Fellow last-hour guest Randy Useless (Will Hines), a studio singer with no discernible résumé, dropped through the famous open door just a few weeks ago for the first time.
A couple of guests appear via phone, namely Aukerman's first intern, Marissa Wompler (Jessica St. Clair) — who has achieved notoriety more recently through her own Womp It Up! podcast — and her estranged pod partner Charlotte Listler (Lennon Parham). The two have had a tumultuous split of late, and the host does his best to help them mend fences, but it's clearly an ongoing process. The show closes in traditional CBB fashion with a dip into the Plug Bag. Jesse Ventura (James Adomian) is found to be living in the Plug Bag, and he invites Aukerman in for a first-ever look inside what turns out to be an other-dimensional space. After thanking a number of folks for helping to keep Comedy Bang! Bang! chugging along, the host closes out the ten hours by teasing that next week is the show's 600th episode. Roll on, CBB, roll on! —Marc Hershon