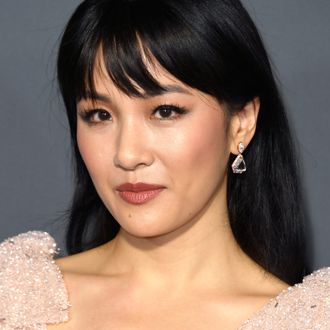 Constance Wu.
Photo: Frazer Harrison/Getty Images
Today, while ABC and other broadcast networks canceled a slew of their television shows, the network decided to give a sixth season to Fresh Off the Boat. You might assume this would be good news to everyone involved, but maybe don't tell that to Constance Wu. "So upset right now that I'm literally crying. Ugh. Fuck," Wu tweeted soon after the renewal, followed by "fucking hell." If that was not clear enough, she responded a fan telling her the renewal was "great news" by saying "No it's not." Finally, on the show's official Instagram post celebrating the renewal, Wu commented simply "dislike."
At this point it would be conjecture to speculate on exactly what the actress dislikes about being on Fresh Off the Boat, though one could maybe assume she'd rather be pursuing a movie career, considering her roles in Crazy Rich Asians and Hustlers. However, one thing we can safely say for sure is that Constance Wu really dislikes being on Fresh Off the Boat.
Update: Despite the above, Wu tweeted Friday evening against people making assumptions about her comments, without much clarification. "That was not a rampage, it was just how I normally talk," she wrote. "I say fuck a lot. I love the word. Y'all are making a lot of assumptions about what I was saying. And no, it's not what it's about. No it's not..what this is all about. Stop assuming."
One more update: The actress later reiterated her assertion that her tweets were about something else entirely. "Todays tweets were on the heels of rough day&were ill timed w/the news of the show," she said. "Plz know, Im so grateful for FOTB renewal. I love the cast&crew. Im proud to be a part of it. For all the fans support, thank u & for all who support my casual use of the word fuck-thank u too." As for that Instagram comment, well, we'll keep you posted.